Gigi Dall'Igna was a guest on our Live broadcast yesterday and this is the second part of the interview in which we talked about a number of topics with the big boss of Ducati Corse. In this second part, we hear about some interesting background information on negotiations with Marc Marquez and also some regret over the decision made with Jorge Lorenzo.
On-the-spot question… Do you think Marquez would have won with your bike?
"I find it hard to separate the rider from the bike and from the team. It's the combined package that wins, so it's hard to say what Marquez could have done on Dovizioso's bike. I prefer to let the fans of this sport do this sort of reasoning, something that amongst other things entertains me a lot"
Dall'Igna: "It is difficult to beat Honda on the retainer for Marquez. No European manufacturer can do it"
But have there ever been any serious negotiations with Marquez to sign him at Ducati?
"We did some thinking about signing Marquez many years ago. Let's say that there is a lot of talk about cost reduction, but obviously the rider's fee is the most important item in a racing department and it is difficult to win a challenge of this type with Honda. It has such enormous economic resources that it is difficult for a European manufacturer to get close to these figures".
Did you follow all of his problems? Who do you think is to blame for everything that has happened and is happening to Marc?
"The human body doesn't have wheels, I'm not the best person to talk about these things. It's hard to tell if the situation was handled well or badly. In hindsight everything is simpler, a bit like us for Lorenzo. Unfortunately, a decision has to be made and often has to be taken a few hours after the problems occur. It is easy to say now that some mistakes have occurred, but identifying who was responsible does not make much sense. Ducati trusts its doctors a lot and I must say that in recent years they have never made a mistake".
Do you have any regrets about how things went with Jorge Lorenzo instead?
"Talking about riders means talking about people. It's difficult to choose them and keep them in the end, it depends on many things. For sure, in hindsight we would have done better to keep Jorge. But one must always understand the situation and live the historical moment in which one he has to make certain decisions. Lorenzo had not yet shown what was required and looking at what had happened up until to that moment the decision was a foregone conclusion. In hindsight we should have made different decisions. "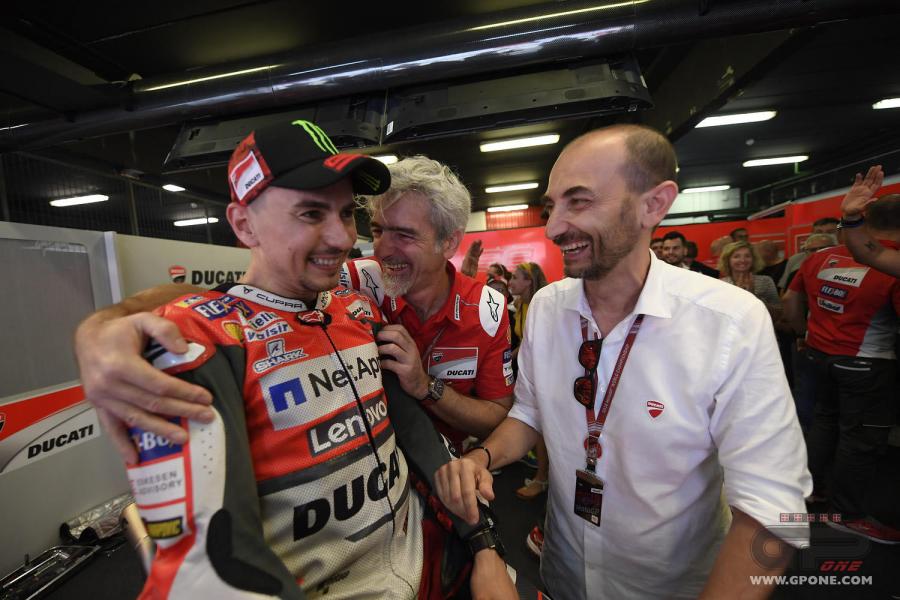 Dall'Igna: "Lorenzo would be slow today on any bike. He lacks the necessary stimulus to go fast on the bike"
Do you think he could still be competitive today or is the Lorenzo seen at Portimao the real Lorenzo?
"The problem is that a rider cannot be detached from his head and from the desire he has and from what he wants to do. I don't think he wants to go back to being a rider, so I think you can put him on any bike but he will go always slowly. Because he lacks the stimuli and motivation to be able to do the things you need to go fast on the bike. He is a great car enthusiast, he will never get enough of them. We always keep in mind that being a rider is a complicated, difficult job . It takes the right mental attitude to be able to face the difficulties that a rider faces in a competitive season ".
The regulations are increasingly stringent, but is there an area where you would like to have more freedom of movement?
"Of course, as an engineer I like imagination, research and working on new solutions. I would like free regulations, but it is always a compromise between what one likes to do and what one can do. In this period, the world of motorcycles does not have the possibility of spending large budgets, the current regulations are an excellent compromise between the various factors present. Between the desire to experiment and the need to keep costs balanced ".
Dall'Igna: "Yamaha reported itself and after the checks it was penalized"
Why didn't you force your hand by reporting Yamaha for the error of the engine valves?
"To be very honest there was no need to report Yamaha. It decided to report itself, undergo checks and it asked the championship technical director to check the engine valves and he drew his conclusions which were then transformed into a penalty by the stewards ".
You have spent years with our very own Carlo Pernat, do you have any stories to tell about him?
"What can I say to you about Carletto? He saw me grow up, he saw me enter the Aprilia racing department with shorts on and he saw me do all the necessary steps to take on more and more responsibility. I would have many episodes to tell about him, as he would have to tell about me. He has done and still does a lot for this sport ".