In a few months Celestino Vietti Ramus will begin a new chapter in his career. Always with the colours of the Sky VR46 team but in another category, Moto2. The rider from Piedmont this year was one of the protagonists in Moto3, coming close to fighting for the title until the last race, but too many mistakes took away this possibility. There were some flaws also due to his young age (he is 19) but the year was still positive, with 2 victories and 4 podiums to his name.
Celestino, let's take stock of this season, in these cases we start by giving ourselves marks out of 10.
"I would give myself a 7 because it was a good season, I was almost always competitive, but in some cases I was not very consistent so I lower my grade".
At the end of the season you went a bit downhill, with a few too many mistakes. Did you feel the pressure of being in the fight for the title?
"I made mistakes that forced me to chase and led me to get caught up in all the enthusiasm. If I had made fewer mistakes during the season, I would have been closer in the standings and maybe a little more serene. I made some dumb mistakes and that's how it ended (laughs) ".
Does it bother you a lot about how it ended?
"A little bit yes, with three races to go I knew I could get a good result and then I ruined everything with my own two hands. It makes me angry, but it's also part of the game ".
What have you learned from this?
"For sure consistency is what keeps you ahead in the championship. The more serene and calm you are, the better your placements are, if it happens then at the end of the year you find yourself ahead in the standings without having to do anything excessive. Being consistent, especially in a short championship like this one, makes all the difference, making as few mistakes as possible is important".
It was Mir's secret in MotoGP…
"That's right, he did it perfectly. Joan was practically always on the podium ".
Do you mind leaving Moto3 without winning the title?
"A little bit yes, when I started going well it was the moment I left (laughs). I'm a little disappointed, with another year I could have improved and avoided certain mistakes, but the move to Moto2 is part of a progress in my growth and I'm happy to make this leap. "
When you were offered Moto2, did you have any doubts or did you immediately say yes?
"I did a lot of thinking about it before they asked me because I started hearing rumours about this possibility. Obviously I'm happy to move up in the category in a good team, I have to thank them ".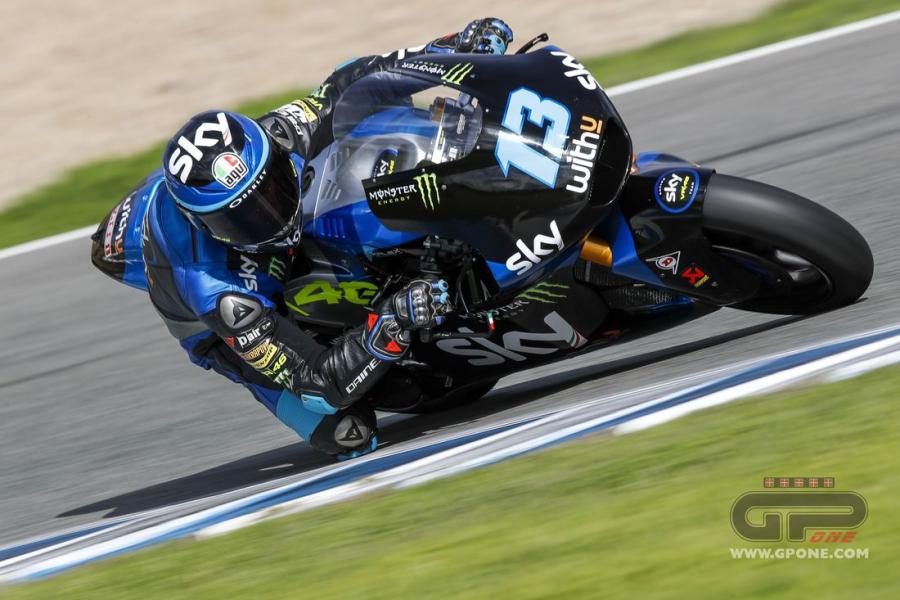 You tried the Moto2 bike at Jerez, what was your first impression?
"That it was a fun bike that goes very fast, you have to think about a lot of things because it rears up and slides around. There is a lot to learn: you have to be soft under braking and get the bike up early in acceleration. I enjoyed starting to work on these aspects ".
What is the thing that surprised you the most at the get-go?
"For sure the power, the bike rears up and you always have to check it, it's the thing that is most different compared to the Moto3".
Do you think your riding style suits the Moto2 bike well?
"I think it doesn't go too far from my standards. I've always been a rider who prefers braking more than cornering. I hope to adapt as quickly as possible ".
In the Riders Academy you have two Moto2 world champions like Morbidelli and Bagnaia to ask for advice ...
"For now I have not yet harassed them, otherwise at the beginning of the year they won't listen to me anymore (laughs). I'll give them a moment of relaxation then I'll start in January. I am very lucky, I have Bezzecchi as my teammate, this year he went very fast and being able to compete with him will be very nice. Then there are two world champions and Marini, for sure, I'll ask him something ".
Do you think this move has come at the right time?
"I think so, it had to go like this, I took this opportunity. If I had stayed in Moto3 I would have been able to fight for the title again, or maybe I would have been in more difficulty. In the end I'm happy to have moved to Moto2 ".
Moto2 is the last step before MotoGP, is that thought already on your mind?
"I still don't feel like a fully-fledged Moto2 rider. It is an important milestone for my career, a step towards the great dream, but it will take a few more years before I think about MotoGP ".
Riders like Vinales and Mir only did one year in Moto2…
"If you manage to do it, you will make up one year in MotoGP and they showed that they are ready, they went fast immediately. I don't know if that would be the case for me, I need to understand how the category works to be fast and then pass the class ".
Next year there will be three Riders Academy riders in MotoGP: Morbidelli, Bagnaia and Marini.
"It's weird, when I arrived in VR46 we were all in the minor classes. There is everything to learn from them, we are lucky because they have reached a very important milestone for their career and being able to compare themselves with them after the races and training is all for the better, they can help me grow ".
Who do you have the closest relationship with?
"I have known Bezzecchi since the days of mini-bikes, he is the one with whom I have the most confidence. I often talk to Morbidelli too ".
How do you imagine 2021 to be?
"In my opinion the first part will be similar to this year, but I think and hope that we will be able to do more races and with more space between them. This season was particular especially because the races were all close together, there was no time to reset and restart ".
What is the goal with which you are starting?
"I take it as a year in which to learn as much as possible and improve, if I manage to be the rookie of the year it will be very nice".