Enea Bastianini in Portimao became world champion, after Morbidelli and Bagnaia he is the third Italian to succeed in Moto2 and next year he will join his predecessors in MotoGP. This will be a winter of waiting for the Rimini rider, before he gets onto the Ducati in the Sepang tests.
We caught up with Enea for a Live broadcast (which you can see in full above) in which he answered many questions, ours and those of GPOne readers.
We had to start with the thrill of being world champion…
"It's not bad, it was an incredible return home (laughs) Unfortunately, I couldn't celebrate as I wanted, but I can't complain. As a champion you feel great! ".
"From the winter tests I realized I could win the title, I felt it"
Who was your toughest rival?
"The main opponent, in general, was Lowes because in the final part of the championship he was very fast. Up to Aragon I was worried, but in Valencia the cards were shuffled again, he didn't make the same difference but Sam is the one who gave me the most bother".
Would it have been more difficult to beat him without his injury?
"Sam was certainly very fast, but in the last few races I kept a margin in hand. I was quite a calculator in the last 3 races, if I hadn't been fighting for the championship I could have achieved better results".
When did you think you could win the world championship?
"I realized it immediately, in the tests, I usually don't stand out in the winter and instead I was fast. I realized that the team wanted to win and I was motivated, I could feel it ".
Who do you think will fight it out for the championship next year?
"I say Gardner, Bezzecchi, Bulega and Joe Roberts, one of these will win the title".
Roberts will inherit your bike and your crew chief, Giovanni Sandi. How important was his contribution?
"Giovanni in addition to being a great crew chief is also a great person, it is difficult to argue and not get along with him. On the technical side, he was always fundamental, when there was a problem he solved it for you, all you had to do was explain the problems and go out on track ".
"Gym and minibikes, that's how I learned from Marquez how not to crash"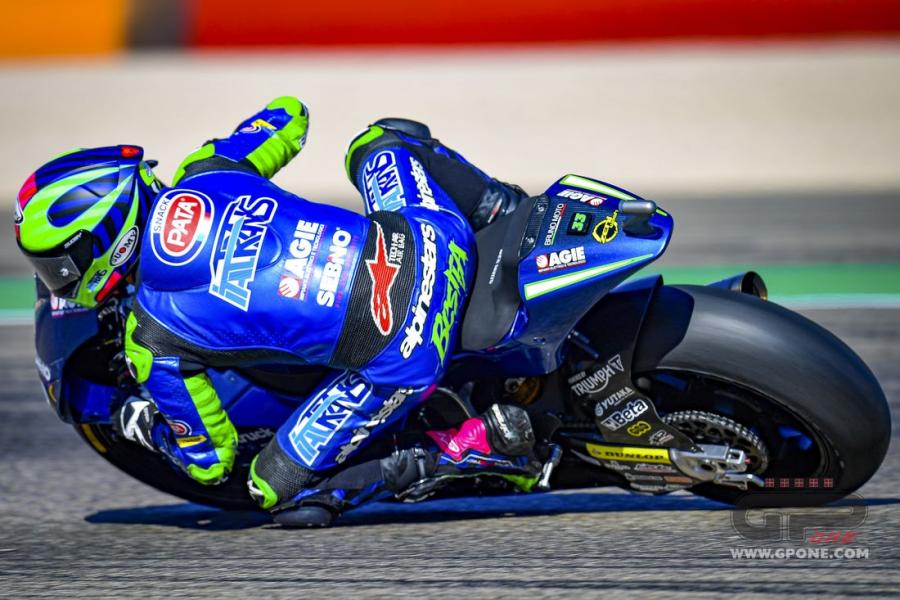 This year you often managed to save crashes with your elbow, like Marquez does. How did you do that?
"Of these recoveries on TV there were four, but there have been others. The one in Valencia was the most difficult, because I had the rear wheel raised, I was practically on the ground. But that is a fairly slow corner and I was able to recover. It also happened in the tests in Qatar and Jerez, then in the tests at Misano and Portimao, several times. I studied Marquez enough in that sense, then I started working on it with smaller bikes until I was able to do it with the Moto2 ".
So can you learn not to crash?
"The basis was to try with the smaller bikes, I trained in the gym to do a specific movement and then there are many other little tricks. For now it has worked a few times and some other times it was worse (laughs) ".
Now it will be your turn to try with a MotoGP bike…
"I think it will change quite a lot compared to Moto2, there will be a lot more electronics, and at first it will take a lot to learn the work inside the garage and listen to my crew chief, who has a lot of experience. It will be Alberto Giribuola, he is really used to Dovizioso and it will be a great responsibility for me. Ducati has always been a dream, since childhood, and now it's coming true. I hope winter passes quickly ".
Have you already talked to Dall'Igna?
"Gigi seems to me a very calm person with clear ideas. This was the first impact, I have yet to get to know him, but I think I will be able to work happily with him ".
Did you happen to have a chat with Bagnaia?
"I spoke with Pecco to get a clearer picture of the situation. The hardest thing he told me would be getting used to the brakes and then he added that if I can do 40 laps on the first day it will be a lot and the next morning I won't even be able to get out of bed (laughs). I will have to prepare well for the 6 days in Malaysia ".
"I'll use the number 23, because of a message sent to my girlfriend"
Your teammate will be Marini…
"I'm happy because I'm curious to study him. This year Luca has been very consistent and has made an incredible improvement. We have known each other since we were little, we started together on minibikes, but we have never been team mates ".
You won't be able to use the number 33, which one will you replace it with?
"It will be 23, it has several stories behind it, until a couple of months ago I didn't have to choose it. But before going to bed I always sent a goodnight message to my girlfriend and it was always at 11.33pm. Then I thought that in 2021 I will be 23 and in addition it can also be read as 2 times 3 ".
What did you think about this MotoGP season?
"For sure seeing Joan win a World Championship in MotoGP made me realize that I can do it as well, I beat him in the minor categories, even though he won the title in Moto3. I was pleased to see fast rookies like Binder and Alex Marquez, I think that if I work well at the start of the season, I can aim for good results in the final part. "
"Marc Marquez wouldn't have had an easy time this year"
Marquez was missing, however…
"Maybe Marquez's absence spurred on the other riders. Marc is Marc, no one has done what he has done in recent years, but Mir is also not to be belittled because he won a world championship in his second year in MotoGP. I think Marquez would not have had an easy time of things this year. "
Will such a long stop weigh down on him as well?
"I think Marc is definitely not as mentally strong now as he was a year ago. A year of stoppage makes itself felt, as Jorge Lorenzo has shown, but I don't think it will take Marc a long time to get back into the rhythm, even though with the level there is now it won't be easy. "
Which rider do you think will excite you the most to see on the track in MotoGP
"Valentino Rossi, because I grew up watching him, I think it will make an impression on me to find him on track for the first time."
"In Moto3 I didn't have the right head to win the world championship, now I do"
Why weren't you able to win the title in Moto3?
"I didn't have the right head to win a world title. Whenever I fought to stay in front, I wanted to win at all costs, I made mistakes and then my morale went down. Now I feel more determined and steady and I can keep everything under control ".
What is your strength and what is your flaw?
"I think I am very calm but at the same time I have determination and I never give up in the race. A flaw I'm working on is that sometimes I get a little too hot-headed and when that happens I get nervous and make mistakes ".
What is the goal for next season?
"Winning a race will be difficult, but I'll try to get a podium".