S for Superman, S for Suzuki. Behind the mask (sorry, the helmet) is not Clark Kent but Joan Mir. Who has a nice guy face that opens up to a dazzling smile, but also a brain that works as fast as his wrist (or nearly so). For one day you can easily forget about Sheene and Schwantz, you can stop thinking about the good old days, because Suzuki now lives and wins in the present.
Thanks to Mir and to all of Brivio's men, the captain of a ship that made a stopover in Majorca to conquer the world. All happy and content, as befits these occasions, calm and motivated, their only secret.
In the year without Marquez, his absence didn't weigh so heavily. Thanks to Mir, Morbidelli, Miller, Quartararo (up to a certain point, at least), and even Oliveira, Binder and Bagnaia in no particular order. All guys whom Marc will have to come up against and one could even say that the future is here now… if this sentence didn't stink of pompous advertising.
We also like the present in Italy, with Bastianini at the top of the Moto2 standings and Arbolino who will continue to dream until Portimao in Moto3.
THE GOOD - Under the Majorcan sun champions grow, and they do it quickly too. Thus the Joan Mir plant has become a majestic tree, capable of putting all the others in the shade. Cold, calculating, fast, all qualities that can take him even higher. And with him Suzuki, which has a Japanese heart, an Italian head and Spanish talent. Such a beautiful Frankenstein has never been seen before...
THE BAD – All you have to do is look at the ranking to understand that reasons of state are worth little. The best Yamaha rider next season will ride the worst (read oldest) bike. Franco Morbidelli is enthralling on the track, but he doesn't seem important for Japanese management. Very little would be required to reopen your eyes and change your mind, to illuminate the picture and understand that Yamaha's end of the season was salvaged by Morbido. Handing him a 2021 M1 is not a gift but a duty.
THE UGLY - The season is winding down and it is not yet known who will lead the Aprilia team next year. Searching in amongst Moto2 or looking here and there for some riders who are still unemployed is like playing roulette hoping for the right number to come out. Let's hope they are lucky in Noale, Aleix Espargarò in Valencia showed that the bike has the potential, now they need someone to ride it.
THE DISAPPOINTMENT - From first to third in one curve, it is entirely understandable if Marco Bezzecchi feels that the less noble parts of his body are totally busted... What remains is the satisfaction of having found himself, his desire to fight and his consistency once again. That might not be enough to allay the disappointment, but they are precious sensations to take the title by storm next year.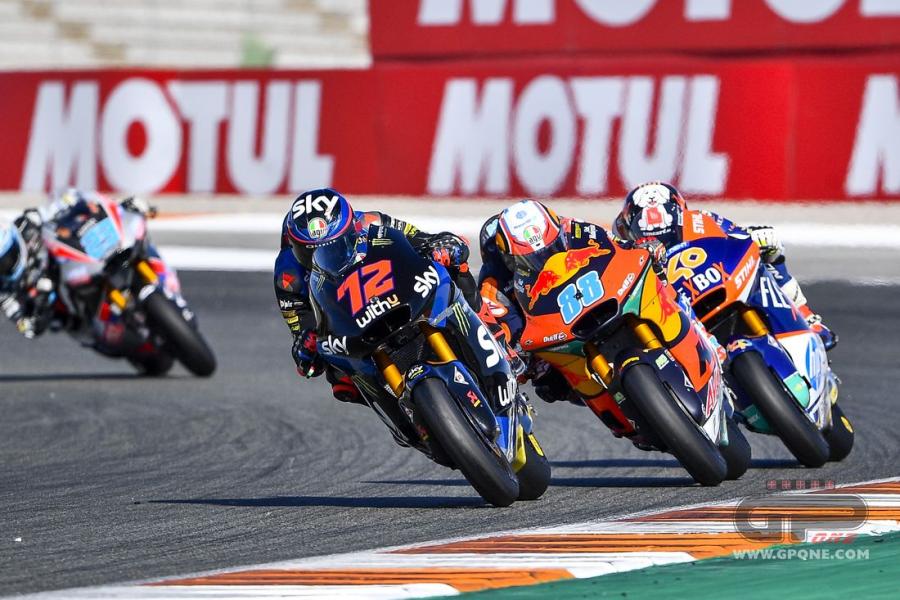 THE CONFIRMATION – He who finishes well might not be halfway there, so to speak, but Pol Espargarò can say goodbye to KTM knowing that he has done a good job. He missed out on the victory (which both Binder and Oliveira didn't), but 5 podiums can certify that he did his job in the best way. Taking off his orange gear will be more painful than expected, but whoever takes his place will have to thank him for that bike too.
THE MISTAKE - Is it worse to miss out on your first victory in Moto2 on the last lap or your first podium in MotoGP for a risky overtaking move? With the doubt remaining, Di Giannantonio and Nakagami compete for the black jersey of the GP.
THE SURPRISE – At Aragon he spent a GP as a prisoner after discovering that a passenger positive for Covid was travelling on his plane, but not even this bad luck could prevent him from fighting for the Moto3 title to the end. Tony Arbolino has put his anger and talent on the table and the ranking has rewarded him. However Portimao goes, he will have no regrets.
THE PASS - On track, two on Jack Miller (who should also have a medal for having contributed to a breath-taking final lap). Two more in the standings, on Quartararo and Vinales. Franco Morbidelli not only knows how to win by breaking away, he also does it by kicking ass. And if we think of his assorted breakages and misfortunes, even the big target would have been within his reach.
THE CURIOSITY - Suzuki has won 16 riders' world titles, the first was in 1962 with the German Ernst Degner in the 50 class. The last one you should know…
I TOLD YOU SO - Takaaki Nakagami on Saturday: "My mistake at Aragon was an important lesson, I have to stay calmer". He also failed in his retake exams…