Riding instructor (naturally fast), TV commentator on DAZN but above all a racer. Roberto Rolfo celebrated his 40th birthday a few months ago, but he just doesn't think about hanging up his helmet and leathers. Indeed, he has just won his second Endurance title, SuperStock category, with the Moto Ian team and is planning to move up to the next class.
In his career Roberto has raced with virtually every bike available, but he is still to lose this particular vice.
"I found a new youth in endurance and I feel good, spending a lot of hours on the bike has improved me, I see things differently and I feel fast - he tells us - I am able to perform even in the flying lap, which has never been my specialty. The best thing was not only the championship victory, but the fact that in all the races we managed to stay between 4th and 10th place in the overall standings with a Stock bike ".
So is next year the right one to move to EWC?
"I would have liked to do it already this year, but I didn't want to leave this team, there is a great harmony inside, I feel like I went back to when I was racing in the European Championship. The endurance environment is more human, more 'bread and salami', the teams help each other, perhaps by lending a spanner or a bike stand. Now there is the desire to make the step up into EWC, 90% we will succeed and I will remain in this team, also because I like the Yamaha very much. A part of the budget has already been found, the important thing is to plan that passage well and not just for the sake of doing it. The goal is to fight for the top 5 in the championship ".
"Racing as part of a crew? At first I was afraid of making a mistake, now I just think about having fun"
In recent years, endurance has been attracting new fans and riders, for example Morbidelli's participation in the Sepang 8 Hours. What is the secret?
"In Italy we tend to watch sprint races, endurance is more of a French speciality and very popular in Northern Europe. I had always been fascinated by the idea of ​​racing at night in very long races. At the time of the European Championship, my father took me to train at Le Castellet and I happened to go there the week before or after the Bol D'Or, I saw the billboards for the race, it fascinated me. In 2018 I entered this world by chance and I've always found the same environment, perhaps in the last few years it is talked about more because there are Italian riders. They have done a good job in communication, Franco's participation at Sepang certainly helped. The new 12 Hours of Estoril race was also a success ".
For those who, like you, were used to racing 'alone', what does it mean to do it as a crew?
"The human factor in endurance is very important, even among the mechanics, because many do other jobs, as there are only 5 races a year. I found people who were passionate, for example they train in the workshop to make the tyre changes faster, professionals of a high level like I hadn't found, at times, in Moto2 or Supersport ".
And as a rider?
"At the beginning it was unusual, when I got on the bike I felt more responsible towards my teammates, I thought that if I made a mistake they would insult me ​​(laughs). I felt the pressure of the team, then I worked on it and I forgot about it. Now I race as if I were in a normal race, trying to have fun. Team spirit is created in the end, in the other categories when my teammate was faster than me I was pissed off, in endurance no, we all celebrate together. It is also the team that makes the difference, because there is passion, everyone cheers everyone, from the first to the last rider".
"44 is my lucky number, I will continue to race until that age"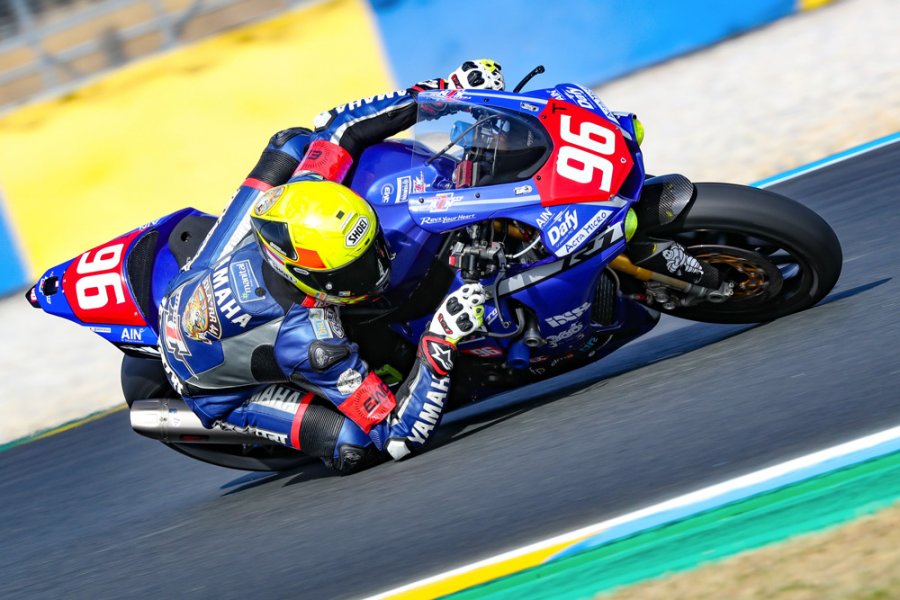 I took it for granted that you would continue to race but you too, like Valentino, are over 40. Haven't you thought about quitting yet?
 "No (laughs). I still like to ride a bike and every race has its difficulties, I feel very good on tracks where I have raced a lot in the past, like Le Mans, while on new circuits, or with a new bike, I have to make a bit more effort compared to when I was young to reach a certain rhythm. The only difference I noticed is that, but I enjoy it much more than before because I found an environment that motivates me. And I also have a goal ".
What is it?
"I have always had 44 as a lucky number, when I could I always used it in the races, so I would like to race up to 44 in the World Endurance Championship. I wouldn't even mind doing some wild cards in other championships, but I would no longer throw myself into projects that didn't fully convince me".
The challenge to Rossi is launched: you will race more than him…
"He does it in MotoGP, however, from this point of view there is no comparison. The rhythms are different, but in any case mine is also a World Championship and we don't go slow at all ".
"Valentino did the right thing not to leave Yamaha, in Petronas he can be more competitive"
So age doesn't matter for a rider? Do you lose something with age?
 "I also see it when I train on a bicycle, now I go better over the distance, in short races it is more difficult to get into the rhythm immediately, to push yourself hard. However, this does not happen if I have a good knowledge of the bike and the tyres, from this point of view I am now better in practice than in the past. There are factors that allow you to go fast even without the brilliance you had at 25 or 30. In my opinion, Valentino can still do well because he has a lot of experience and because he will continue to race with the Yamaha, if he were to change bikes he would have to make a lot more effort. On the contrary, I think that in a satellite team he can be even more competitive, since he is no longer in the factory team, every result will be even better ".
You are not just a rider, you are also a DAZN TV commentator for Moto2 and Moto3. But let's talk about MotoGP first, is this uncertainty all because of Marquez's absence?
"Absolutely not. Marc could certainly have made a difference, we saw him at Jerez before the injury. I would have put him as favourite, but he probably would have had a few more difficulties than in previous years, also due to the double races on the same track, it would have been a tighter championship anyway ".
"In MotoGP the tyres make the difference, but there is no one who stands out over the others like Marc Marquez"
Why so many ups and downs then?
"They look kind of strange to me, from the outside it's great to see, but it's strange. In my opinion there is a difference in terms of tyres, perhaps it is also Dorna's intention to keep the championship open in this way ".
Does having 7 different winners in 9 races mean it is a high-level championship or the other way around?
"There is no one who can really make a difference. It does not mean that the level is low, I would say that there is an excellent level that many riders can get close to, there are those who are fast on one track and those on another and then a tyre gap. Even looking at the times, I would like to say that this level is accessible to everyone and no one stands out like Marquez did ".
So who is the favourite right now?
 "The temperatures can make a big difference, with the cold some bikes might suffer more than others. I feel like excluding Vinales, so I see Quartararo as the favourite if he manages to be constant from a mental point of view. I think even with the cold the Yamaha can maintain a more constant level".
Shall we move on to Moto3?
"Vietti races very well, despite his age he knows how to use his head, at Le Mans he managed the race very well. Arbolino is always on the attack, while Celestino pulls out his claws at the end and doesn't leave any space for his opponents. I think Vietti has more potential than Tony for the title right now, I think he can handle the pressure better. The strongest rider, however, in my opinion is Arenas, even if I hope for our guys ".
And in Moto2?
"Everything is wide open. I would like to say Bastianini, he started off so well but at Le Mans he declined a bit. So I say Bezzecchi, who has behind him a team that rarely makes a mistake in strategy, it will be able to help him ".