With the double appointment at Misano behind us, MotoGP will arrive at Barcelona this weekend. It's a fast and technical track, with a resurfaced asphalt just two years ago, in other words an important test bed for tyres.
Michelin feels ready to face up to the challenge and has decided on the tyres it will bring along to the Catalan Grand Prix. The compounds will be the usual soft, medium and hard, but there will be something new for the front with a hard asymmetric like all the rear ones.
In case of rain, the wet tyres will be available in soft and medium compounds, with symmetric construction for the front and asymmetric for the rear.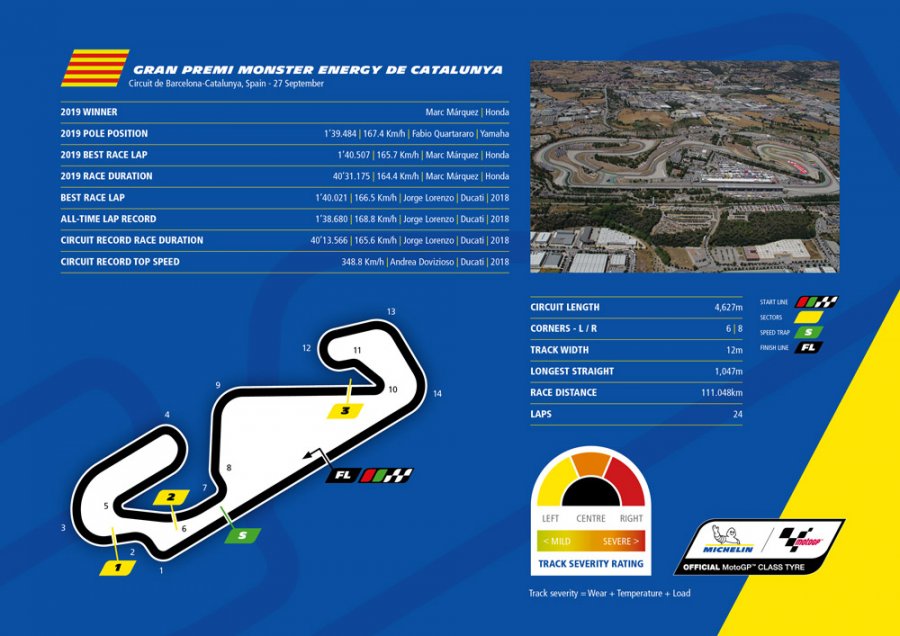 "It seems strange to head to Barcelona as the autumn is arriving and not in springtime, but we are expecting similar conditions to what we would have had if the race had been on its original date, so the range of tyres we have supplied is the same as we would have used if the original calendar had stayed in place," explained Piero Taramasso, Michelin Motorsport Two-Wheel Manager. "The track is one that gives a really good workout for the tyres, due to its comprehensive layout that features fast corners, a long straight, hard braking and is also very tough on the right-hand-side of the tyre, due to the long corners that go in that direction. This means that what we bring to Barcelona has to do a bit of everything, but has to do it very well and we certainly have a range of tyres for that."