Seven winners in nine races representing four different manufacturers and still 225 points up for grabs. With these prerogatives, the BSB British Superbike arrived today at the beautiful Oulton Park track for the fourth round of this crazy 2020 season. At the end of the first free practice session of the weekend Jason O'Halloran set the best time with important gaps to his opponents, starting with Danny Buchan and Glenn Irwin.
In a fluctuating 2019, which saw him move to Team McAMS Yamaha after a five-year period in Honda Racing UK, Jason O'Halloran seems to have found the right place on the Japanese bike. Whether it's because of the extra year of experience on his shoulders, or for the introduction of the all-new YZF-R1, O'Show is truly proving what he's made of.
After three consecutive third places at the Silverstone 'National' circuit (without forgetting the two podiums with pole position at Donington Park), the Australian set the first time in FP1 at Oulton Park, with a 1'35.180 (far from the track record in 1'33.941). Although it was obtained in the final session with new rubber on the rear, O'Halloran proved to be particularly at ease throughout the session.
A memorable performance, which allowed him to pull out a gap from the rest of the group. On a "friendly" track Danny Buchan (Rapid Fulfillment FS-3 Kawasaki) was again in the top positions, second in 1'36.005 and at times leading the session.
Third position for the championship leader Glenn Irwin (Honda Racing UK), 969 thousandths behind. For the 30-year-old from Carrickfergus, a positive outcome considering that it was the first time for the CBR Fireblade 1000RR-R at the circuit located near Little Budworth.
Just six thousandths from the championship leader was the revelation of this season: Kyle Ryde (Buildbase Suzuki). For the 23-year-old from Mansfield, the decidedly positive period is continuing, crowned by a brace ofwins  two Sundays ago at Silverstone.
On a track, branded by many insiders as "pro Ducati", the three bikes of the Borgo Panigale manufacturer finished Friday practice (without changing tyres) in seventh, eighth and ninth position in the following order: Christian Iddon (VisionTrack PBM), Tommy Bridewell (Oxford Racing MotoRapido) and Josh Brookes (VisionTrack PBM).
For the last two it will be a fundamental weekend in terms of the riders' standings, both at -35 from Glenn Irwin, where the goal is to win.
Andrew Irwin wrapped up the top ten with the second Honda Racing UK CBR, preceeding Jack Kennedy on his first outing with the RAF Regular and Reserves Kawasaki Kawasaki ZX-10RR.
The protagonists of the BSB British Superbike will be back in action tomorrow for FP2, the qualifying session and at 5.15pm for the start of Race 1.
FP1 RESULTS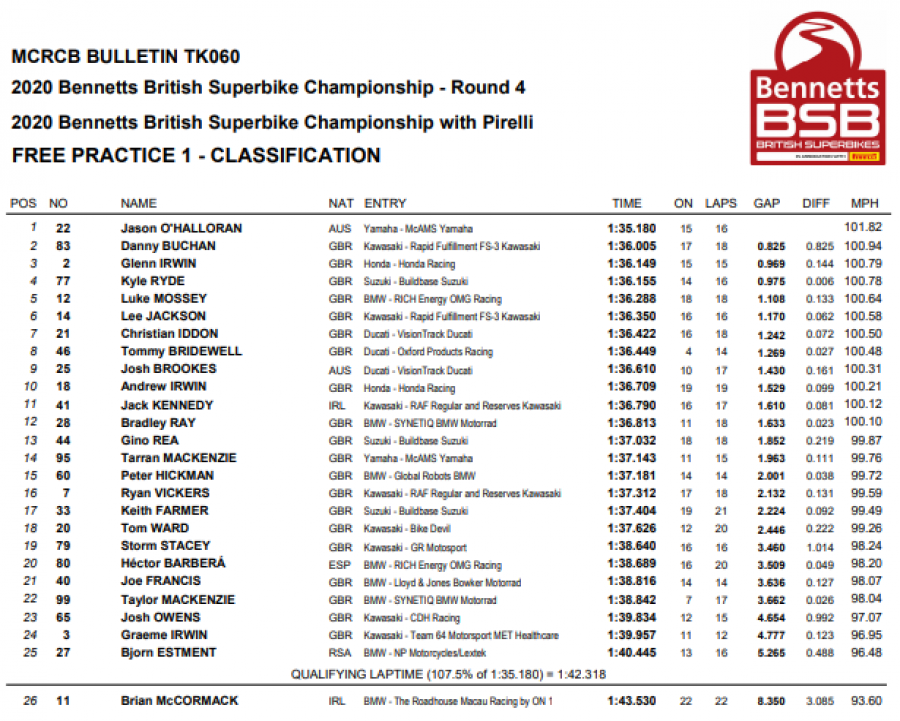 Share