From Misano to Misano, Matteo Ferrari's weekend can be summed up like this. Last season a brace of wins on the Santamonica track propelled the Trentino Gresini MotoE rider to the top of the championship standings of the electric series, while today's victory was decisive in relaunching his own chances in the standings after a complicated start to the season.
Due to a penalty inflicted by the Race Direction, the 23-year-old from Cesena started from the fourth grid slot, instead of the first, favouring riders like Mattia Casadei (Ongetta SIC58 Squadracorse) and Xavier Simeon (LCR E-Team).
Despite a brief initial outburst, the 21-year-old of Paolo Simoncelli's team was unable to set his pace and was never able to break away. With the leading group sometimes made up of six riders, the first laps saw all the contenders for victory studying each other.
The decisive moment came halfway through the race when Matteo Ferrari, in a few corners, overtook first Simeon and then Casadei out of the Tramonto curve.
With the drop in the tyres, the reigning champion used all his experience to better manage the situation in the final three laps, arriving at the chequered flag with more than two tenths advantage over the group.
For Matteo Ferrari it is his third career victory in the FIM Enel MotoE World Cup (all three obtained at the Misano World Circuit Marco Simoncelli) and the first of the season. An important win from the point of view of the championship, which helped him to jump to second place 12 points behind Aegerter.
Second position at the line went to the Belgian Xavier Simeon, again on the podium after the 2019 Austrian Grand Prix, who preceded the points leader Dominique Aegerter (Dynavolt Intact GP). The Swiss rider was never incisive during practice but recovered well in today's race thanks to a great overtaking move on Mattia Casadei, on the last lap at the Carro.
Fourth place for the Spaniard Jordi Torres (Pons Racing 40), then Mattia Casadei, edged out at the end while he was in the podium zone, and Mike Di Meglio (EG 0,0 Marc VDS).
The other Italians: seventh position for Alessandro Zaccone (Trentino Gresini MotoE), a good eighth position for Alex De Angelis (OCTO Pramac MotoE) from San Marino, recovering from 16th position, ninth for Tommaso Marcon (Tech-3 Racing).
With another two races in Misano ahead, the championship standings see Dominique Aegerter always in the lead with 57 points, 12 points ahead of Matteo Ferrari and 14 over Jordi Torres.
RACE RESULTS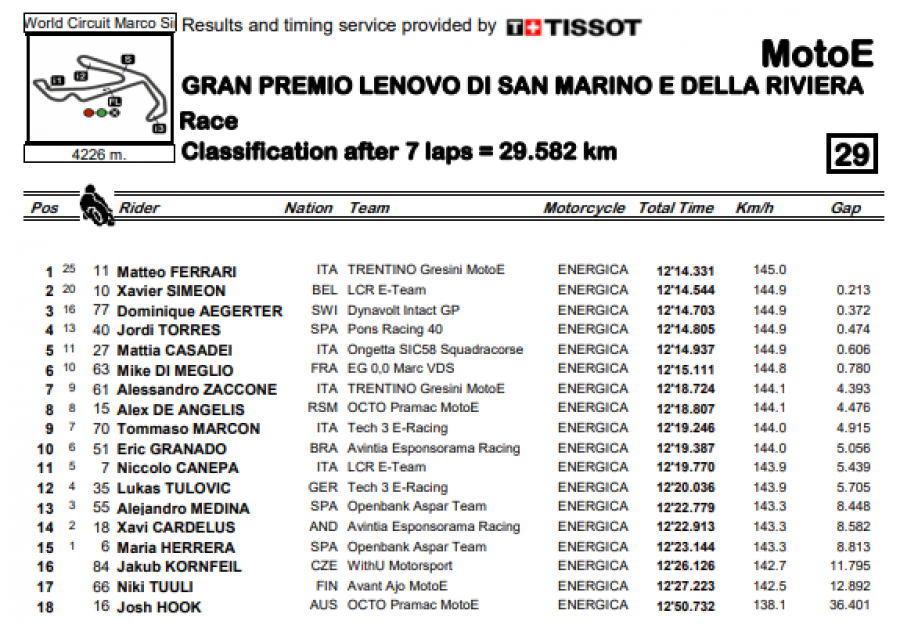 Share