Finally Fabio Quartararo has returned to the top slot. Between last year and the first races of 2020 the Frenchman had accustomed us to his domination of free practice (and not only that) but since the Brno GP his name had vanished from the top slots in the standings. Today bode well for Yamaha as the other M1s of Vinales and Morbidelli with Rossi in 6th position were classified behind the young French talent from the Petronas team.
"Today was a positive day because I come from bad races and I have to say that I have improved a lot - Fabio said in the post-FP2 Zoom debrief - I did a good flying lap but I'm also strong on pace; of course there are still some details to sort out and I've done a debrief with my engineers, we will try to do everything to sort the bike in the best possible way for the race ".
What do you think of the new asphalt in Misano? A lot of riders are complaining of bumps and too much grip…
"It seems like a motocross track because of the bumps and there is more grip than last season, even if in absolute terms it is not very much".
Fabio, in Austria and in Brno you had problems with the brakes and the same thing happened to other riders both in past races and here at Misano. How were things today?
"I didn't have any kind of problem and that made me very happy. Honestly, I don't know what spec brakes I am using but I think 2020. We have to adapt to the braking ".
Today we saw you battling with Maverick Vinales, not only at a distance with the times, but also on the track. What happened?
"Maverick and I had a bit of fun, it's good to battle with other riders and it's even more so when you have the same bike. I enjoyed myself. He is certainly the number one opponent for this weekend. "
Even without doing any tests here at Misano you are still in the top positions today…
"We are fast on this track but the more tests we do the better. We are not the best bike; we do not have the best package and even though we are going strong enough we are not in good shape like at Jerez. I wanted to finish first in the session because I haven't done that for some time. I did 25 laps on the same rear tyre and I made a big step forward when I put the soft on the front. Finishing first in free practice gives me confidence "
From a technical point of view, what do you expect from Yamaha for the next races?
"Yamaha is working hard and there will be some new stuff at Barcelona, ​​I don't have the package I would like but it is important to put pressure on and believe in the manufacturer. I need the new stuff".
Morbidelli: "Nice to see people in the stands"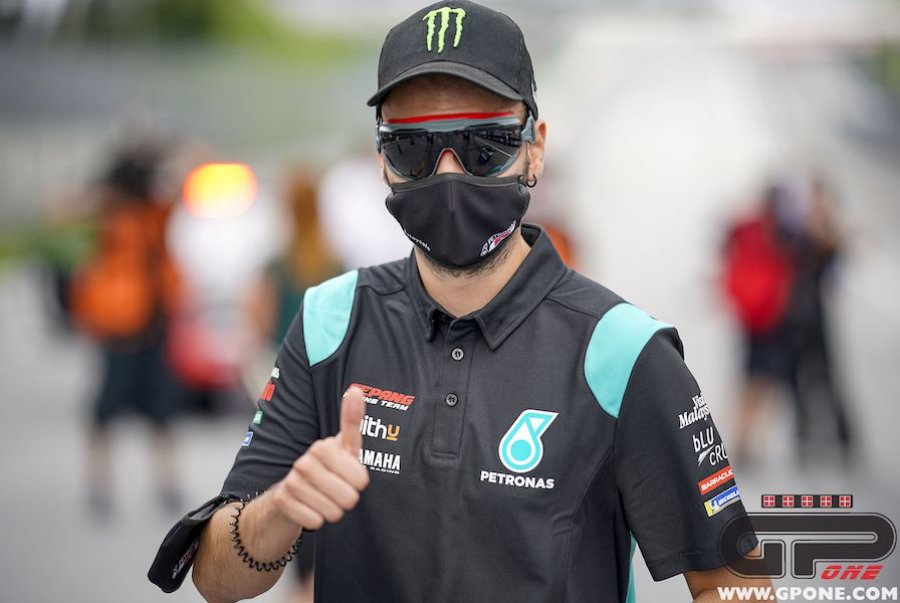 On the other side of the garage, second in the combined and second in the afternoon, is Franco Morbidelli who in the post-FP2 interviews still seemed very satisfied with today.
"Finally after returning to a normal track like Misano we are also back fighting for the top positions, it's always nice to be fast but doing it after two difficult races like those in Austria is even better. This afternoon I was more consistent and faster than this morning because I also put on the soft tyres ".
Have you finally found the sensations of Brno again?
"I wouldn't say that. This morning I was strong but not consistent. At Brno I was the best Yamaha rider and one of the best overall, now I'm in front but I'm losing a few hundredths in race pace compared to Maverick and Fabio. I'll try to recover tomorrow ".
Franco, in recent weeks and in post-lockdown training you have ridden here at Misano with the R1. Did you notice the bumps? Do you think they can be considered a danger for you?
"With the M1, compared to the R1, we are much faster in the corners and you feel the bumps much more. I didn't expect to feel them even though the riders who had tested here had warned us about it. I believe, however, that to be considered a safety problem the bumps should be much worse, I'm speaking for myself, for my bike obviously but maybe others feel them more. The bumps are boring and I understand that they can be considered dangerous for safety but so is getting on a motorcycle".
The spectators are finally back, this is the first event in the world to be able to accommodate 10,000 people in complete safety after the Coronavirus emergency. What effect does that have on you?
"It's nice to have some spectators in the stands again and it's even better to have them here at Misano in our home race".