"We didn't go badly, even though we didn't get the results we could have. Racing is like this sometimes", commented Francesco Guidotti philosophically and ironically the first two races of the year at Jerez, in which the Pramac team played the starring role. The team manager was left with the disappointment of a podium that vanished just like that, but Bagnaia and Miller did show that they can fight on equal terms with the factory riders.
Let's start with Miller, you expected him to be competitive after last season's results …
"Yes, but it wasn't taken for granted that he would start from there. It's nice to also have confirmations now and again, not just surprises. "
Your surprise came with Bagnaia…
"A nice surprise and I hope it was not just a flash in the pan, but the beginning of what we expected. Both of them were good. "
"An engine breakdown for Bagnaia is so disappointing that it's hard to get angry about it"
What did Pecco say to you when he got back to the pits?
"It was such a huge disappointment that it was so difficult to get angry (laughs). However, he did a wonderful race, exaggerated. We have to be satisfied with what it was, and not think about what could have been ".
When did you realize that Bagnaia had made the decisive step forward?
"I started hoping at the end of the race the previous Sunday. He had had a drop in performance when the tyres started to wear out, but in the last two or three laps he had started to lap with the times of the leading group. He then told me that he had to ride forcefully when the tyres started to drop, but also that in the last few laps he realized how to handle the situation. He had confirmed my impression and his comment had given me hope, it was a positive sign ".
Was the change more his or on the bike for the second race?
"Of course, then the changes on the bike also all went in the right direction and he was able to benefit even more. Now we wait for the next races to see if everything continues like this, because one swallow doesn't make a summer ".
"I'm not worried about the reliability of the Ducati; it wasn't a structural problem"
Does the technical problem that stopped Bagnaia raise any reliability concerns?
"I would say no, in the next few days the Ducati technicians will tell us what happened. There was a failure, but it is not extended to all the Desmosedici, it only happened to Pecco in the race. Not wishing to point any fingers, but Yamaha had 3 problems out of 4 bikes, in which case I would worry more. In our case, a problem with a component comes to mind, not something structural ".
Could the high temperatures have affected it?
"The heat was extreme and the water and oil temperatures were at the limit. Then, unlike Malaysia, there was no humidity, but an African heat, it reminded me of the first time we raced in Qatar. The conditions didn't help, but I don't think they were the cause of the problem either. I think it would have happened anyway sooner or later. "
The two Jerez races showed us that the satellite teams, with Petronas and Pramac, can perform better than the factory ones. It's something we weren't used to…
"Ducati and Yamaha have a policy in which they invest heavily in satellite teams, giving material that allows them to make certain results. So, I am no longer surprised, especially in an era where engines are contingent and electronics and tyres are the same for everyone. When a company has an interest in making young guys grow and in developing, it gives them a bike equal to that of the factory team and the engineers who make it work in the best way; if you have the right rider you can obtain a lot of satisfaction. "
"The new Michelins? It is not a technical matter but the rider's sensations "
Did Miller and Bagnaia also make a difference in interpreting the new Michelin tyres? They never complained about it, unlike Dovizioso and Petrucci.
"There is probably sometimes no scientific explanation, it is a matter of sensations that occur with the tyre and the throttle response, they are able to manage acceleration and the sliding".
Can riding style make a difference?
"I struggle to find a technical justification. Last year Quartararo, with the same riding style and with the old tyre, was in any case in those positions, and Valentino had the same problems. The solution is never found in one go, all the components must go in the same direction. Someone has certainly found benefits from the new tyre, but if we think of Bagnaia, he raced with a year-old bike last season; it is difficult to know how much merit should go to the rider and how much to the bike, there is never only one reason for such a radical change. A lot of blame is given to this tyre, but then you need to prove it. "
"I am prepared to lose Bagnaia if the negotiations with Dovizioso do not go through"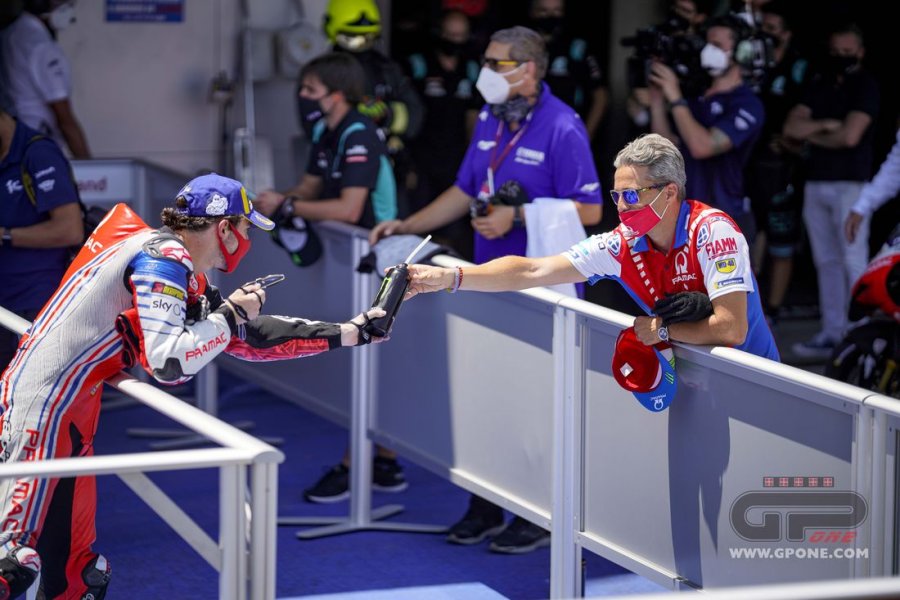 Let's talk about the market now, because at the moment the Pramac team is without riders for next year…
"The renewal with Bagnaia is now practically a foregone conclusion, but they could take him away from us if the exhausting negotiations with Dovizioso do not go through."
Are you prepared to lose him?
"Of course, I don't have much negotiating room with Ducati (laughs). Seriously, I would never veto a possible passage of a rider to the factory team, also because it is our job to help him. If, absurdly, we happen to provide both riders to them, it would mean that in the current year the factory team would be ours, in a certain sense. It would be nice if it also happened because it would mean that when we chose Pecco three years ago we had had the right idea. "
"In Moto2 I like Luca Marini, he has the maturity to make the jump into MotoGP"
In this case you would have to go and search for the substitute of Bagnaia in Moto2, who would you bet on?
"Luca Marini is definitely the rider who has the most experience and has already shown that he knows how to stay up at the front, even though at times in alternate phases. I think he also has the competitive maturity to make the transition to MotoGP. Bastianini has shown that he is there as well, but he probably has to gain even more experience in Moto2, which is a more formative class, both as a person and rider, and where you get used to race strategy and to ride a heavier and more powerful bike. Marini seems to me to be the most complete rider to date, then maybe in 3 races everything changes. "
Are you in a hurry to conclude your plans for the future?
"We can wait because, in case of need, we would offer a bike that would appeal to both a rookie and an experienced rider".
Would an experienced rider fit into your plans?
"In theory, no, but things change quickly. For the moment we have not bothered about the problem, we have only started to have a few thoughts, in two or three races' time we will have to decide ".
Any other ideas?
"This would have been a perfect championship for Stoner, who didn't like promo and media events. Feel free to write it: we could think about Casey! (laughs) ".