Enea Bastianini returned home to Rimini with an extra cup to add to his collection. For now it is a unique piece because it is the first one for his first win in Moto2. He earned it at Jerez, with a race in the lead from start to finish, enough to be able to cross the finish line on his own. After the podium in Qatar and the misstep of the first Spanish round, Enea this time never put a foot wrong.
"How does it feel? It feels good. There and then you don't realize it, the next day you realize it and two days later you say: now you have to do it again " joked Bastianini.
Did you expect to win before the start?
"After qualifying I saw that I had a good pace, but I didn't think it was enough to win the race. Then, after the warm-up, which I had finished 4th using used tyres and taking them to the race distance, I started to say to myself: maybe we are there. In the race I started off to win. "
Is doing it by breaking away easier or more difficult than a sprint to the line?
"It was nice to win like that (laughs). I am not saying that the last lap you can relax, otherwise you will only make a mess of everything, but you can let go and get a little more relaxed. big I really enjoyed winning with a big gap, I wouldn't mind getting used to that (laughs). The last laps seemed endless, then at the last corner I turned around, I saw that there was nobody there. All done. "
A podium in the first race, a 9th place in the second race and a victory in the third. Which one is the real Bastianini?
"I was competitive last weekend as well but we lost our way a bit. In Wednesday's tests I was fast, we relaxed a bit too much and I was not competitive on Sunday. The following weekend we recovered, I went back to the Qatar set-up, I tried to adapt to the track conditions and this paid off " .
After your injury in Austria, you had an uninspiring season finale last year. What happened?
"It all went wrong, because I was not in form and we had worked badly, I am sincere. This year, I got into gear right away, right from the tests. We managed to create a great harmony within the team, in the garage there is tranquillity and serenity. Now I feel good and I am sure that we will be able to repeat certain results in all the races ".
Now you are second in the world championship 2 points behind Nagashima, are you already thinking about the title?
"No, I prefer to look at things race by race and not the classification. I would like to win as much as possible and never be off the podium. "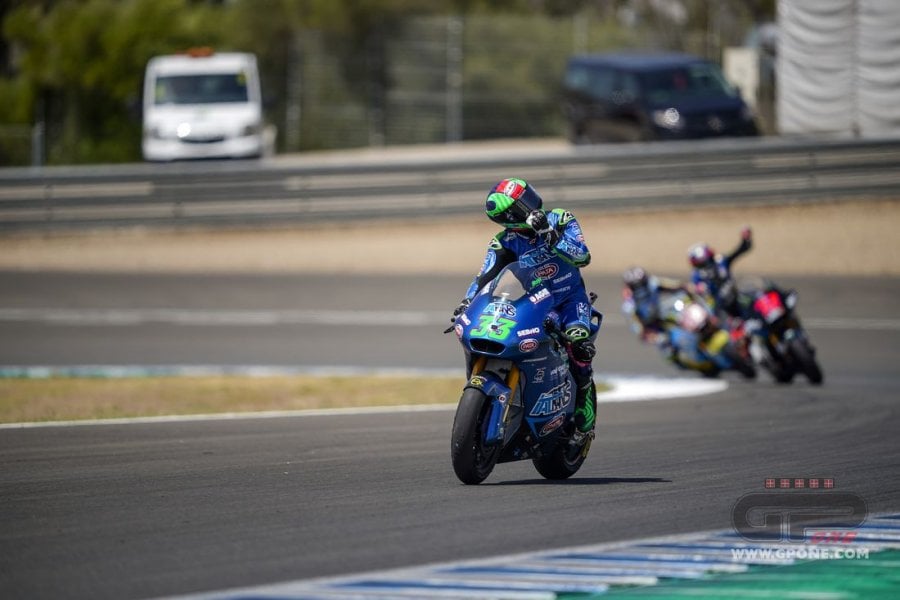 Sunday evening we commented on the Andalusian Grand Prix with Luca Cadalora, he told us that you have a great talent but, in the past, you lacked consistency.
"It's all in the head, it all starts from there. Consistency also comes when you have serenity. I messed up the first race in Jerez, but I immediately saw where the problem came from and I tried to make up for it by taking control of the situation. I immediately managed to find my way. As I said, you have to manage things, find serenity and now I am very confident ".
On the podium with you were Marini and Bezzecchi, who do a bit of a teamwork in practice. Do you miss having a support at your level in the team, as Dalla Porta is a rookie?
"In Moto3 I got used to doing everything on my own, I have never been helped a lot by my teammate for various reasons. Teamwork can pay off, but it's not necessarily an advantage. It's nice to see Luca and Marco always go out together in the various sessions; if they are in front, they are both in front but the same happens even when they are a bit further back, there are pros and cons ".
Who are your most dangerous rivals this year?
"I think we have only done a few races, so it's difficult to say. I see Nagashima in good shape, he is proving to be always fast. Certainly, Marini and Bezzecchi will also be in the hunt and I wouldn't even exclude Martin ".
In Moto3 you had the opportunity to race against Quartararo, did his brace of wins at Jerez surprise you?
"To tell the truth, he surprised me more last year, he did something incredible, it is not easy to get on the podium in MotoGP so many times in your debut year. He certainly found a bike and conditions that allow him to feel good and this means that he is always at 100%. He has done two races, if Marquez had been there maybe he wouldn't have won them, but he rides very well ".
Are you planning to join him soon in MotoGP?
"I don't know, it seems that the doors are closing. Clearly, each rider's goal is to get to MotoGP, I think if I do well in Moto2, I will get some interesting proposals, either this year or next. For now I am in no hurry, the market has been a bit strange this year. Who knows, you never know. "
Would it be difficult for you to stay in Moto2 for another season?
"If I didn't win the championship, it wouldn't be bad to do another year. If I manage, however, it would be nice to go to MotoGP, but I know that it will be not impossible but certainly hard to find a place for 2021 ".
Share