Motorcycling needs heroes. Even more so today now that technology seems on certain occasions to have taken over from the legendary feats of its protagonists who, in their period, with the sole protection of a leather suit, used to be called (in Italian, at least) 'centaurs'.
Half man, half horse, the centaur perfectly embodies the image of the biker, the fusion of the body with the mechanical means and therefore the ability to achieve maximum control - in one word: Marc Marquez.
Maybe thinking about this it seems that the Honda champion, after the operation on his humerus of his right arm, wants to try the impossible: to race in the Andalusian GP next Sunday, basically four days after surgery.
A behaviour that brings to mind a paraphrase of 300's King Leonidas: Is this blasphemy? Is this madness? No, it's motorcycling!
And who better than Claudio Costa, the riders' traumatologist, to explain all of this to us in detail?
Having retired a few years back dottorcosta - all one word, as he loves to sign his name - explained to us what could happen.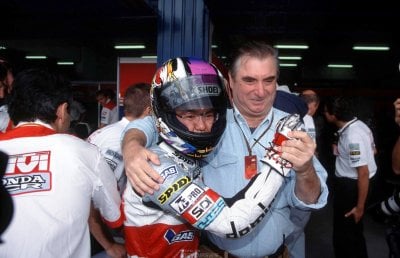 "The first thing, the first important factor, is that there was no nerve injury - he begins to explain - but in reality, for a fracture like his, there was no risk. The situation would have been different if the break had been in the lower middle third: in that case the rider can manage to clench his fist, but his fingers remain down: look at Nobby Ueda's accident at the Paul Ricard circuit for whom we built a special glove with elastic bands replacing the extensors ... ".
The question is, but can Marquez really do it after a humerus operation just a day ago?
"When something is impossible, the only thing to do is try and do it," said Doctor Costa, who in his life was co-responsible for a number of crazy exploits alongside the champions.
"Of course - he continued - if they had put a pin in instead of a plate it would have been easier, but in the case of Marc, who has a battered shoulder, it would not have been possible without the risk of damaging it. Obviously, the plate creates more difficulty, but it's not insurmountable. Let's say you could put on a protective armband. Something similar to what gladiators used. It's not that it really protects, but it changes the way the forces act. Obviously, it must not prevent movement ".
A broken humerus, even if fixed with a titanium plate, what forces must it bear?
"The stresses are in compression and rotation and the latter is the most threatening but ..."
What?
"Although reduced by the accident, Marquez has an inhuman explosive force. Few people think about it, but this is related to the fact that he and the bike are one. His incredible control comes from this: that's why he manages to get the Honda to go wherever he wants. "
There is however a risk of crashing…
"Yes, always, but in half a century of motorcycling I have personally seen very few fractures of the humerus. It is a very rare dynamic, and in fact in Marc's case it was the bike that injured him. In general, diaphyseal fractures of long bones are rare. As I said, a pin would have solved the problems but, I repeat, in his case even if they could have gone in from the elbow it was too much a risk. Marquez with a pin would have raced yesterday! "
What is the possible procedure for his return to Jerez next Sunday?
"Obviously, he has to undergo a medical check which always has to be done after returning from an accident to be refused or approved."
Do you think Marc will try?
"Right now Marc is a wounded hero who is deciding whether to race or not. The moment he says yes, if I were the doctor in charge of such audacity, I would authorize him to try and if he showed that even if it seems impossible that he can ride I would let him try ".
In the past we saw you alongside a lot of these heroic exploits bordering on madness…
"Katayama raced with two fractured collarbones, and Pileri and Spaggiari also did it, and Lorenzo in Assen had surgery to return the next day, but the collarbone is a simpler injury. Even Didier De Radigues, at Misano, finished the race by going to the podium with an open wound and the metal plate glistening in the sun ".
If Marquez decided to try, he would add his name to a long list of motorcycling heroes…
"With his arm sheathed by the leathers or by a gladiator armband and a desire for madness supported by his explosive strength, he can do it".