Michelin is ready to tackle the new MotoGP season after the long break caused by the coronavirus epidemic. The new rear tyre with a new construction will be introduced at Jerez, after all the riders were able to test it in the winter tests. The 2020 tyre was designed to improve grip, performance and durability.
The French technicians will also have to face the problem of the high temperatures expected during the weekend in Spain. In recent months they have analysed all the available data and with computer simulations have identified the best compounds to withstand the heat.
As per the regulations, the riders will have three compounds available (soft, medium and hard) for the front and rear, the first with a symmetric design, while the second will feature an asymmetric finish, with a harder right side. In case of rain, rain tyres will have soft and medium compounds.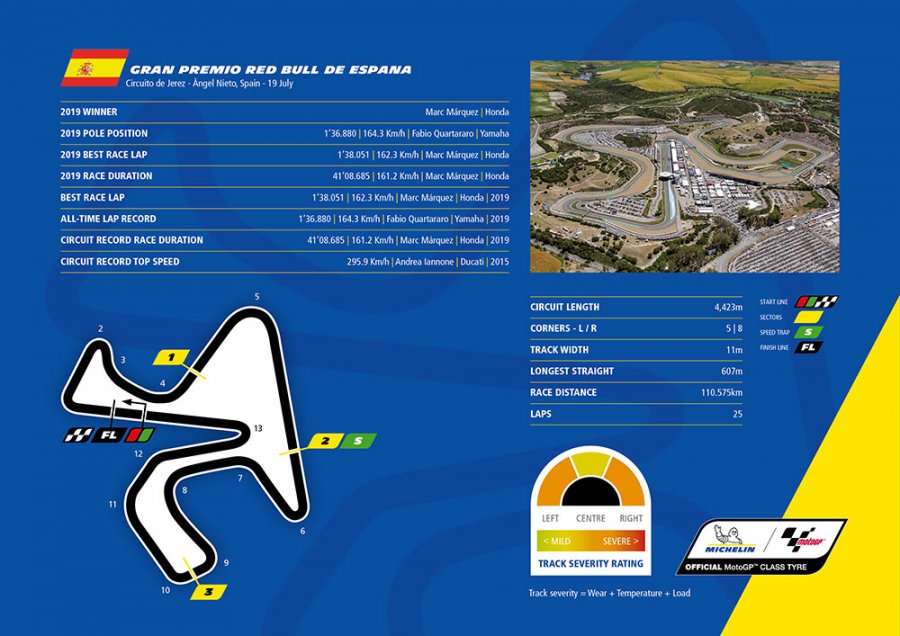 "It is an encouraging step forward that the season can get underway. We had a good start to the year with the tests and finalising the new rear tyre, but then everything was put on hold by the terrible events that unfolded. We now have the chance to go racing and give some much-needed relief to the fans after these difficult times," explained Piero Taramasso – Michelin Motorsport Manager. "With the new calendar some of the races now have different dates than their original ones, and the most noticeable of those is the first one at Jerez. We expect much higher temperatures than we would have had in May, but we have analysed past data and run computer simulations to understand what will be expected and have matched the compounds accordingly."
"The most important thing for us is the debut of the new rear tyre," he continued. "The construction was verified at the pre-season tests and added to the range for 2020, so this will be the first time we have raced with it. When we returned to MotoGP in 2016 we made sure that we would keep evolving and are determined to push the envelope of performance even further this year. The new rear slick tyre has been designed to work for all riders and machines, and following the last tests in Qatar – where we saw some fast lap-times – we are confident that all manufacturers will have found the best setting to make their respective bikes work to the optimum and give a first-class show for all, with hopefully some new records for Michelin at both the events at Jerez."
For the MotoE series, there will also be a brand-new range of tyres available, specifically developed for the Energica Ego Corsa motorcycles.
"The programme in Jerez is a busy one, as we also have MotoE during the two weekends," concluded Taramasso. "This series got off to a good start in 2019 and I'm sure it will continue to progress this season with the contribution of Michelin's new range of even better tyres. MotoE is a very important competition for our group, which this year is introducing tyres incorporating biomaterials and regenerated materials into the discipline. We are delighted to be the technological partner of a race-series focused on energy efficiency, sustainable mobility and respect for the environment. The 2019 World Cup was marked by some fine sporting battles, which gives us even more motivation at the start of this second season."