Gentlemen start your engines! With the publication of the (provisional) MotoGP and Formula1 calendars the engines are ready to start and from July onwards all the weekends will be occupied by races. The two top two- and four-wheel series are moving along parallel roads, with similar ideas, to salvage their season.
Clearly, time is short and they must try to organize as many Grands Prix as possible. For the moment, MotoGP is leading with already 13 races on the calendar, while F1 is still at 8, but it is a still part-time schedule for car racing, with updates sure to be on the way.
The championships revolve around a restart in Europe, which can guarantee easier movement and organization. Furthermore, both have adopted the formula of having two consecutive races at the same circuit in order to increase the number of events but not the logistical complications and permits.
Below you can find a table with the confirmed dates of the two championships.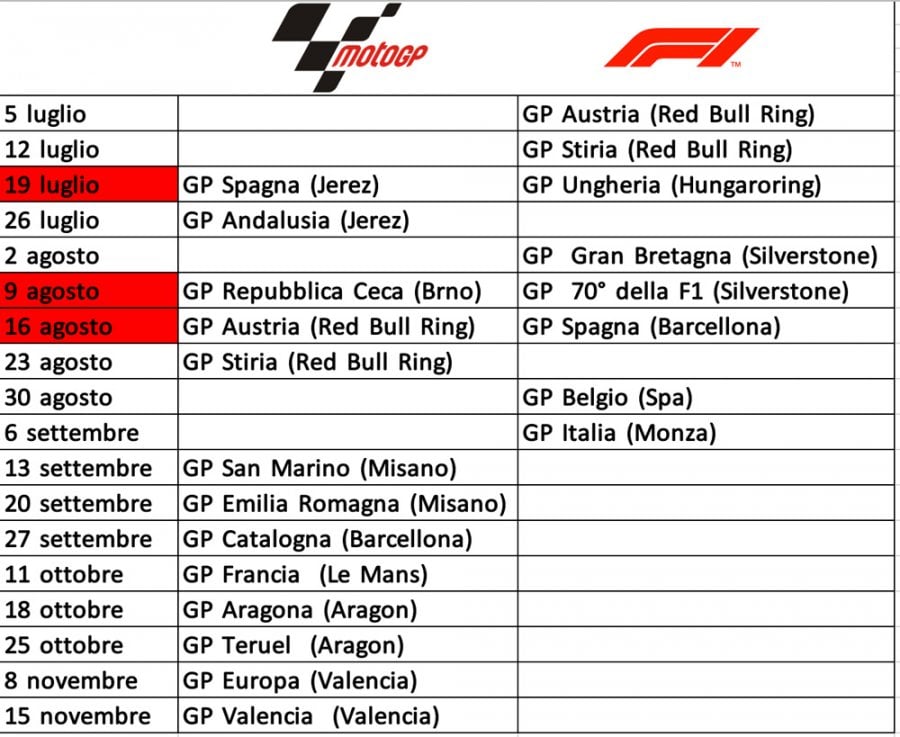 At the moment there are not too many clashing appointments. F1 will start two weeks before MotoGP in Austria, and its third GP will be on the same Sunday as the world championship begins, on July 19.
The other two weekends to mark down in red will be those of 9 and 16 August. The two-wheel championship will be at Brno and the Red Bull Ring, while the four will be at Silverstone and Barcelona.
In September, Italy will become the centre of motorsport: it all starts on 6 at Monza with F1 and continues at Misano on 13 and 20 with a double appointment. To be honest, there has also been talk of another Formula 1 GP at Mugello or Imola, strictly speaking to be organized after Monza, so there may be other busy Sundays.
To get a better idea, however, we will have to wait for updates from the FIA, which today announced the cancellation of rounds in Azerbaijan, Singapore and Japan. If F1 continues its championship outside Europe there will be no major problems, as it can count on the time zone differences, otherwise fans will have to get ... two TVs. The intention for cars is to reach 15-18 Grands Prix, with the Bahrain and Abu Dhabi rounds scheduled for the end of the year.
Moreover, MotoGP could also extend its season. The GPs of Argentina, USA, Thailand and Malaysia have not yet been cancelled and there is the possibility that they will be organized for mid-November onwards, subject to December 13 being the maximum limit. It is highly unlikely that MotoGP will go to the Americas, and there is some more hope for Asia, but only if spectators can be present.
The important thing is that in less than a month we can breathe adrenaline and speed again. A double portion of everything won't hurt after being starved for so long…