Today Sky Sport (channel 208) will be dedicating the day to an iconic American racer: Freddie Spencer (500cc world champion in 1983 and 1985 and 250 cc champion in 1985 with Honda).
We are publishing this long chat with 'Fast' Freddie by our very own Paolo Scalera, who sang his praises in Corriere dello Sport, starting a long friendship that began in Zolder in 1980 and which continues today. Enjoy the read...
Corriere dello Sport published this chat by our very own Paolo Scalera with Freddie Spencer last Thursday. It's not an interview, but a long chat between one of the protagonists of the decade of American domination in the world championship and a witness of those fantastic years. During which racers were racers, they didn't just ride bikes. And the reporters, at least some of them, were just friends who didn't go fast enough on their bikes to be there with them.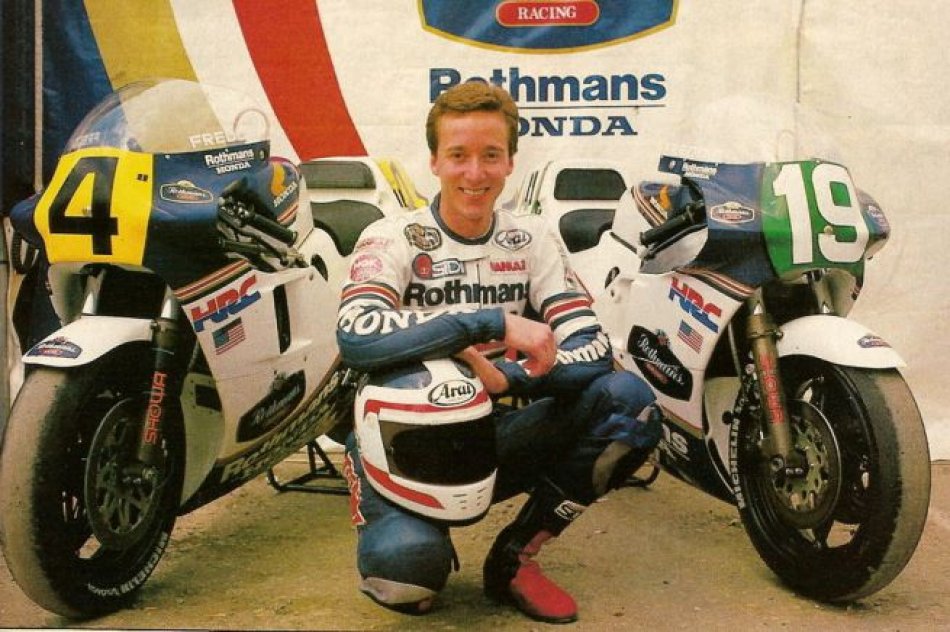 There are some riders like Agostini, Rossi, who are considered legends for the number of world championship titles won. There are others, like Freddie Spencer - for everyone, known as Fast Freddie - despite having won a lot less. In his case: three titles. In 1983 he won the first by beating Kenny Roberts, with six wins and seven poles, terminating the world championship with only two points more than his rival. In the following season he won five races, but five was also the number of his accidents so he decided to double up in 1985 by racing and winning in two categories, 250 and 500.
Overall, he won 27 Grands Prix, started 33 times on pole and climbed onto the podium 39 times. He was a great innovator in riding style. Instead of making round trajectories, he broke up the curves in order to get the bike up early and accelerate as soon as possible. This is how riders do it today.
He was in Rome as testimonial for MotoDays. The last time he asked me to see the Colosseum; it was 1985 and someone stole my wallet. This time to chat about the old days we chose a restaurant in Prati 'Orto'. He has become vegan together with his partner, the beautiful Alexandra.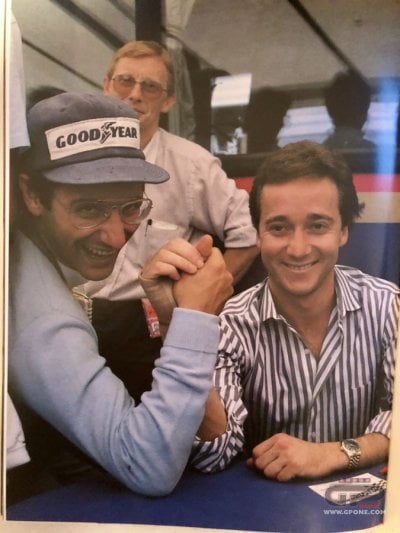 A glass of white wine for him, red for me. And the journey into time began, a time in which you could challenge the riders in an arm-wrestling match...
"It would be great to have a race with all the best, of every generation. Let's imagine it: Agostini, Hailwood, Read, me, Doohan, Rainey, Schwantz, Lawson, Roberts, Rossi. Unfortunately, it's only a dream. Who would win? We will never know, and it is pointless to think about it. Every champion must be seen in his time. There is no absolute champion ".
But every champion thinks he is…
"Not a lot of people know this, but for my entire career I was short-sighted. Now I've had an operation with the laser, but then I wore contact lenses. They were the first ones, semi-rigid. They moved around and brought tears to my eyes; for a rider it is important to always have perfect vision and in focus. I didn't have it, but I think because of this I developed my other senses in a particular way. I felt every small movement of the bike. Maybe without myopia I would have done better and won more ".
You and the other Americans certainly won a lot: from 1978 to 1994 you dominated the world championship…
"Yeah, there was a period like this. Today in the USA there are no more riders because there isn't much racing and without the numbers there are no champions. Spain has a lot of champions because it has worked hard on its young riders. Italy too, thanks to Rossi and his Ranch, has achieved great results. "
Like Valentino you had some great rivalries, Roberts, Lawson…
"And I also had problems with Roberts, caused by me overtaking him at Anderstorp, thanks to which I won the race scoring enough points to win the world championship at Imola with a second place. In the Swedish GP Kenny braked at the last corner without occupying all the track, and he tried to get one over on me by getting out of the fairing first, but without braking. So, I braked very late and we both went off the track, onto the dirt. I was on the inside and I won. It was 1983. Our relationship only returned to normal at Suzuka's 50th anniversary in 2012. Speaking publicly about that battle and my victory, he said out loud, "You were lucky." I replied, "Sometimes it's better to be lucky than good." Then I added: ever since I turned professional, I've put all of myself, my talent, years of sacrifices, to beat one man, Kenny. Pointing at him. And I succeeded because he pushed me beyond my limit. Since then our relationship has been relaxed, back to normal."
It must be difficult to have friends during the 'years of thunder'...
"Without going into the merits of what happened between Rossi and Marquez in 2015, I think Valentino made a mistake in attacking him. Marc is an aggressive rider and he resented it. It happened to me too with Kenny Roberts: when he attacked me, I felt even more stimulated to beat him ".
Then a moment comes when you decide to stop. Why?
"During our career we riders live like in a bubble. Nothing seems more important to us than racing and winning. But obviously this is not the case. There comes a time when you realize that life is something else. For this reason, I fully understand Casey Stoner's decision to retire. "
To continue, you need crazy determination...
"You mustn't think about anything else. The fans remember me especially for my double title, 250-500, in 1985. I made the decision to accept that challenge at the end of 1984, at the end of a season in which I was beaten by Lawson. The quarter-litre was built just for me by Satoru Horike. It fitted me like a glove. The half-litre, on the other hand, was much more difficult to ride, but nothing compared to the one the year before which had the tank under the engine and high exhausts. My forearms were burnt, the engine was losing power because of the heat near the carburettors. In Germany I couldn't take it anymore and I asked Honda to give me back the old 500 three-cylinder. The problem was it was gone because the old one had been given to Randy Mamola. I refused to take it away from Randy, a four times world champion runner-up, so I used an old 1983 Lucchinelli chassis with an old engine. Erv Kanemoto said to me: you can only do 6 laps in one session and 6 laps in another, otherwise it'll break. I started on pole and won the race."
You were quite an innovator, Honda and Michelin hung from your lips...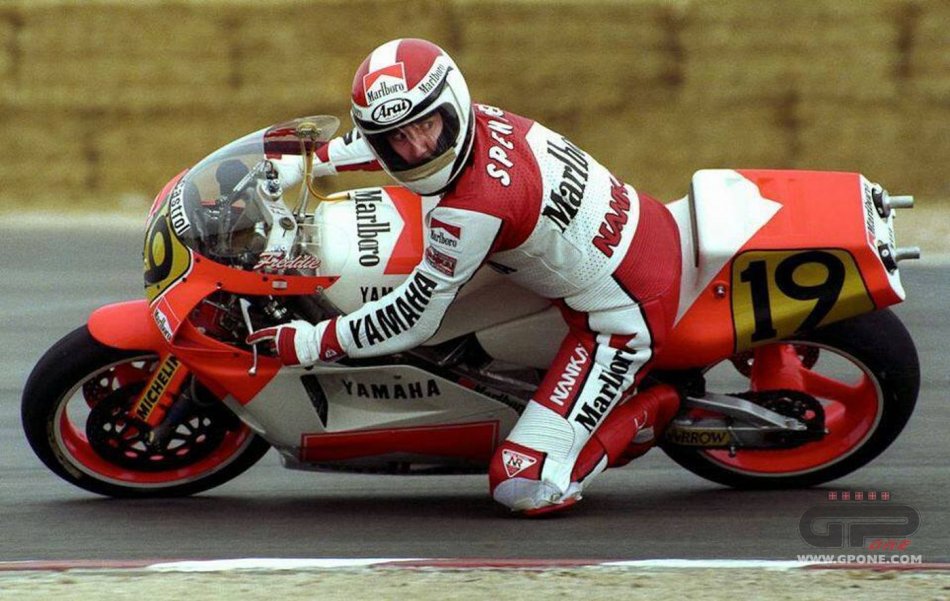 "Tyres, then as now, are the most important thing in the motorcycle-rider combination. I spoke recently with Marquez who confessed to me that he always chose the hardest tyre possible. I did the same too. In my day there was no one-make tyre and on my request, Michelin made me one specifically that only I was able to use ".
You were a great braker as well….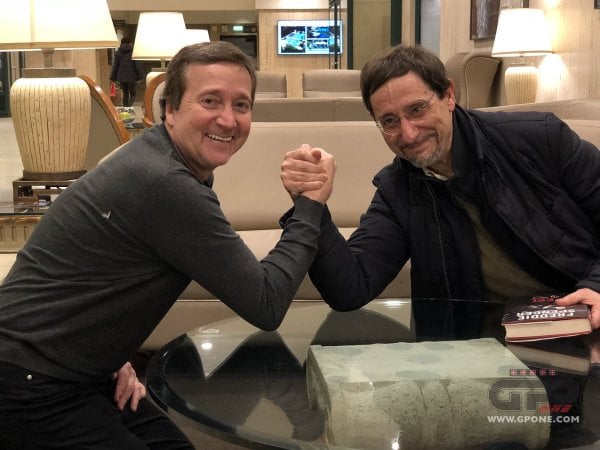 "Incredibly, though, when I tried to drive in cars, my biggest problem was braking. With four wheels you don't have to modulate, you just have to step on the pedal as hard as possible. I have great respect for my colleagues on four wheels. Once in England, at night, in the rain, John Surtees drove me by car. He was more than seventy years old, but he was very strong and safe. Another time Niki Lauda took me for a tour of the old Nurburgring. He drove easily, without any unnecessary movements. When we got to the point where he had his terrible accident he said only, without slowing down, "this is where I had the accident".
A legend talking about other legends. Fantastic…
"But I have to deny some legends about me: it was said that in 1985, between the 250 and 500 races, I breathed from an oxygen cylinder to physically recover faster. It would have been a smart thing to do, but it's not true ".
But you did move around in the 'Death Star'…
"(Laughter) Yeah, that was the name you journalists had given to my black motor home with tinted windows."
Come on, in Japan you were treated like a demigod…
"When I won both titles, Soichiro Honda personally invited me to his house for lunch. When I entered, I saw a gardener who was watering the flowers with a rubber hose. He turned around: it was him. We sat at the table and a course of sushi arrived. I don't eat fish. I felt very embarrassed. I didn't know what to do. Mr. Honda was looking at me. Then at a certain point he laughed, and they brought me a hamburger. He had made fun of me. That and the victory I dedicated to him at Jarama, in Spain, remain my best ever memories. He came up onto the podium with me, put his hands around my shoulders and said: thank you for giving me a dream. Actually, it was he who had given it to me. It was the only race he attended. "