A podium at Mugello on the Ducati would be a dream for any Italian rider. Francesco Bagnaia achieved it today with the Pramac team bike... too bad it was just a video game. Pecco accepted the challenge with video games and met it, participating in an experiment dedicated to fans who are going through race withdrawal.
"If it had been with a video game, I would have reached the top podium years ago!" he said, jokingly. "I've always played with the MotoGP, and I've gotten a lot of podiums, but real life is something else."
A podium at Mugello with Ducati is the dream of every Italian rider.
"True, and also with a fall. It means that I went faster than everyone. A repeat wouldn't be bad."
If we were at a press conference, we would ask you: "What was missing for a win?"
"Alex Marquez rode really clean. I made too many mistakes. It was right that he won. After the first lap, I was calm. I wanted to attack at the end, but I wasn't able to. I'll have to make up for it."
Can you blame the tires even in a virtual race?
"Unfortunately, no. They're the same for everyone, and the engines don't break down. There's no excuse. There was also a balancing in performance, so all the bikes had the same."
And the set-ups?
"I confess that I asked Andrea Severi, the eSport champion who rides a Ducati, for a good one, but I was probably not the only one. Also Marquez, Quartararo, and Vinales must have had the same idea. It was a long time since I played the MotoGP, and it was tough. It's almost more difficult to ride a MotoGP in the video game than in real life!".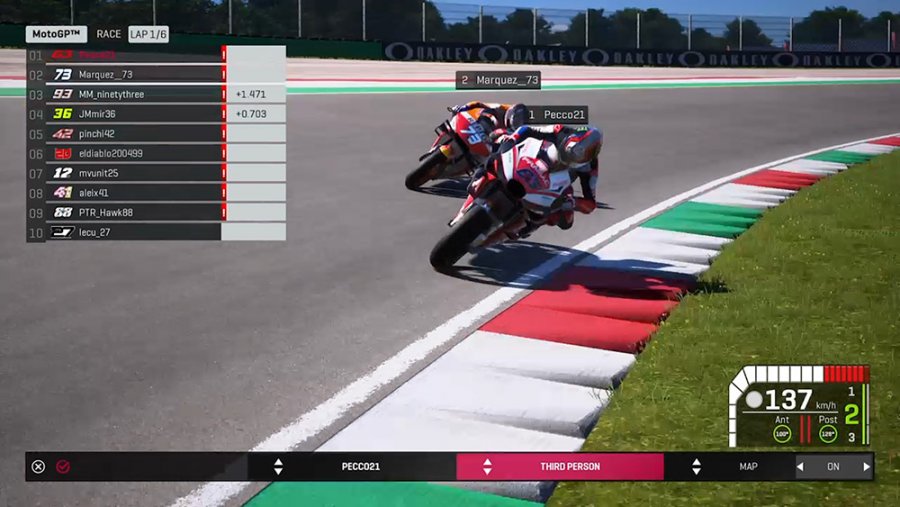 Was it a good experience anyway?
"It was an initiative more for the fans than for us riders. I liked it, and we should do it more often, with longer races, not just 6 laps. I heard there'll be another race in a couple of weeks, and I'll definitely be there."
Going from virtual to real life, how are you spending these days?
"I watch movies, TV series, I play with the Playstation, and I try to train as best I can. I keep in touch with the other riders and with my friends."
How did you react to the news of the cancellation of the first race in Qatar?
"I was ready to leave when they told me. It was shocking. The first few days it was difficult to even find the motivation to go to the gym. The first week was the hardest."
After such a long stop, will it be strange to race again?
"In some way, it's like a winter break, maybe even longer. The problem will be that we'll start again without testing. We'll start with the race weekend. Physically, we'll be less ready. The tests and races will be tough."
There's also a chance of having many races close together.
"We'll have to know how to manage them also from a mental aspect, but I also think that everyone will have a great desire to get back on a bike. We'll have to find out how many races we're going to do. I don't know if it's a good idea to race in Valencia at the end of November, but they're all minor problems. What's most important is that things work out, and we can start again."
How does this pause affect your future, since you still don't have a contract for 2021?
"It would be worse if we were racing and I didn't have contact. We're all at a standstill, and the riders market will simply move forward. My goal is to remain in Ducati, working hard to get to the official team."
Can you do "homework" these days from a technical point-of-view?
"I know practically all my races by heart," he laughed. "I've seen and reviewed them billions of times. Last week, I heard from my technical manager, Cristian Gabarrini, and we talked a little bit, even if it's hard not having the data in front of you, but you can be generic."