Vittoriano Guareschi in his career has been many things, rider, test rider, team manager. And now? "I ride Moto Guzzis, I adjust Moto Guzzis and I sell Moto Guzzis - jokes Vitto - I have gone back to my family love, my father opened a dealership in 1974 and my brother Gianfranco and I are carrying it on."
Guareschi has never been afraid of getting his hands dirty or even saying what he thinks. Two characteristics that have remained intact and with him we can talk about bikes, 360 degrees.
It's nice to dive back into the past and find that some inventions are not exactly new. Like the 'holeshot 2.0' system experimented by Ducati, the one that pushes the bike down under acceleration. Already at the time of Filippo Preziosi, Vittoriano experienced something similar.
"The holeshot? I tried the lowering device and it almost shot me into the air"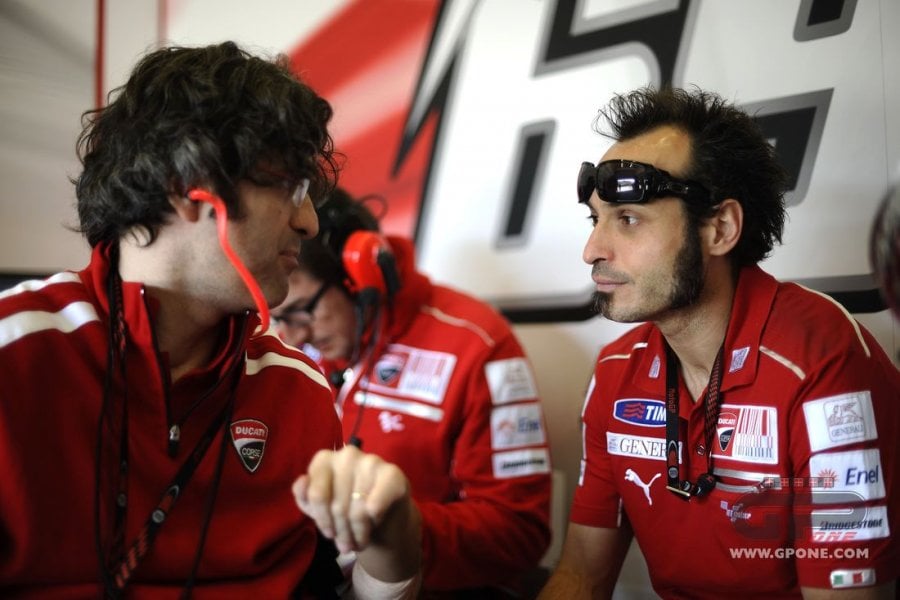 "We used to call it the lowering device, because the bike lowered itself under braking - he says - It was in 2003 or 2004 and we had done a lot of experiments and a lot of kilometres. It was a bizarre invention, very mechanical and not very electronic and with complications that we never managed to overcome. I had a few moments of real fear. I remember that at Mugello, after Arrabbiata 2, instead of shooting me downwards, the mechanism shot me upwards and I was flying to Scarperia".
Was there any other devilry?
"The electronic clutch was used to save petrol and go faster on the straight - he continues - When braking, the engine practically came to a stop and the bike remained in neutral. It was a very ingenious but also a very difficult system to develop and for the rider to digest. Practically the clutch disengaged at the moment of braking and came back on again when the gas was reopened in centre curve. Everything was managed by the engine brake and by the clutch, with a mixed electronic and hydraulic system: there were both tubes and control units".
As is often said, not everything is successful however and in fact these systems have never been seen in the race.
"I am miraculously a survivor! - laughs Vitto - And all this with bikes that were already doing 350 km/h at the time, I remember that in Barcelona I reached 348 but the problem was that the bike just didn't want to know how to turn, it went well on the straight but the curves weren't a prerogative of the GP4".
"I would like an unrestricted MotoGP; the costs don't go down anyway"
In less than 20 years, MotoGP bikes have changed a lot, and some say that they have become too sophisticated. Guareschi agrees.
"I'm afraid that taking away from technicians the possibility of doing the most basic things, like a 5-cylinder engine or changing the bore values, obliges them to invent something from F1, such as aerodynamics, strange things and far removed from everyday motorcyclists - he explains - A less traditional bike is not easy to understand for a rider who wants to know what happens, instead there is a system that decides what to do. It is difficult not to manage it personally, it is as if they constantly change your shoes and you are never 100% sure because something can always happen which can't be foreseen. Young people have a more open mind, and this can help them ".
What is Vitto's dream?
"I would like to have a MotoGP with just one limit: 1000 cc of displacement. Then everything else should be free. We have tried to harness everything, but in the races those who have the money will always find a way to spend it, costs do not drop" he says.
This is only a summary of the long chat we had with Vittoriano. Tomorrow we will make available the second part, if you want to listen to it all, click 'play' below.