Enea Bastianini's season started in the best possible way with a 3rd place in Qatar. An important result for the Italtrans rider who didn't get many good results in the last few races of last year. An injury brought a halt to his progress in Moto2, but the winter months helped to get him back on track and things went well.
He returned to Italy from Losail to deal with the restrictions imposed by the coronavirus that are ill-suited to the life of a sportsman. "The ban also applies to us riders, so I'm staying at home and training here with some equipment," he said.
Let's talk about motorcycles. Moto2 raced in Qatar and you started the season with a podium. Did you expect that result?
"Right from the first tests the situation has levelled out quite a bit, but I was in the leading positions since Jerez, without ever having to make that much effort. I knew I was competitive, although I wasn't sure I was competitive enough to get onto the podium."
What were you missing for the win?
"We had a small problem, but we still don't understand what happened. I wasn't very fast on the straight and everyone was following me in my slipstream while I couldn't do it. It was tough, but a podium means a lot."
One of your problems last year was that you were not particularly fast in the first part of the race.
"Of course, I also tried to work on this aspect in the tests, as well as to improve in qualifying because I always started quite far back. I immediately tried to keep up a good pace as soon as I entered the track, and in the end, I was able to do it in the race as well."
"Last year the injury limited me, and I became a bit sad"
Last year, you had a good start as a rookie, but after the ankle injury in Austria you came to a halt. What happened?
"I reached the point where I was fighting with the top riders, I got onto the podium in Brno, and staying home for a month because of the injury was difficult, I felt sad. When I got back to racing, I couldn't press hard on the pegs and that compromised the final part of the championship. I was only able to be fast for 2 or 3 laps, then I felt the pain".
Was it exclusively a physical problem?
"It was also mentally. I did well at Motegi, but then I was struggling again. It was a combination of things, but in the winter, I did a reboot. I trained a lot on a motocross bike; we created a group of friends and I had some fun with riders like Casadei and Zaccone."
"The title? I have everything to succeed but it's not my goal at the moment"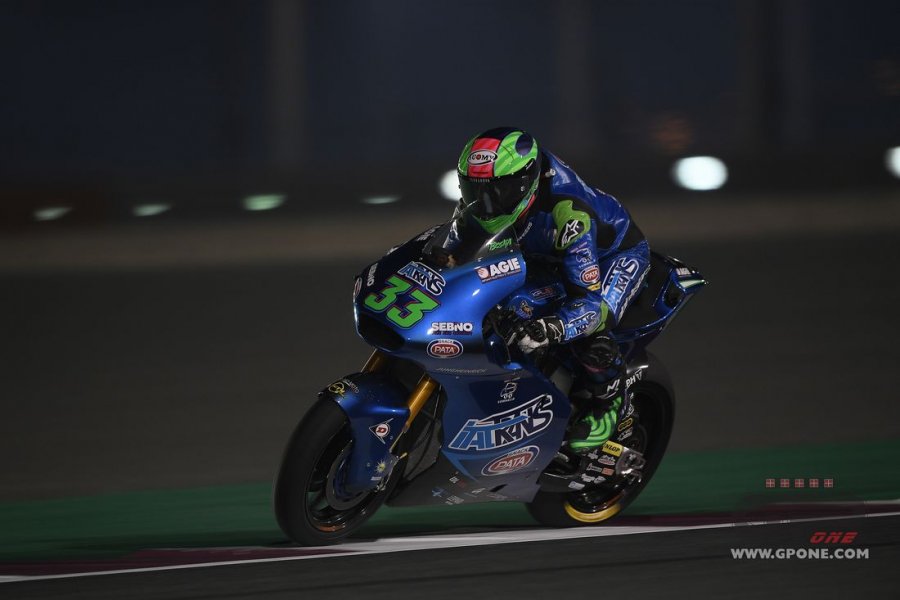 Do you feel ready to fight for the title?
"It's not my goal at the moment, but I'm not lacking in anything to succeed, I'm in a great team and I feel in shape. Obviously, It would be great if I could win it and I will try, but now I want to have fun and think of everything on a race-by-race basis, then we will see what happens at the end of the year ".
Do you want to avoid the pressure you felt in Moto3?
"Every year it seemed like I was going to win, but honestly, I never felt that pressure too much. In 2018 I could have done it, but I had a bit of bad luck. "
"The new Moto2 requires a style similar to that of MotoGP"
Has Moto2 changed a lot in this second year with the Triumph engine?
"With the arrival of the new Kalex chassis and the new tyre, the situation has levelled out and I immediately adapted well, especially to the new tyres. In addition, there is a bit more electronics, we can act on engine braking and adjust the controls depending on the inclination of the bike. I find it very interesting. "
It has been said that this Moto2 is more of a preparation for MotoGP, do you agree?
"From what I could see from the outside, when they had the Honda engine, you had to ride cleanly, making the bike slide a lot in the corners and then go sideways a lot in corner entry. With the Triumph engine, your riding style is different: it has a lot of torque and you can go right to the edge by using the pull of the engine, it's a style that is very close to a MotoGP ".
"I'm not in a hurry to go to MotoGP, I'll make the jump when I'm ready"
Those who have ridden the old Moto2 and then switched to MotoGP have sometimes had a hard time in the first year, as happened to Morbidelli and Bagnaia. Do you think this has something to do with it?
"Maybe now there is not so much difference between one category and another, but for sure it also matters a lot how a rider can adapt and choose the right bike. Morbidelli and Pecco have struggled a bit more but they are now competitive, while Vinales and Quartararo did well right away. The Ducati and the Honda are more aggressive bikes than the Yamaha and the Suzuki and this may have made a difference. "
Are you thinking about MotoGP in your future?
"Yes and no, I know it's an important choice and I want to be ready before making that leap. I am in no hurry to get to MotoGP even though I would naturally like it. "
If you win the title, would you stay in Moto2 to defend it like Zarco did?
"Difficult to say. If you want to go to MotoGP, you have to have a good offer because getting on the right bike matters a lot. Just look at how Bagnaia and Quartararo tackled their first season, certainly Pecco is every bit as good as Fabio but he has struggled more. There are many things to evaluate before choosing".