Andrea Dovizioso is a lot happier than his final tenth place in the Qatar tests would seem to indicate. Indeed, he jokes about it: "I gave my life to make that time, but in the end, we are all close. You actually feel a bit disappointed because you see that everyone can do it - he laughs - But you know that in the race you have to ride in another way and that makes the difference".
This is exactly what the Italian has focussed on and, more importantly, he found the answers he was looking for.
"Before I came here, I would have signed up to finish the tests in this way - he says - It was the best day of the six test days we did this year."
"These have been tough tests, because compared to last year we are suffering more because of the new tyre and our rivals are getting stronger - he explained – The Yamaha and the Suzuki are very fast, both over one lap and race pace. However, I finished these tests in a better condition, I did a long run and I picked up a lot of important information. Doing a lot of laps behind Danilo allowed me to understand many things, I am quite happy because I can use them in the race. If I look at the pace, the Petronas riders were faster, but I'm close."
Furthermore, there are still a few days left to prepare for the inaugural GP.
"It won't be possible to make any big steps forward, but the race is always different for everyone, sometimes positive and sometimes negative - continued Dovi - Today I tried some different set-ups and I managed to improve a bit, moreover we also have some other ideas still to try. I started with used tyres and some important things emerged. I'm happy the way I finished these tests, I improved my sensations with the new tyres and the new set-up that I tried opens a door for us, perhaps, for further progress. It's all about fine-tuning, so we can try it out during the GPs."
We were also wondering if he will use Ducati's squatting device in the race but, on this aspect, Andrea prefers to gloss over.
 "To use it you have to be OK, everyone will make their own decision. There may be tracks where we can use it and others not, I don't know, everything is evolving".
He will surely be able to count on one thing, however: the top speed of the Ducati, which is once again a step ahead of its opponents.
"We have made up a little bit and it is an advantage that we need because we have other shortcomings. It is good that Ducati have managed to take another step forward; even though we already had a very powerful engine, it can only come in useful," he confirmed.
One final comment on rival Marc Marquez, who today went back to using the 2019 bike.
 "When you do tests of that kind, usually the new features don't go the way you hoped, so you need confirmation to make the right decisions – is his opinion - Having said that, you always have to expect anything from Marc, you haven't seen much in the test but in the race he'll be there".
Danilo Petrucci: "Better not to be among the favourites, I'm happy with my tests"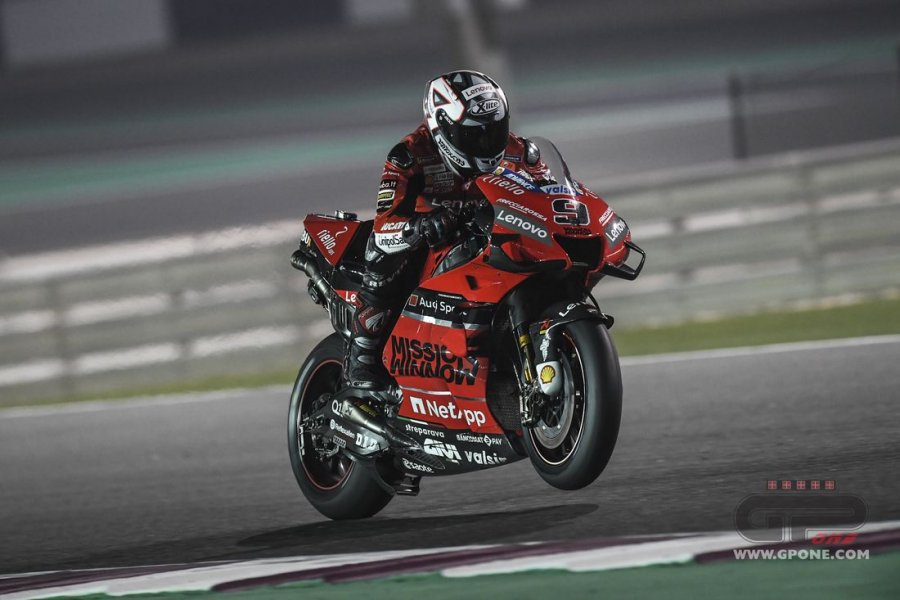 There is also some optimism on the other side of the box. Petrucci didn't bother too much about outright performance, and in fact he set his best time on the first day of testing, preferring to focus on his pace. A task that paid off.
 "It was a good day - he said - We had some things to do with the set-up of the bike and I also wanted to complete a complete race simulation of 22 laps. I felt good and, like yesterday, I wasn't interested in focusing on the one lap, there will be an opportunity to do that on the race weekend. Last year I was often the fastest in the tests, then my deck of cards collapsed in the race, so I prefer not to be among the favourites."
Danilo completed a full race simulation.
 "I think I was the only one to do it, I started by lapping in high 1'54s and then in low 1'55s using soft rubber. I have one less doubt for the race and I can consider myself satisfied, there are only a few things I need to sort out."
Another positive note came from the performance of his Ducati on the straight: "Our bike is back to being fast on the straight, so we will have one more weapon to use."
He was also pleased with the new aerodynamics: "There are no negative points. Here in Qatar it's always complicated because it's windy, but I saw that even when there is a lot of wind it doesn't bother us."
Danilo cannot avoid answering a question about Ducati's squatting device.
"I have been using it for some time. I think it can be useful, certainly it doesn't change things overnight but last year many races were decided with a photo finish, especially the ones we won, so in MotoGP a few thousandths of a second are important, even if it is a little difficult to find them."
One last comment on the values ​​on track a few days before the first race.
"This new rear tyre has shuffled the cards a lot. For sure, we were much better off last year, but I think Marquez is always one of the favourites; I don't know what Honda are doing but Marc has solved the problems for them several times. We were in difficulty at Sepang and we are not in the best conditions here, let's wait for the race before saying anything."
Audio recorded by Marco Caregnato