Johann Zarco is a perfect example of what sliding doors represent in life, especially for a rider. HRC had focused on him in early 2018 as team-mate for Marquez in the following season, but his manager Fellon chose to go to KTM and we all know how it turned out. Then there was a chance in LCR and the door to HRC opened up again with Lorenzo's retirement, but once again things didn't go that way for the Frenchman. Alex Marquez's arrival at the court of his brother cut him off, but it also opened the doors for him to join the Ducati family.
Gigi Dall'Igna in fact helped him to join Avintia and he did so by offering high-level technical guarantees and convincing Marco Rigamonti to leave Suzuki to become his crew chief. Zarco was therefore welcomed into Ducati in the best possible way and in fact he represents the classic 'extra man', who is destined to play his cards this season to aspire to join the official team in 2021. We interviewed him in Losail, talking about the last crazy year of his career and his first sensations on a bike from the Borgo Panigale factory. At the end of the second day of testing he was sixth overall in the standings and with excellent sensations.
"I'm happy, especially for yesterday – explained Johann – It was only one lap, but I am happy to have set a time that allows me to be there with the top riders. I am very happy about this opportunity with Ducati, because I risked so much and finally, I am in a situation where I am calm. I realized in Malaysia that there will be a lot to learn. I hope I can learn quickly, but I must also have patience. If we look at the time I set yesterday, you could think that everything is OK but there are actually many things to understand in order to be as competitive as Dovizioso, who is the benchmark for Ducati. I like to work and learn these things, because I feel good and I feel that my group believes in me so much and this helps me. At the moment we are doing things easily, and that's the first thing I needed now."
Dall'Igna has often been around you and Ducati seems to be paying a lot of attention to what you are doing.
"Yes, and there was already this feeling in the winter, when Gigi asked Rigamonti to leave Suzuki and return to Ducati. They did everything possible to make him return, and Marco also told me he was happy to have found many colleagues with whom he had worked and that he feels at home again. I am happy to have a crew chief by my side who knows Ducati but who has also had experience with Suzuki. Now he's back and this could be important because he can check how much the Ducati has improved in these years. We have excellent dynamics in the garage".
Zarco: "Me the anti-Marquez for Ducati? I want to be that man"
In a certain sense you are Ducati's trump card. Can you be the anti-Marquez for the Borgo Panigale factory?
"Yes, I think I can, and I am very happy about this. The goal that I have set in my career is to be in a factory team to be able to win a world championship in MotoGP, so I would like to be that man. But I'm not asking myself that question now, it's very early and you have to do many things first and prove that you deserve one of these good places in the factory team".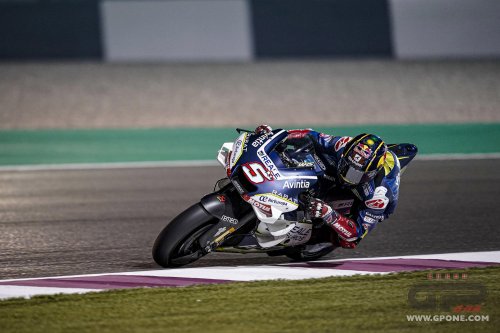 In the last period of your career you have had many 'sliding doors' in front of you. Honda HRC, KTM, Honda LCR. So many different paths that led you to where you are now. Are you happy?
"I am happy to have many people who believe in me. I didn't want to lose my ability; I think I have already shown my potential in MotoGP but not fully. At some point I was afraid of losing this feeling and this ability to going fast with a MotoGP bike, which instead I felt very good before".
You have already shown that you can be very fast with the Ducati over a single lap. What is missing for you to have a fast race pace as well?
"I miss the feeling of being comfortable on the bike and doing everything a little more automatically. Everything I do at the moment is under control, but I'm not riding naturally yet. I'm working on it, but it's not an easy thing to do. The experience I went though also taught me how important it is to know how to adapt and to know how to change your style. If you want to stay at a very high level you must be ready to change things, you can't just do what you already knew how to do."
Zarco: "Every bike has a soul. The Honda is a lot more similar to the Yamaha than you might think"
You have ridden a Yamaha, a KTM, a Honda and now a Ducati in less than two years. Can you define the differences between these bikes in a few words?
"The Honda and the Yamaha have a Japanese soul, even though they are two bikes built following very different concepts. But there is a common soul between the two, which is very easy to feel. They both allow you to do things fairly naturally on the bike. Instead the KTM and the Ducati have a more European soul. When you are on these bikes you can do other things, but you have to push harder. I prefer, however, to push harder on the Ducati, because knowing that this is a winning bike takes many questions from my head. There is a clear soul in each one of these bikes, and it is strange because one might think that a Honda is more similar to a Ducati or a KTM, but its spirit is actually closer to that of a Yamaha."
How are things going in the Avintia box after a turbulent beginning?
"The box is perfect. I am happy and happy in Avintia too. This is an opportunity for them too, it is a situation in which we can all gain something. They feel this support from Ducati and the engineers. They have more work to do and this motivates them a lot. Then it is also good for me, that I feel this support and I know that the bike is really good. I go ahead and I know that the team does with the same attitude. I had a difficult year and the team also didn't have many perfect moments in recent years, so these extra motivations are important for them too. They are for everyone".
Zarco: "Marquez's 4-year contract? He could lose his determination, it's up to us to take advantage of it"
Marquez signed a very long contract with Honda. Did you expect that?
"Four years is a long time, it seems like a very long time. I don't know what to say about this, he is the strongest rider in the world. He has already done incredible things and I know he will do more. It is true that it seems that he is not at his best with his shoulder, it seems that he is suffering more than in the past. This is an opportunity for the others, because maybe the title will hang more in the balance. I don't have many comments to make about the contract, it really seems too long."
Didn't you expect him to want a change, a different challenge?
"I have had so many different challenges in recent years that I am not the right person to ask! I am happy to have experienced these changes, but I am also happy to have stability now with Ducati. I would like to stay here a long time, because this maybe would allow me maybe to build something big together. Marc has already done that. Maybe a change for Marc would have been a challenge, but around him there is such a big business that changing manufacturer would have meant changing everything. I don't know, maybe there are other aspects to consider. This might be positive for the other riders, because maybe he could lose some determination. His strong point is his determination, if he lets that go just a little bit, we have to take advantage".
Zarco: "I have less money, but I'm happy and I know I'll be back winning"
You began to be in difficulty in 2019, to the point of not having fun anymore. You gave up on a lot of money. Are you happier now?
"It depends on what goal you have in life. I always had the goal of winning and when I didn't feel able to do that, I didn't see a solution and I felt lost. I thought at that moment that it's true that life is long, but also that I didn't feel at all well in that condition and I didn't want to forget my ability and my desire to win. I had to think a lot about making this decision, because it was a big risk. Today I am happy to have taken that decision. There is less money, but I am calmer in my head and this is worth a lot. I still believe in myself and I believe that I will be able to come back among the strongest riders."
Were you afraid of losing your potential?
"Yes, staying in a difficult situation could have made me change a lot. I was afraid that waiting two more years would have burnt me out, that's why I decided, I wanted to keep the flame alive inside".
Zarco: "I have zero relations with Fellon: money has ruined everything"
In addition to the separation with KTM, in 2019 you also split with Fellon. Did your friendship survive?
"No, zero relations. It's a pity about this divorce, I think money ruined everything. He lost my trust, so we couldn't work together anymore. We decided to split and I'm totally free."
Zarco: "The new Michelins are more suited to Yamaha and Suzuki, but Ducati will soon interpret them"
Going back to the present, what feelings do you have about the new Michelins. They seem to help some bikes and penalize others...
"It is difficult for me to comment on these new tyres, because I only tried them after three months off the bike. I found a new bike, had no fresh sensations and it was difficult to make a comment about the tyre. It was all too new. At the moment Yamaha and Suzuki are adapting very well, but I think Ducati will soon understand what we are missing and will soon be back at the top".
The new Ducati holeshot device was the protagonist of these tests a bit. Are you curious to try it?
"I would be curious to try it. I haven't done it yet because I still have too many things to learn for now. You have to be OK, or more than OK. At the moment Dovizioso is someone who can better experiment with this solution. Take someone like Fabio, he doesn't have any thoughts on his mind, he gets on the bike and goes very fast. The device can be an interesting option when you feel comfortable on the bike and you can play around a lot. In my opinion someone like Valentino for example would be able to take advantage of an invention like this".