Already in Sepang we could see that the Suzuki has made progress and confirmation came on the first day of testing in Qatar. The two GSX-RR were in front of everyone, with Rins ahead of Mir by just 2 thousandths. A perfect start on the track where the season will get underway in a couple of weeks.
"I am happy with the way the day went, I tried several things that I had already brought to the track in Sepang – explained Rins - I was able to be quick even over one lap and at a time when the conditions were not entirely optimal. The interesting thing is that even on a different track I have gone well, which means that we are going in the right direction."
The Suzuki has also proved to have good corner speed in Losail, but things are still not perfect on the straight
"I did a few laps with Petrucci and Marc and in fact we are missing a little bit, but this is compensated by our corner speed. The difference on the straight is OK, after all they have a V engine and ours is inline. The new tyres? They offer more grip, which is good for us. All this could help me in qualifying, but we'll see."
Marquez, who followed him throughout the day, also noticed that Rins was very fast.
"I don't think Marc used me as a benchmark, we just went out of the pit lane a couple of times together – the Suzuki man pointed out - It is only the first day, I think everyone focussed on themselves. Tomorrow we will continue to try some more things: we have a new chassis that I used today, which was slightly better, and we will make comparisons with the previous one to see the strengths and weaknesses of both".
Joan Mir: "I didn't think I could be so fast"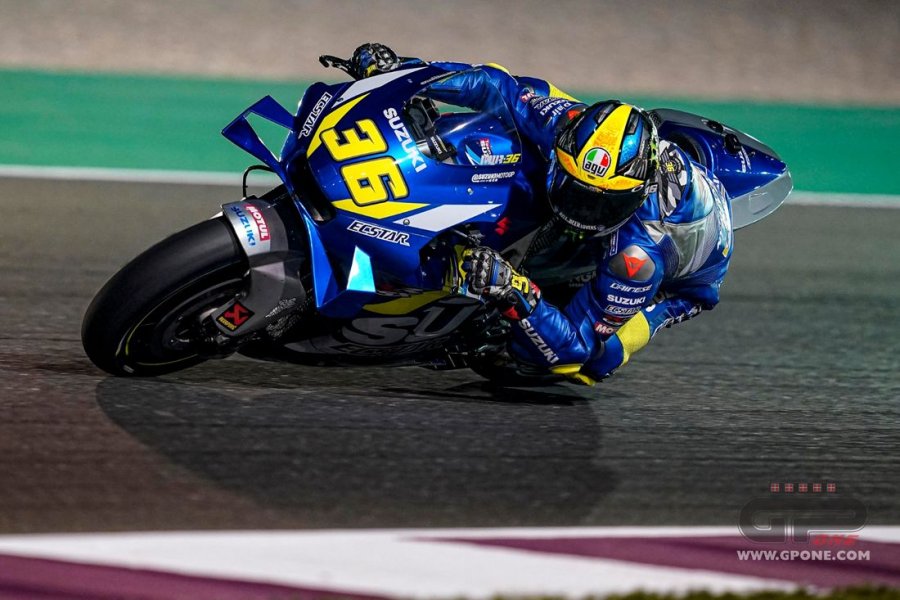 While it isn't a surprise to see Rins in front, Mir has shown that he has virtually finished his apprenticeship in MotoGP and wants to get better results in 2020.
"I am surprised because I thought I could be quick but not so quick - he admitted – My pace was one of the best of the day, so our work is paying off: I have to improve over the one lap, but it is only the first day and everyone has a lot of room to improve. If it had been a Q2 I would have regretted not having finished first, but today it's okay," he smiled.
Joan seems to be perfectly at home on the new GSX-RR,
"I think the current package is already better than the previous one, and the merit for today's result should go to this and not just the tyres - he underlined - In general I have more grip in the middle of the curve, which allows me to get the bike to turn better. The starting device? I haven't tried it, maybe I'll do it in the next few days."
Mir also knows that the hard part is yet to come.
"In the tests I am managing to stay at the top, but I also have to do it on race weekends, which is our goal. I think I worked well during the winter, and for some reason things seem easier to me now. If the race were tomorrow, I could fight for the podium, at least that's what I can see from my pace. I felt comfortable from the first laps, and with the new tyre the step forward is remarkable. Today I tried some chassis and electronics developments and tomorrow I will continue."
Audio recording by Marco Caregnato