It's all about the center of gravity. In some situations, it's more functional for it to be high, in others it's the opposite. At the starting line, for example: by lowering the rear of the bike, you get a greater load on the rear axle, improving the grip and, consequently, the "starting point" at the light.
The first to notice was Ducati, which used a mechanically controlled device - the famous "butterfly" on the fork plate - to lower the rear of the Desmosedici.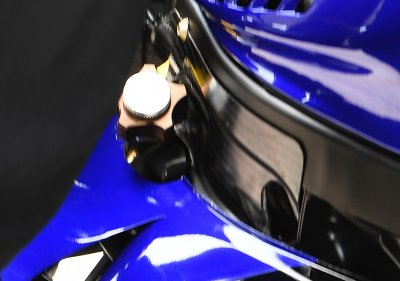 After a series of rocket-like starts, Gigi Dall'Igna optimized the system, allowing the riders to use it also during the race. A bike that is suddenly lower when exiting corners creates a greater mechanical load, allowing for better acceleration, which also has a positive effect on tire wear because there's less slippage.
"We already tried a device in my day that mechanically lowered the rear of the bike," Loris Capirossi revealed. "We used it when braking and obviously gained 20 meters, but then it lost in stability, and the front tire would jam when braking hard. So we abandoned it."
The pitlane now wonders if whether Ducati has found the system to lower the bike ENTIRELY. Now it's Yamaha's turn to play with the mechanics, so both the testers and the official riders tried a similar system in Sepang. The effect of the rotation of the knob in the photo is also visible in the video, where the tester was caught activating it.
The entire system is obviously mechanical, since the suspension cannot be changed electronically by regulation. A rule, like many others, that was introduced to limit costs.
Video
Share