That's TV !  Lots of doors will open for you if you have a camera on your shoulder, just like Antonio Boselli, who offered us a short video taken in Aprilia's racing department, with the first sounds of the new 90-degree V-4 engine of the 2020 RS-GP.
As Romano Albesiano had disclosed in our interview , the bike has not yet trod the track, but will do so on February 2nd in Sepang with Bradley Smith.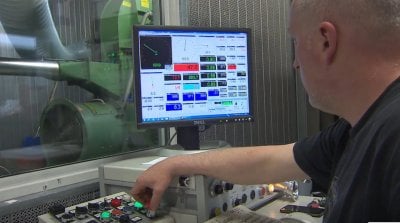 "The Aprilia RS-GP 2020 is a completely new motorcycle ," Albesiano explained. "Let's say that, before the middle of 2019, we decided to turn over a new leaf, that's why an engine that uses an open V was chosen. The reason was to simplify things, so we would be able to use different firing configurations, and also a different layout for the exhausts. The end result is a motorcycle that has greater potential. (...) Research regarding the firing order is very important for delivery. We changed the position of the thermal component, in order to use an external flywheel. This will allow us to play around with this part instead of changing the crankshaft. The engine was created without it, and even if we wanted to add it, it would have been very exposed in the event of a fall. So we completely redesigned the thermal component and the transmission, placing it in a more repaired position. (...) With the previous configuration, we were bound to selecting a single crankshaft. Now, with the external flywheel, we'll be able to adapt the engine to the tracks, or to the rider, who will also be able to change his mind. It's a much more adaptable system. Aside from the fact that Aprilia does not have concessions, the flywheel is not, in fact, a pre-sealed part of the engine."
So Aprilia has decided to completely redesign its bike. A huge endeavor that Albesiano doesn't consider colossal.
"It was actually less dramatic than one might think. Even the most open V engine doesn't need to be totally revolutionized compared to the previous bike, but we've redesigned everything anyway. The reason we totally redesigned it was not to change the opening of the V, but we wanted to create something better."
The biggest problem now is still the "Iannone case". Accused of doping, the rider from Vasto seems ever more distant from being able to test in Malaysia from February 7th to 9th. He'll be replaced by test rider Smith, but they're also waiting to decide on a rider who will be able to help the Brit in development. This idea involves both Lorenzo Savadori and Max Biaggi.
Share