MotoGP, Moto2, Moto3, MotoE, CIV ... "Be careful not to forget anything!" Fausto Gresini jokes as he remembers all the classes and championships in which his team is involved. It would take much longer to list all the successes achieved since 1997, when the team made its debut in 500cc with Alex Barros. A little note: 170 podiums, 55 victories and 4 world titles for a team that is a cornerstone of the world championship.
"We have written a few pages of history in the past twenty years," says Gresini proudly. If yesterday he told us about his collaboration with Aprilia, today is the time to put the spotlight on his teams.
Fausto, what's the secret to staying on the crest of the wave for so long?
"I am a rider and, as we say where I come from, I was ignorant! (laughs) When you want something you can make mistakes, but you can get it if you are determined enough. That's a quality that I'm not lacking in and then I don't have timetables, I always work".
How many people make up Gresini Racing?
"There are around 60 of us, more than a team it's a company but also a big family. As I said, the important thing is to never give up. I am proud and happy of what I have managed to achieve, and for that I must thank all my partners and collaborators. I am pleased to have been able to build up an important reality in such a difficult country as Italy (laughs)".
"Bulega needed a change of scenery, he's happy with us"
Speaking of racing, the most important change for this year is to have doubled the number of riders in Moto2.
"I've been wanting to do it for a while. I asked for it, but it wasn't allowed because there were a limited number of places. Then this possibility came about."
And you thought of Nicolò Bulega…
"I've been wanting an Italian rider in Moto2 for some time, I had tried with Fabio Di Giannantonio for 2019 but we weren't able to reach an agreement. Nicolò is a very young rider who already has considerable experience behind him with the VR46 team".
Bulega is talented, but he hasn't managed to consolidate this yet with his results.
"I think he needed a change of scenery. The VR46 team is an excellent structure but, after a few years in which you do not reach the goals you had set yourself, it's better to change. He will now get to know different people and find fresh motivation, I'm sure I made the right choice with him and I'm happy that he agreed to join my team".
You usually have a good eye for young riders ...
"I'm happy to have had strong riders such as Di Giannantonio and Martin, who I think we will see soon in MotoGP. Baldassarri also made his world championship debut with us and Morbidelli did his first Moto2 races in my team."
This year you will also have many Spaniards in your ranks.
"In Moto2 there will be Edgar Pons, the European champion; he's young but he already has experience. In Moto3, we have Rodrigo and Alcoba, the junior champion".
"2019 was the worst year in Moto3 but now I'm betting on Rodrigo"
Last year you didn't have much satisfaction in Moto3, why?
"It's a class that I am very passionate about, because I myself come from what was 125cc and because it can help young riders to grow. Usually it is a project in which it takes two or three years to win and in 2019 we started from scratch. In the previous season we had finished first and second in the World Championship with Martin and Di Giannantonio, who then switched to Moto2".
What year was it?
"The worst since we were in Moto3 if we look at the results. Rodrigo was unlucky and virtually the whole year he was injured due to crashes and problems with his arms. We then focussed on Riccardo Rossi, but he was probably not yet ready to race in the World Championship with a team like ours. He's a strong rider, but things have changed now in Moto3 and if you make just a small mistake, you can't get good results. This year I think it will be different, Rodrigo can fight for the top places in all the races".
"It was great to win with Ferrari in MotoE, it's a platform to help young riders grow"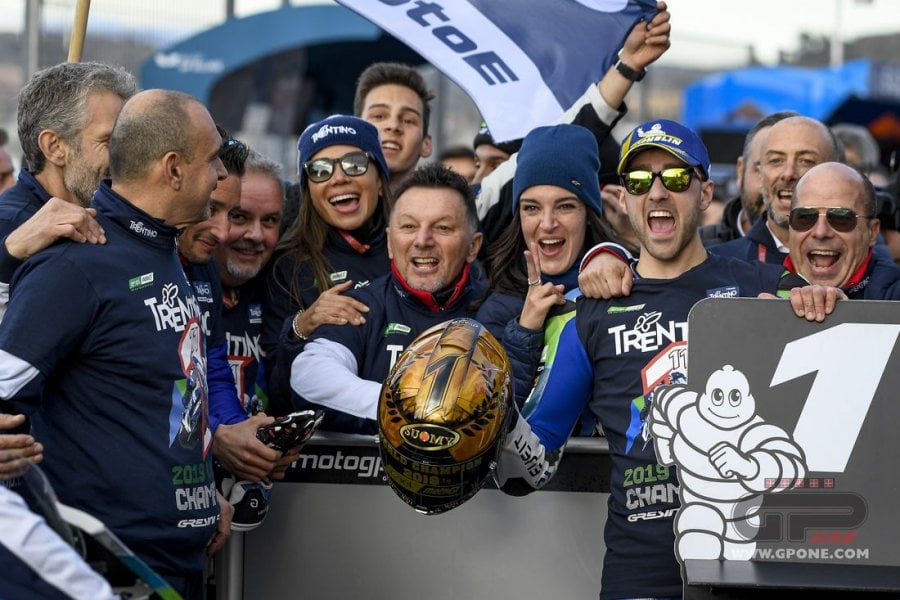 Last year, however, you made up for it with MotoE.
"It was a great satisfaction to win in the first year of a new championship and with an emerging rider like Matteo Ferrari. I see it as a platform which can help youngsters grow, and this year we will do it with Zaccone ".
Has it convinced you as a category?
"Since the bikes are all the same, the work is a bit different than usual, but this formula enhances the skills of the rider and the team. I think it's a class yet to be discovered and I expected these bikes to go slower. Now, the biggest problem is the weight, otherwise they could be at the level of Moto2".
Do you think the future of racing will be electric?
"Hard to say now, I think the two realities, electric and thermal engines, will coexist".
All that remains now is to talk about the CIV. Why did you decide to enter that championship as well?
"It was the fault of my son Luca who wanted to race, then he stopped, and I continued with the team! (laughs). It's a project I'm very close to, I have an excellent relationship with the Italian Motorcycling Federation, after all I won with Team Italia. I believe that in this championship the most important thing is to transmit values ​​to young people, to help them to grow not only technically. Of course, not everyone will become champion, but they will have had an important experience."