Honda has announced this morning official teams and riders who will take part in the various world championships: MotoGP, Superbike and Endurance, leaving out for now only to designate the crews of the 8 Hours of Suzuka.
The names are actually already known, but with the usual Japanese precision Honda has made a distinction by pointing out with stars who should be considered a 'factory' rider, but above all which are the 'factory' bikes.
So in addition to the obvious, we discover that the LCR team is not 'official', but will have two official RC213Vs for its riders, Takaaki Nakagami and Cal Crutchlow. Warning: this means two 'factory' bikes, but it's not necessarily 2020!
Then, of course, how often these will be updated compared to the HRC team, is another matter.
Even more interesting is the graphic representation of the Superbike line-up, where it is clear that there is only one official team: the one made up of Alvaro Bautista and Leon Haslam, but at the same time Takumi Takahashi is also indicated as a 'factory' rider who will race for the colours of the MIE Racing Althea team.
Contrary to what happens in MotoGP, however, in Superbike only the HRC team will have the CBR1000RRR-RW, while the second team will only have the CBR1000RRR-R, where the 'W' makes the difference!
In this case it should be noted that the second rider has not yet been announced, so the risk is a single rider training.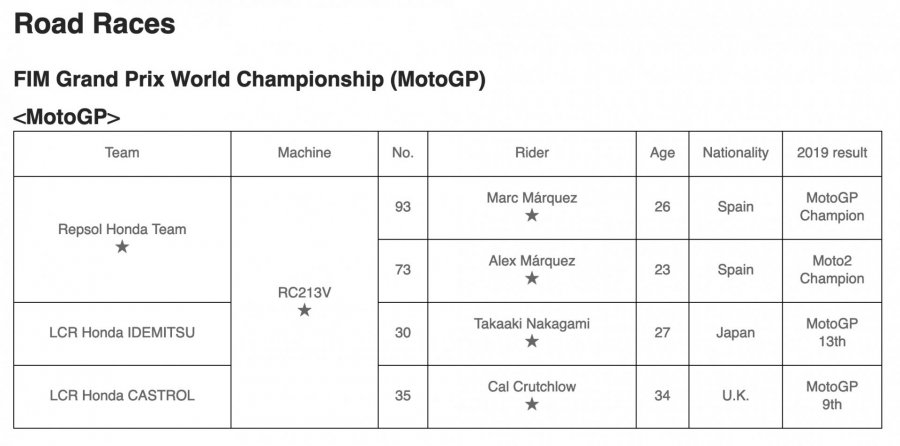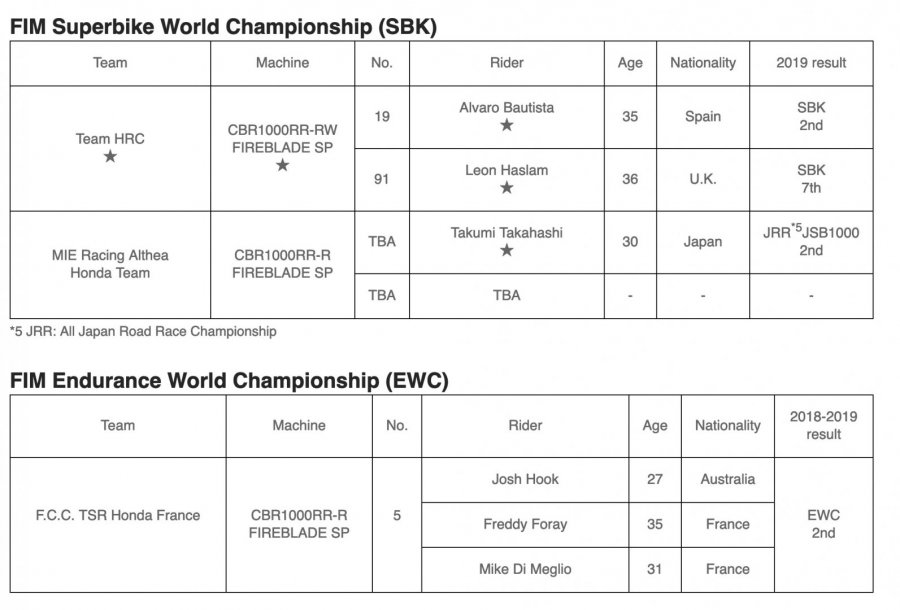 ★ on a team name indicates an official Honda team, ★ on a motorcycle name indicates an official Honda motorcycle, ★ on a rider name indicates a rider with an HRC contract
Also worth mentioning is the presence of official Honda bikes both in Moto3 and CEV entrusted to Honda team Asia, Asia talent team and Astra Honda.