Storms, red flags, falls, and the safety car. It'll be difficult to forget this first appointment at the World Endurance Championship in Sepang. An 8 Hours that was initially postponed due to rain and which had to wait until 11 am Italian time for it to start again. Then, once the safety car took off, it was a race full of turn of events, dictated by falls.
The first, sensational one was when Mike Di Meglio crashed into the Yamaha ridden by Michael van der Mark who, as we all know, took off from the  pole position thanks to Franco Morbidelli. This drawback cost the SIC Sepang team dearly, since it obviously wanted to play the leading role in front of the home crowd, but was instead thrown out of the game after just 20 minutes from the start.
Despite the collision, Di Meglio was able to start over, managing to lead the race. Given the big advantage, the French rider seemed to have the race in his hands but, just over an hour from the finish, he met the asphalt. The error he made also cost the Honda FCC TSR dearly. Once he got back on track, he was three laps behind.
The YART team Yamaha, with Niccolò Canepa, was at the center of all these twists and turns. The rider from Liguria was simply spectacular. He was cool headed and managed the entire situation perfectly, giving his team a memorable victory, along with his teammates, Broc Parkes and Karel Hanika. It's a pity though that Niccolò did everything with the R1, remaining on the track to challenge the rain and rivals, to then come out the winner.
On the day that the Yamaha of the Swiss YART team celebrated its success, the Sepang Racing team did not go beyond a seventh place. There was nothing Franco Morbidelli and his teammates could do, something van der Mark's fall caused by Di Meglio had a hand in.
The Honda Asia-Dream Racing team reached a second place on the Sepang podium with Zaidi Muhammad Zaqhwan, Mas Izdihar Andi Farid, and Somkiat Chantra. The trident of the Asian team patched up the FCC TSR debacle, but with only a 13th place at the finish line, while closing the first three positions was the official BMW with former SBK rider, Reiterbger, and his teammate, Mykhalchyk.
From a World Championship perspective, the Suzuki SERT continues to watch everyone from above, despite its fifth place in Sepang behind the Moto AIN team's Yamaha. Hats off to the French team's performance. Besides being fourth overall, it won in the Stock category. Not a bad result for Roberto Rolfo who, along with Mulhauser and Clere, kept their team colors high.
Ducati, in Malaysia with the V4 in an official capacity - thanks to the ERC team and De Puiet - placed in the top ten.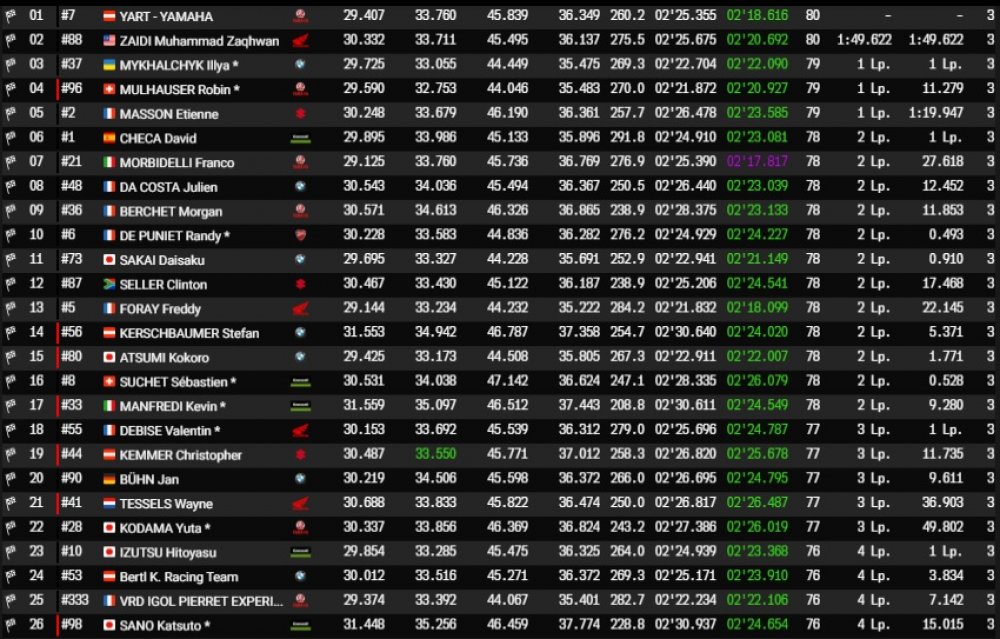 Share