The question is travelling through social media networks. On the eve of the swap between Rossi and Hamilton, some are wondering what Lewis will be able to do on the Yamaha MotoGP. Considering that, in the recent tests in Valencia, Valentino raced at 1'30"781. Neil Hodgson (former driver and now TV commentator) is guessing a time of 1'36"8 for the Formula 1 world champion.
If the Doctor raced at 6 seconds, that would mean being really fast. Michael Schumacher on a Ducati had succeeded in this on the same Spanish track in 2007. It was his second time on the Desmosedici and, on that occasion, he clocked in at 1'37"89, only 5 seconds slower than Casey Stoner's best race time that year.
It was an extraordinary performance, but it's probably a difficult one for Hamilton to repeat.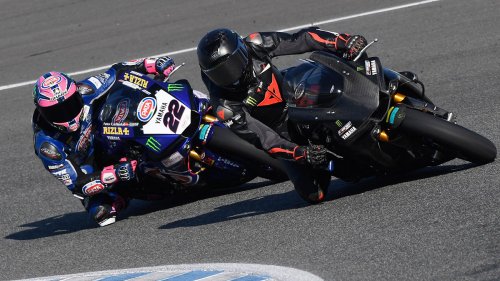 The good news is that they're expecting sun tomorrow at Ricardo Tormo, but we are in late December, so it's not the best season to get on a MotoGP. Moreover, even though he's a motorcycle enthusiast, Lewis has never ridden a MotoGP, having to "settle" in the past few months for a Yamaha R1 SBK (with which he actually crashed).
Carbon brakes and Michelin tires are already a hassle for Moto2 riders, let alone for those who don't have much experience on a bike. Logically, the chronometer won't be very important in this type of test, but any self-respecting rider can't avoid taking a peek at it.
Life will be much easier for Valentino, who has already tried driving a race car several times in the past. He had some interesting times on a Ferrari over 10 years ago, with differences of less than a second compared to Schumacher.
Moving on to more recent experiences, in June 2018, Marc Marquez tested the Red Bull 20012 powered by Renault at the Red Bull Ring. His time was 10 seconds slower than Bottas' pole in last year's GP and 6 seconds slower than Massa's in 2014, during the first edition of the Austrian race on the new circuit. However, Dani Pedrosa was a couple of seconds faster than he was the following day.
So it's easy to believe that Rossi will be able to race with fast times, even if there are no recent results for Formula 1 in Valencia.
Whatever happens, in these cases, it'll be a success. What do you all expect from Rossi's and Hamilton's swap? Let us know on our Facebook page.
Meanwhile, we'll leave you with a couple of pleasant reads. For example: HERE and below, you'll find the history of motorcyclists who switched to 4 wheels.
Links:
From Nuvolari to Dovizioso: when two wheels become four
Share