There are only a few days left until the anxiously awaited swapping of "toys" between Valentino Rossi and Lewis Hamilton.
The F1 world champion - with 84 Grand Prix victories, 151 podiums, 88 pole positions, 6 world titles - will meet with the 9th world champion - 115 victories, 234 podiums, 65 pole positions - in Valencia, where both will get on vehicles that they love deeply but with which they've never competed.
Both have a "fair" amount of experience with speed, but Vale should be slightly favored, since he's already driven a Ferrari in real professional tests more than once. It's also true though that cars have changed a lot too, and the rider from Pesaro hasn't driven an F1 car since 2010 in Barcelona.
Hamilton, on his part, has tried to ride a Yamaha Superbike R1 several times, in Jerez and in the United States, with Lowes and Crutchlow, and he even fell doing so.
But how will this test go, and how will it be organized, given that behind it, of course, is the work of a common Monster sponsor?
The first thing we should say is that it will be behind closed doors, but given the wait for the event, we expect a ton of videos and images on social media.
It must be said that the circuit chosen is neither the best for two nor for four wheels. The Ricardo Tormo circuit, in fact, is quite rough, and Lewis and Vale will not be met with summer temperatures. Far from it.
So they'll probably race during the hottest hours. Hamilton will most likely enter the track with an R1, to get used to riding, then he'll switch to Vale's M1. Which one? A 2019 or a 2018?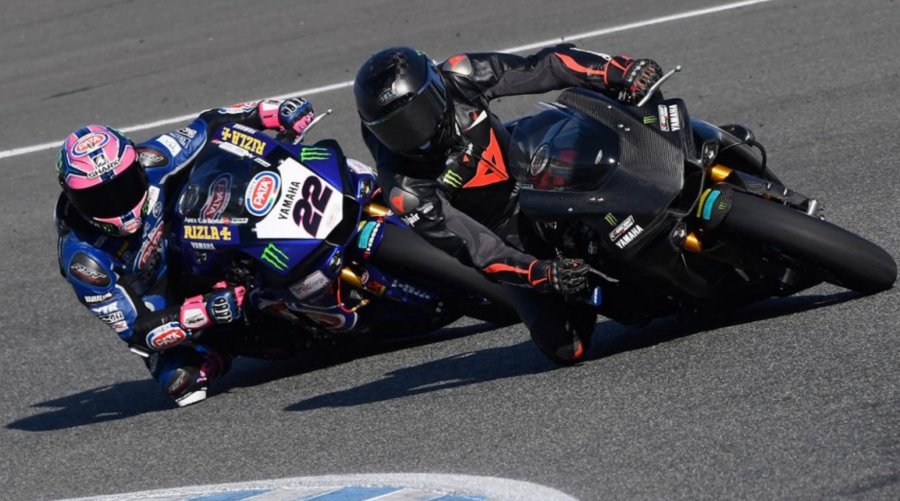 We don't think it'll make that much of a difference for the world champion. Like Fabio Quartararo showed us this year, the two models are really similar in performance.
And Rossi? What car will he get into? Since Mercedes has already used all its promotional events for 2019, Valentino will probably not be able to drive the Mercedes W10 2019. He'll more likely get on the W08, the car that won 12 races in 2017.
Another good question is what kind of tires will Lewis Hamilton use. Normally, Pirellis are used on the R1 Superbike, but they're very different from the Michelins used in the MotoGP. Tires, however, that need to be kept warm and ridden rather lightly once they're brought up to temperature.
Will Lewis be able to bend at least at 60° as soon as he enters the track to prevent a high-side on a track that's rather tricky in right-handers?
Lewis has already anticipated that "not good in rebounding, like Marquez." How much is he willing to risk?
Some links related to Valentino Rossi and Lewis Hamilton:
Eng. Mazzola talks about how Rossi surprised Schumacher
On the Mercedes-Yamaha "swap" in Valencia
Lewis Hamilton with Lowes in Jerez
Hamilton's statements on the incredible Marquez