While waiting to talk to journalists in Valencia, Rossi learned of Bonucci's renewal with Juventus until 2024. "The fans will be happy, but don't expect him to be. 2024 is a bit too far," the Peter Pan of MotoGP said, jokingly. Seeing Valentino in a good mood after a test is already good news, and today's was particularly important because they had to try the M1 in the 2020 version, with a new engine and new electronics.
"I felt great immediately. In fact, I used it for 90% of the day," the Doctor said. "It was a positive test. I felt really good on the bike and, in the last hour, I managed to keep a good pace with the worn tires. It's important."
In the Doctor's garage, the innovations were not just technical. This was also the first day of work with Davide Muñoz, who took Silvano Galbusera's place at the helm of the team.
"I immediately got on well with him," Valentino said. "Logically, we need time, but the first approach was positive, and I'm not surprised because I already knew him. David also got along with the other members of the team, but these tests are very important for him because he has to get to know the MotoGP better. I don't think it'll be a problem. For a crew chief , it's not like in the past. He's surrounded by many technicians who can help him. Winter will be sufficient enough for him. Having him in the garage is another motivation, and there will be new automatisms to learn."
And you also have to get to know the M1 in its 2020 version. The weak points of the previous version were maximum speed and rear tire wear.
"Valencia is not the most suitable track for certain assessments because the straight is short," he emphasized. "But I find it better already. Not only with power but also with delivery. But this won't be the final engine. There will be another evolution in Sepang, but it was important to try it here and in Jerez. The gap with our opponents in maximum speed is still big, but it's already slightly decreased."
Even the frame satisfies Rossi's tastes.
"The frame is not our priority, but Yamaha has also worked on this," he continued. "They've tried to improve agility and precision in entering corners. There are no big differences. The riding sensations are very similar to those when using the current frame."
The most important thing is that Yamaha seems to be fulfilling Valentino's requests.
"First of all, Yamaha is working, and this is already positive," he joked. "But, above all, they're doing it well. There's less confusion than in the past. Now the programs and the road to follow are clearer. There were 2 or 3 engines to choose from last year. Now there's one that is constantly evolving. Like I said, the first impression is good, but we have to continue to work."
Maverick Vinales: "Fast right away with the M1 2020, but I don't like the carbon swingarm."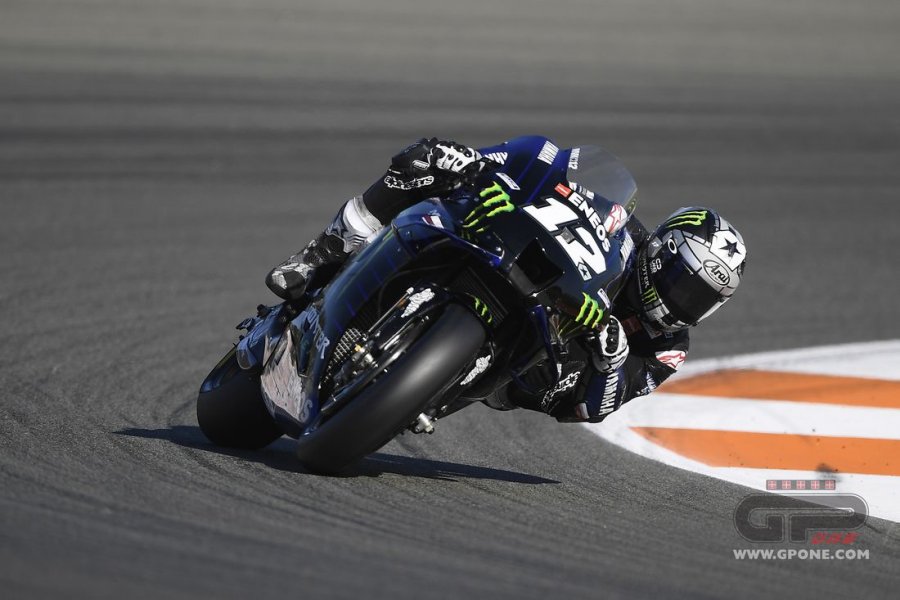 Vinales, with his second time of the day, shared Valentino's satisfaction. The Spanish rider gave us less detail than the Doctor, but his smile speaks for him.
"We worked a lot and felt good on the bike from the first lap. It was a fantastic day, " he confirmed. "We worked to reduce wear on the rear tires and we succeeded. I was very consistent with my times, even comparing those with new and used tires."
Logically we expected a lot from the new evolution of the in-line 4-cylinder.
"I can say I liked it. The whole bike works well," was his response. "Even with the new frame, there's room for improvement because we still need the best set-up. Now have to continue to work and better understand all the innovations, but the important thing is that we were fast."
Although Vinales gave a thumbs down to a component, which is not an absolute innovation: the carbon swingarm.
"I don't like it. I realized it the first time I tried it at Misano," he admitted. "I just can't push when I use it, so I don't think I'll try it again."