In today's MotoGP, aside from the rider, there's one figure who has a truly fundamental role in the garage and whose work has a real bearing during the race weekend. We're talking about the telemetrist, or rather the engineer tasked with 'reading' the rider's data and interpreting it along with him to understand at which points of the track they can improve. This involves everything from evaluating riding technique, to any variations to the bike's setting, so the skill involved is significant.
During the Sepang weekend, we interviewed Matteo Flamigni and Davide Marelli as a pair, the two working with Valentino Rossi and Maverick Vinales respectively. This season, the Yamaha has taken clear steps forward in terms of its electronics management, and it was very interesting to speak to two professionals who have the opportunity to work with two very different riders on a daily basis. They even revealed secrets about how different the work carried out by the more than experienced Rossi compared to the younger, and perhaps hungrier, Maverick Vinales. 
What type of exchange or collaboration is there between you?
"We are colleagues and friends: there is full collaboration between us. We have no secrets."
Matteo Flamigni: "There is full collaboration. We are colleagues and so we share ideas and have daily meetings to allow this to happen. We talk about mappings, strategies. I have a great relationship with Davide, we've worked together for years. There are no secrets between us, and I think this approach is what has helped us to grow. Being closed off will never lead to improvement but remaining open in this way really does".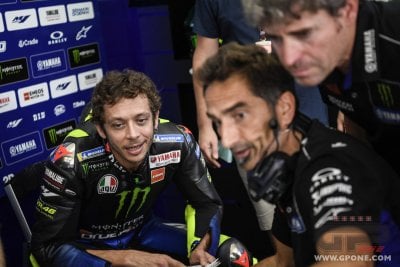 Davide Marelli: "The great thing is that beyond our professional relationship, we're friends too. We don't hide anything from each other, also because there's little to hide! If you compare data, the truth always comes out, so why lie? There are no secrets".
As for the individual methods of Valentino Rossi and Mavericks Vinales, how would you describe them?
MF - "Recently, seeing the tough races he's had, Valentino is also trying to improve his riding style. We're not just trying to improve the bike, both the frame and electronics, but he too is trying to understand how he can ride in a different way to assist the electronics and bike in putting less stress on the tires. Braking with two fingers rather than three puts less stress on the chassis. To better understand this, we can look at the data of the other Yamaha riders, and now they make on track videos too, so we've been able to look at not only Maverick, who brakes very hard, but also other riders. Based on the video images and the telemetry, we've noted that a more progressive braking action can help during corner entry, making the bike more stable". 
"Vinales studies Marquez's videos to understand the secrets." 
DM - "Maverick is a guy who really wants to learn. He's young and is improving race after race. He's understanding how the others ride, he's understanding each of their strengths and weaknesses, of those we can analyze I mean. He looks closely at what Marquez is doing, also his videos, and the others ahead of him. He tries to understand their strengths and put some of this into his own riding".
"Maverick and Valentino ask for different things."
What does Valentino ask for in terms of electronics, and what about Maverick? What are the differences?
MF - "Lately, Valentino's requests are pretty consistent. We focus on the engine delivery, so at tracks with little grip we try to save the tire by looking for quite soft mappings, working a lot on the traction control. Corner entry is very important, as is engine brake management. We try to make the bike as stable as possible on entry, Valentino's requests almost always regard these areas. The electronics make the difference now, so whether you like it or not, you have to lean on this tool. You have to use it and do so in the best possible way. A sort of obligation, as it would be unthinkable to ride this kind of bike today without electronic controls".
DM - "As for Maverick, we've been focusing on the braking phase, because he struggles at the start of the race with a full tank. He cannot pass his rivals, so we've focused on the braking setting. We also work on delivery, to safeguard the tires and be able to finish the race with a bit of a margin. These are the important parts of our work, along with the start. Maverick has improved there, but there's room for further improvement".
Your role in the garage has become perhaps the most important. It almost seems like it's down to you if things go badly, and equally if things go well!
DM - "In the end, the electronics must be in line with the work on the frame. The aim is to have it all working well together, because if you have a good frame, but the engine doesn't work, there's nothing doing. It all has to be done together". 
Flamigni: "Do we compare Rossi and Vinales? That's precisely our job."
Comparing the telemetry of a single lap raced by Valentino and Maverick, what would immediately catch your eye?
MF - "It's something we always do and, actually, the ideal thing would be not finding differences! This is the kind of work we do during the race weekend to achieve optimal performance. We try to be less inconsistent and maintain performance where we're fast. We can't tell you if one is faster than the other when braking or in mid corner. We don't want to tell you!"
DM - "Where there are differences between the two riders, we compare notes."
Quartararo? He already figured out how to brake with the Yamaha M1.
And doing the same job with a lap like Quartararo's?
MF - "Don't ask me these questions! We're talking about minor differences. Let's say that, like Valentino and Maverick, he also knows how to break away fast. Despite being a rookie, he already perfectly understands how to brake really hard with this bike, and he already understands how to take advantage of the prerogatives of this bike when exiting corners."
DM - "It's a matter of hundredths of a second. Quartararo is very strong in some areas, we are in others. He's not under pressure."
But is there a forbidden dream for telemetrists? Whose telemetry would you like to see?
MF - "I speak for myself, and I say that my forbidden dream was to work with Valentino, something that changed my job. I won with him. I think I'm the most envied in the paddock from this point-of-view. Technically, I think that, for a telemetrist, it would be very interesting to see the telemetry of all the riders. I'd be curious to also see Abraham's, for example. He also has areas where he's strong."
Marelli: I'd like to see Marquez's telemetry, especially his near-falls."
DM - "I'd like to see Marquez's telemetry, to see if he really has this margin, if he is really that fast."
On the web, which is often full of nonsense, they say all sorts of things about Marquez, even that he has some weird device for falls on his Honda. As electronics experts, can you debunk this?
MF - "There's absolutely no mechanism. There's only the ability to react to the movement of the bike with your body."
DM - "That's why I'd like to see his telemetry. To see what happens at that moment."
Damon Hill said that the big difference between driving a car and riding a motorcycle is that you control a bike with your body but not a car. Do you see these things, how movement influences weight distribution and bike dynamics?
MF - "In the past, we did tests of this type by mounting strain gauges on the handlebars and on the pedals. You could see the deformation on the pedals and handlebars, so you could understand the amount of kilos applied by the rider. On race bikes, you can't carry out this type of procedure because the complexity of the movements and vibrations would not make it useful. This is done on test bikes."
Flamigni: "The only area in which motorcycles can progress is the study of the rider's movements on the bike."
Where can the bike still improve? In which area can you make progress?
MF - "I think we could improve the mathematical model of the rider's position during a lap. Let me explain. It would be nice to really understand how, at the center of gravity, the rider's movement influences the position of the vehicle at the center of a corner, when entering or when exiting. It would be nice to understand this aspect better and to understand how the movement of the rider influences the behavior of the bike."
DM - "Obviously, in braking and in acceleration, the rider has a certain position and influences weight distribution. We have a static weight distribution but, when in motion, the rider himself moves everything, and that's where things change with respect to the reasoning made when the bike is stationary. It would be interesting to understand how it affects certain situations."
In the last part of our interview, Matteo Flamigni was summoned to the garage by Valentino Rossi, so our last questions were only answered by Davide Marelli.
There are a lot of electronics on today's bikes, but then those who ride them on the track and push to the limit always end up removing everything, at least with ABS and suspensions. Why is that?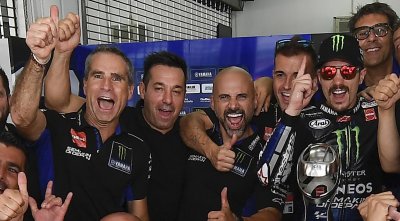 DM - "That's normal. and I think it depends on the fact that the ABS conditions you a lot, especially during the last part in braking."
Riders can no longer lie?
DM - "The riders are now very precise. They give information that is always more detailed. The data is there and it's real, but the rider, in my opinion, is becoming increasingly more professional and accurate with time."
Would you like to replace the rider once with Matteo for just one GP?
DM - "Yes, I'd like to out of curiosity. But you have to keep in mind that you often establish a relationship with the rider where it takes very little to understand each other. Not right at a glance, but it takes very little to get each other. It also becomes complicated to establish a relationship with just one race. These are things that are created over time. Of course, if we swap the riders for just one race, we wouldn't be able to have the same relationship we have today with our riders."
You worked with several riders. Who left a strong impression for a particular reason?
DM - "Each one has his strengths and weaknesses. Thinking of my riders in the past, I remember Bayliss, who was very instinctive. In fluidity when riding, I think of Lorenzo and, I believe that Maverick, as a pure talent, is perhaps the best ever."
Audio recorded by Paolo Scalera and Matteo Aglio