The triple-header is nearing an end and it's almost time to return to Europe for the final round at Valencia. First, though, Sepang, a technical and fast track where weather conditions are always an unknown. Rain and heat are the enemy of tyres but Michelin knows what to do.
With track temperatures that often exceed 50°, the Malaysian circuit puts both riders and bikes to the test, but also the tyres. The French technicians have carefully chosen which solutions to bring (in the classic soft, medium and hard compounds) with the aim of ensuring durability on what is very abrasive asphalt but without compromising performance. The front slicks will have a symmetrical construction, while the rears are asymmetric (with a harder right side).
In case of rain, available tyres include a soft and medium compound (with asymmetric rears).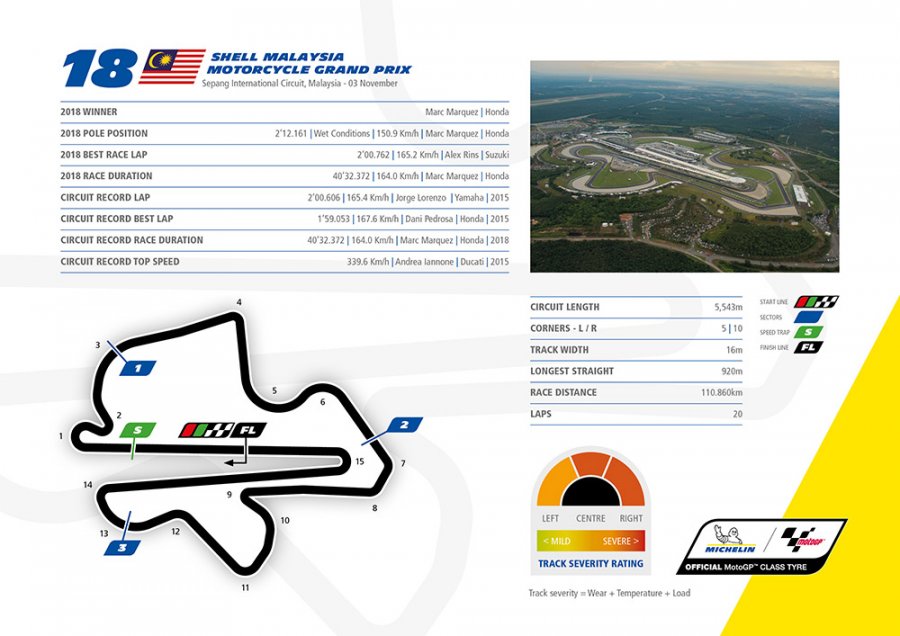 "The end of this long and exhausting tour of Asia and Oceania is drawing to a close, but that does not mean we are ready to relax, because the Malaysian GP is a very important race and also one that requires the utmost respect - warns Michelin manager Piero Taramasso - Over the last three events we have had a huge mix of weather, from torrential rain to high temperatures and we now expect to roll that all in to one weekend here in Malaysia, but without the chill we had in Australia."
"We have probably more data from Sepang than any other circuit, but it still is a track that demands total respect, as it's very technical, has an abrasive surface and usually the asphalt can be very hot. This is one of the venues where the tyres face the possibility of the greatest difference in conditions, not only over the weekend, but hourly, as we can have torrential rain and then the track dries quickly. The correct rubber is needed to work in those situations and from our intensive testing and knowledge of the circuit we know we have that."