Unveiled! Here are the first photos of the renewed CBR 1000 RR on the Suzuka track, while testers fine tune the last details, waiting for its official presentation, which will take place on November 4th in Milan. From several shots taken by the photographer who goes by the nickname "@n_mode_log" on Twitter, and from the video posted on FB by Videosdemotos.es, we can make out the shapes of the Fireblade my20, which has been completely revolutionized for next year.

This bike will supposedly bring the Honda back to the top of the SBK with its all-around innovations: from aerodynamics, with wings deriving from Marc Marquez's MotoGP, to its frame that, from what we can see, is completely new in design, with a double-beam aluminum structure, different from the current Fireblade SP, as well as the swingarm, which is now more rigid and has a more "massive" look. The low exhaust pipe is very compact in the silencer portion, as is the tail, with a design that's very similar to the Honda RC 213V.
We can also see the front, with by a very compact section, the presence of wing profiles, and also a new air intake in the center.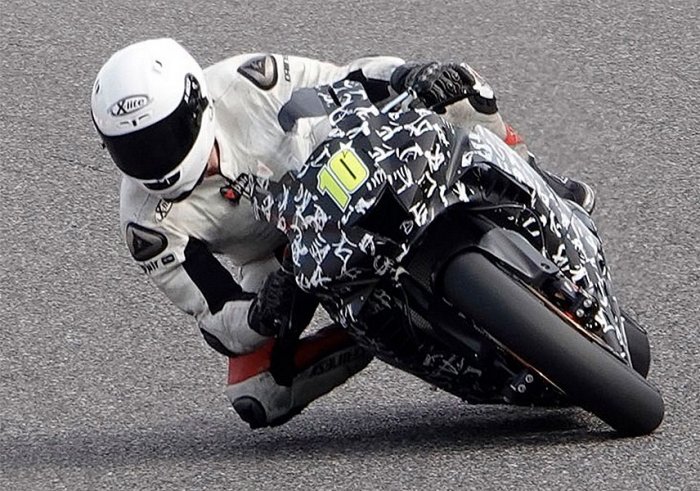 NO V4
Those who expected a motorcycle with a 4-cylinder V-engine will probably be disappointed. When it comes to road sports, however,  and not purely racing vehicles or sophisticated series destined for the track (see RC 30 or RC 45), it's easy to explain how Honda remains faithful to the in-line 4-cylinder solution, which has always been a distinctive element in the history of its sports bikes since 1969. One of the innovations on this engine will be its variable timing, which makes the engine compliant with Euro 5 standards, and also guarantees for a very favorable fuel supply curve, even at average rpms, despite the high power involved. In fact, there's talk of a 215 CV.for the in-line 4-cylinder in Tokyo.
CLICK ON THE FIRST IMAGE FOR THE VIDEO