A big bandage on his left arm and crutches. That's how Fabio Quartararo showed up after he fell in the first free practice session at Phillip Island. A high-side that could have had a bad outcome but, in the end, the French rider came out of it almost unscathed.
"I'm ok. I was lucky, I didn't break anything ," he explained. "It was a bad fall, but without major consequences. I wanted to try and get back on the bike this afternoon, but the painkillers won't let me."
Dr. Michele Zasa, head of the Mobile Clinic, explained the reason and also gave an update on the conditions of the Petronas team rider: "He has a distortive-contusive trauma of his left ankle. Colleagues at the local medical center gave him a painkiller that has side effects, so it was best for him not to practice."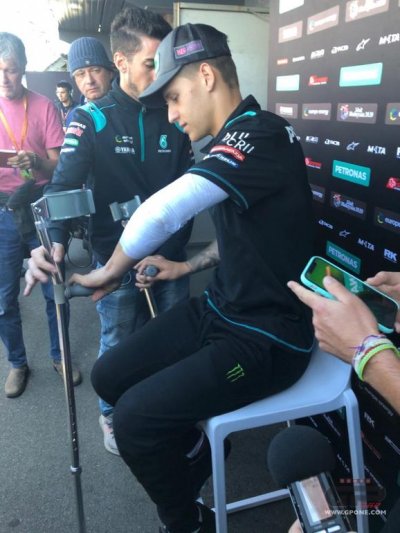 Fabio will watch the FP2 from the pit-box and will try to get back on the bike tomorrow.
"Definitely, but I don't want to take unnecessary risks ," Fabio emphasized. "I feel pain everywhere now, arm, ankle, and head. I just have to take it easy. It's a shame not to be able to race in the FP2, and I'll be in the Q1 if it's wet in the morning, but the most important thing is to have less pain in my foot."
Before leaving, Quartarato tells us about his fall.
"I don't have enough experience in wet conditions in the MotoGP, so it's a fairly normal fall for a rookie," he said. "It wasn't actually a mistake. I simply can't manage a wet track properly. The rear tire lost grip before braking, then it recovered, and the bike threw me into the air. It's an opportunity for learning."
Share