There's no use hiding it, Phillip Island is a bugbear for all tyre suppliers. A track that really puts tyres to the test, sometimes a painful one. For this reason, the Michelin technicians have no intention of underestimating the Australian race weekend, in fact they plan to use it to their advantage.
In a rather unique move, MotoGP riders will take part in a brief test over the course of the race weekend, to evaluate the new rear tyre that the French technicians are developing for 2020.
This aside, riders once again face the unique characteristics of Phillip Island that, with its 7 left-handers and 5 right-handers, really overheats the tyres. As if this weren't enough, the often cool climate also requires tyres that quickly reach their optimum working temperature.
For this reason, the compounds to be used this weekend (soft, medium and hard with an asymmetric construction at both front and back) are specifically designed for the Australian trac. There is also a risk of rain  and, in that case, riders will be able to choose between a soft and medium front tyre (symmetric) and rear (asymmetric).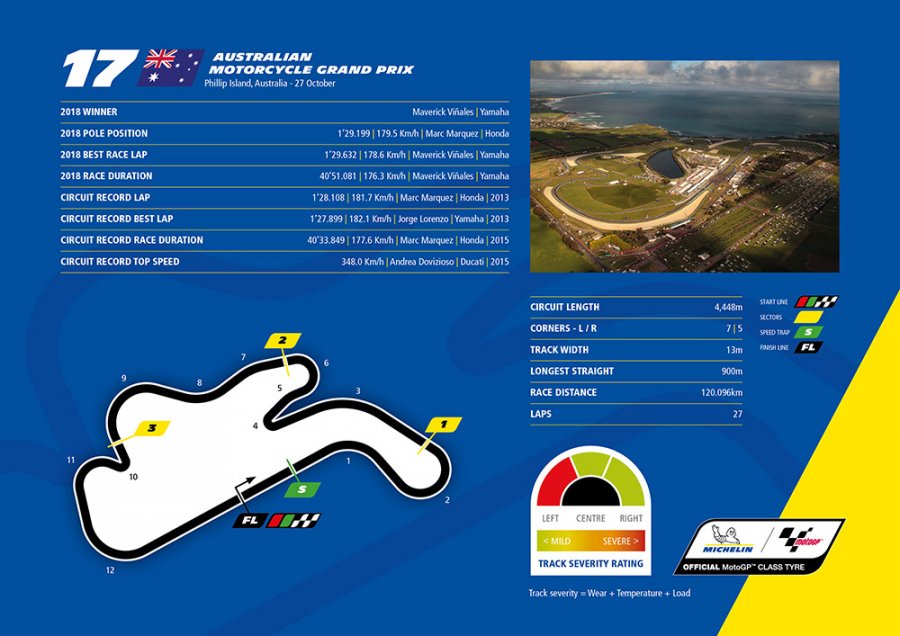 As always, Michelin manager Piero Taramasso provides an overview: "After three years as the Michelin Grand Prix it will seem strange to come to Phillip Island without our name all around the circuit, but that doesn't mean we will be taking the event lightly. This is still a huge race for us as it is one that puts our tyres under extreme inspections to produce the grip, durability, consistency and performance that this circuit demands. We bring a unique selection of compounds for here and they have very specific tasks, not just for all I have mentioned, but they have to cope with the weather that Phillip Island can bring. This is a challenge we relish and look forward to what can be achieved.
"We also have the added responsibility of an additional stand-alone test for the proposed 2020 rear tyre. We have had successful feedback so far, but need to asses it at a track with high demands, such as here, Sachsenring or Termas. It was not possible to do a full test at any of those venues, so we have a short window to test during this race weekend, for which we are grateful to the riders, Dorna and IRTA for making it happen. It is a very important test as it marks the next evolution for our tyres."