It's only the second time that the MotoGP makes a stop in Buriram for a Grand Prix. A track that hides many pitfalls, especially for tires. The Chang International Circuit is just over four and a half kilometers long and has 12 turns, where rear tires really heat up, also due to the long straights that distinguishes this track.
Michelin knows what to expect, so it will bring tires with a special construction for the Thai GP. These are the same that were used at the Red Bull Ring, another circuit that puts a strain on rear tires. These tires prevent overheating, so that high temperatures don't affect performance. They'll be available in the three classic compounds (soft, medium, and hard), with a harder right side.
The front tires, on the other hand, will be symmetrical, as far as the compounds are concerned, which have been chosen by thoroughly studying the data collected last year.
The chance of rain for the weekend is high, and Michelin has chosen a soft and a medium compound for wet asphalt for both the front as well as rear tires (the latter are asymmetrical).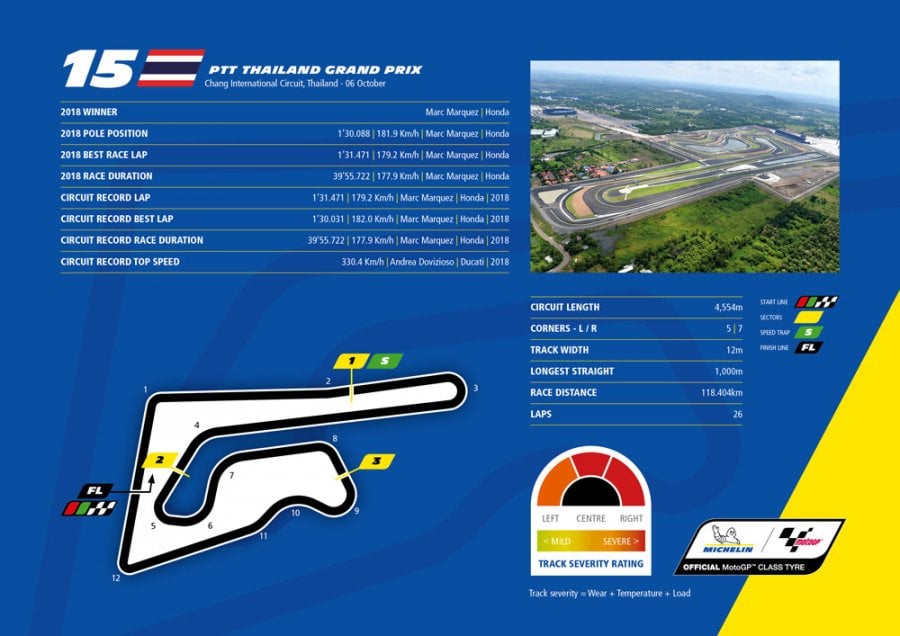 Manager Piero Taramasso gave us several details: "This is the third time we'll be in Buriram after last year's tests and race. We've learned something new each time and were able to assess the tires and make changes. This is a very tough track for rear tires that overheat, so we have a special construction, which we also use in Austria, to counteract this condition. Last year we were told that the weather would be cooler and wetter in October, but it was hot and dry, so we prepared a range of tires that could handle all conditions."
Share