A win for those who said that he'd settle for second. A win over his past, on enemy Valentino's home turf. A win for his future, battling for the first time with Quartararo. A win that is worth another titles. Simply put, another win for him, for Marc Marquez, the championship assassin, superman on two wheels, the cannibal.
Misano became his home on Sunday. And not only his...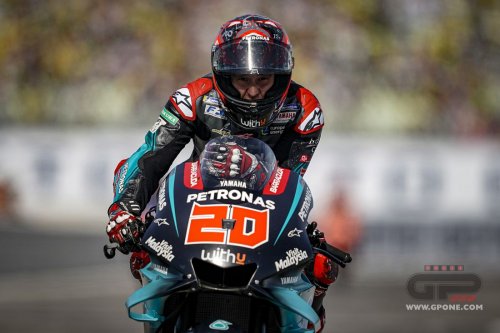 THE GOOD– The search for the anti-Marquez is tougher than finding the holy grail. With no sign of any knights of the round table, or even an Indiana Jones with a bike licence, all hopes are pinned on Fabio Quartararo. And he's looking like a good bet. The Frenchman is a strong candidate, friendly in the paddock and with the right aggression on track. We'll soon see whether roses bloom, but the first buds are already visible.
THE UGLY – There were more riders in the clinic than in the garages at Misano. A home GP is a special event but it didn't bring luck for everyone. Iannone, Pasini and Fenati were all quickly ruled out, while Antonelli reached the race but failed to finish. Four big names that were missed.
THE BAD – Let sleeping Marcs' lie, they should write on the Honda garage door. Marquez's lethargy meant seeing him in second place, but after a strong qualifying breakfast offered by Valentino and a post-lunch coffee prepared by Quartararo, the Spaniard was more lively than ever.
THE DISAPPOINTMENT – This year the champagne has remained on ice and the Ducati team has had to settle for a glass of vinegar. As acidic as their Misano weekend. With memories of the 2018 win, Dovizioso was able to cross the line but with a position of the likes of those scored during the Desmosedici dark days. Petrucci showed no signs of being that rider who won at Mugello. There was nothing good about this home round.
THE CONFIRMATION  – Antonelli won at Jerez, the track at which Sic scored his first raced win. And Suzuki has done the same at Misano, a track that bears the Simoncelli name. It makes us think that Marco really is watching the races from up above and long may it continue, as we're really enjoying  it.
THE MISTAKE – The asphalt is not always greener. it wasn't for Fernandez, unlike Dalla Porta. The Stewards Panel are free to judge, but they should be consistent in their punishments. They got it wrong at Misano, as did those who control them.
THE SURPRISE  – Even KTM is beginning to shine. Thanks to Pol Espargarò, but also Dani Pedrosa who works behind the scenes. Johann Zarco had great timing in waving farewell.
THE PASS– It didn't secure him the win but, at the Rio turn, Quartararo confirmed he has no knowledge of the meaning of 'reverential fear'.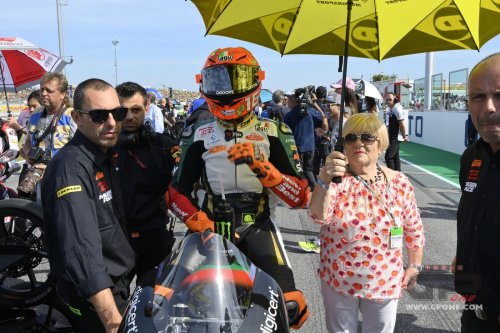 THE INTERESTING FACT –  Is it better to have an actress or a model? Or maybe an oh so trendy influencer? Of course not, for Andrea Migno his gran is irreplacable, so much so that he wanted her as his grid girl at Misano. The race didn't finish well, but grandma Walterina will have known how to console him with a big plate of tagliatelle. Who needs a model?
I TOLD YOU SO – A choir prior to Misano: "theYamahas will be favourites". Never underestimate Marquez.