Fire in the hole during the FP3 in Misano, namely, the last chance to secure a direct place in the Q2 without having to climb the Q1 hurdle. There was nothing missing in the Saturday morning opening round among affirmations, surprises, and disappointments. Let's go in order, starting from the certainty that is Yamaha, represented by the Quartararo-Vinales duo.
As we saw yesterday, both the French and Spanish riders played a leading role with the uncatchable Fabio, thanks to a time of 1'32"081. A real demonstration of superiority, with the SIC Petronas rider - capable of trimming a good three tenths and a half off Maverick - as the first of the pursuers. In short, Misano enhances the character of the Yamaha, and this seems the right occasion to dream big. However, there is a downside to the Yamaha, with Franco Morbidelli (+0.975) and Valentino Rossi (+1.022) called to collect a second on the flying lap.
A round on the chase for the Doctor, who failed to do better than a seventh fastest time behind Nakagami's Honda. The nerve center for n.46 is undoubtedly the third sector, where the nine-time world champion leaves behind really important tenths along his trail. They'll probably have to do something in view of the afternoon qualifications. An appointment that Marc Marquez will not want to miss. Give or take, the Spanish rider is always there in front of the best, even if he had to settle for a fourth time this morning, with six tenths of a delay from the rookie, Quartararo, finishing fourth in the general rankings.
On a sour note, Ducati was having serious problems on its home track with the Dovizioso-Petrucci duo. By only 33 thousandths, the rider from Forlì managed to secure his direct access to the Q2, while the rider from Terni was excluded for the first time this season, to the point of ending 18th. It was certainly not the weekend that the two Ducati riders expected, called to come to terms with the poor grip that limits their confidence with the GP19.
Better to be consoled with super Michele Pirro's ninth time, who was able to get behind Alex Rins' Suzuki. The Riviera track has no secrets for the rider from Puglia who, until now, is up there with the fastest. Speaking of surprises, Pol Espargaro's third time on his KTM, which is undoubtedly an encouraging sign, confirmed the progress made by the Spanish rider's RC16.
It was, instead, a dark morning for Miller's and Bagnaia's Ducatis, both out of the top ten, like A. Espargarò's and Andrea Iannone's Aprilias.
And we can add Lorenzo to the list. What happened to the rider from Mallorca was incredible. The front of his Honda unexpectedly closed up on him in a full straight.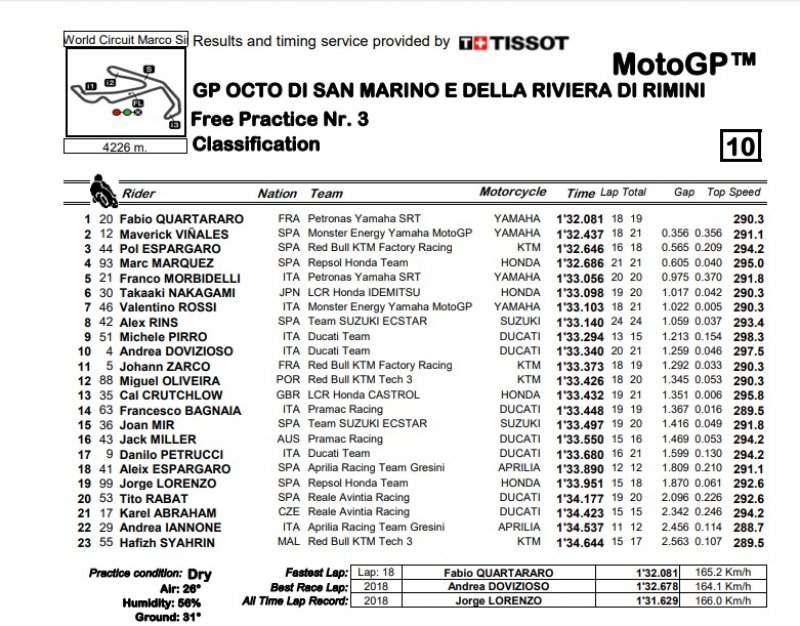 Share