Misano is just around the corner and, following the recent two-day test, riders will be more than ready to go come Friday. The World Circuit Marco Simoncelli is a technical track, with some slow turns and other very fast corners, which will put the front tyres, in particular, to the test. Michelin is well prepared though, with a great deal of data at its fingertips.
For the Italian round, the French technicians have decided to bring symmetric front tyres (in the classic soft, medium and hard compounds) and a symmetric soft rear, while the medium and hard rear solutions have an asymmetric construction, with a harder compound on the right side (with 10 turns in that direction, compared to 6 left-handers).
As for the rain tyres, the front solutions (soft and medium) have a symmetrical construction, while the rears are asymmetric (extra-soft and soft).
Michelin also supplies the MotoE which, for the first time, will involve two races over the weekend. For the Energica Ego Corsa bikes, a medium front solution and a soft rear have been selected (both symmetric, as are the rain tyres, the latter comprising a soft front and extra-soft rear solution).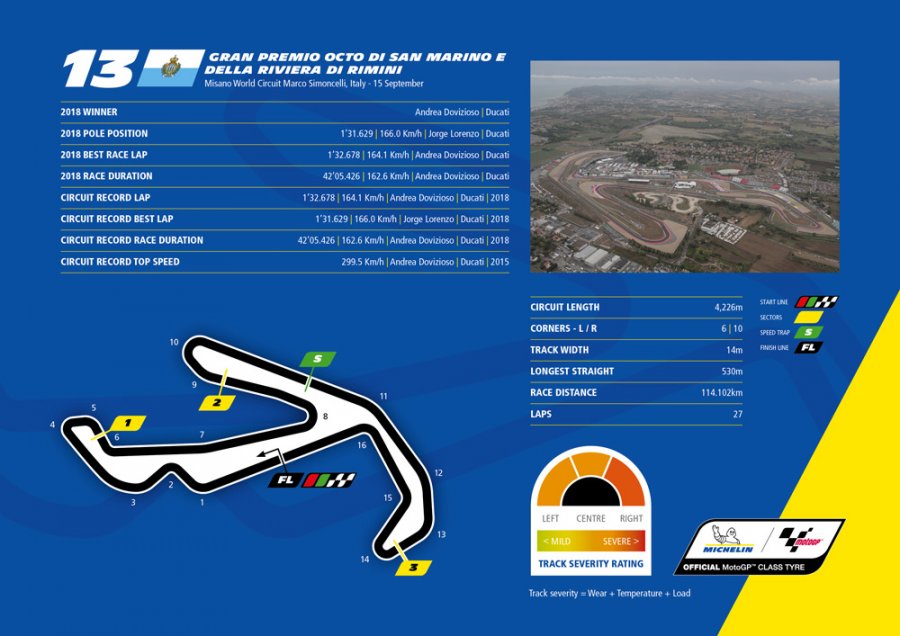 "Misano was a very good event for us last season as we saw many fast laps in the sessions and records broken - recalls Michelin manager Piero Taramasso - The tyres performed very well all weekend and the race saw all six compounds used, with fast and consistent circulations throughout the 27-laps. This is something we want to replicate this year and have a range of tyres to do that, obviously the asphalt is a year older, so we will have to see how it performs."
"Misano will also see us having another first, as MotoE will have two races during the weekend. This will be very interesting to see how this works out and if the strategy from Saturday changes how the riders cope and plan for Sunday's race."