Our 'Master of Hospitality' kicked off at Brno, a contest that sees five of the best Hospitality units in the paddock competing in a culinary face-off that we've organised together with the Prosecco Doc consortium.
Along the same lines as the famous, and very serious, Masterchef, we've involved the producers of Italian fizz, 464 million bottles produced per year in 5 provinces of Veneto and across Friuli Venezia Giulia in a contest in which both we and other journalists and paddock management figures will act as judges.
A battle between chefs that, based on Taste, Plating, Service, Location, Staff Friendliness and Pairing with Prosecco DOC, will reward the best Hospitality.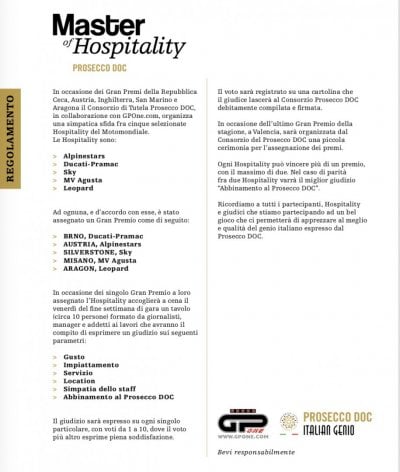 A way to spend time together, with the added touch of competition, right up our alley.
We've started with Ducati Pramac  during the Czech Republic GP and will continue with Alpinestars in Austria, at the Red Bull Ring. Then we will be guests of Sky VR 46 Academy at Silverstone, MV Agusta at Misano and lastly, Aragon with team Leopard, a small but battle-ready outfit in this regard.
The grand finale will come at Valencia of course, where the winners in the various categories will be announced.
An enjoyable way to spend time together, as Pramac boss Paolo Campinoti highlights:
"This is our home", he points out. One day we will tell how we've often heard Johann Zarco playing the piano under this roof, having run through not only the wide range of Baladin beers with Alex Ghini, but also his collection of Italian comedy films.
The Ducati Pramac menu, by Jonathan Fantin and Riccardo Cucchi, included:
Aperitivo Campari spritz 2.0:
Prosecco Doc with spherification of Campari, air of orange and burnt orange dust
First course: Rice ball with fish ragu, baby fennel, raisins and pine nuts, on a smoked foam with Salicornia shoots.
Second course: Linguina with 36-month aged parmesan fonduta, fresh baby spinach and Parma ham dust.
Third course: Saddle of suckling on a prosecco apple cream with Trevisano radicchio with balsamic vinegar
Fourth course: Chocolate sin with prosecco strawberry chutney.