We might as well have copied and pasted from our Le Mans qualifying article. Yes, because in the damp conditions with both wet and dry sections of the track, Marc Marquez is once again a mix of genius, talent and madman. Here it's not just about pure speed on track, but understanding of one's bike and tactics, staying one step ahead of the others.
We're sorry for his rivals, who are once again left rolling up their sleeves, having witnessed the superiority of the Spaniard, who set a fantastic 2'02"753 with the slick tyre while rain was falling. Needless to say, there's nothing anyone can do about Marc right now, and we're barely surprised that the championship is as good as sewn up already, just a little over halfway through the season.
The Spaniard taught his rivals a lesson on Saturday at Brno, not least Andrea Dovizioso, who closed almost three seconds back (+2.837), forced to settle for fourth place. Another one left taking notes was Maverick Vinales (+3.873). As Marc headed back out on track to attempt a time attack, the Spaniard returned to his garage and stopped, considering the rain that was falling. Once again the Yamaha rider has shown his limitations in the damp conditions, as has rookie Fabio Quartararo, tenth and almost four seconds from pole.
In what was essentially a lottery, Jack Miller was almost guaranteed a spot on the front row. Despite being more than two seconds back, the Australian is always strong in these conditions, something he proved once again today. And if he hadn't used two slicks, he might also have avoided crashing in the final stages. Alongside him a surprise in the shape of Johann Zarco. A day to remember for the Frenchman, who got through to Q2 for the first time this season, before scoring a front row start on his KTM.
Just sixth for Alex Rins, who scuffled with Marquez during the session. Valentino Rossi will start from row three, having done his best to remain upright in the tricky conditions. Eighth for Petrucci and twelfth for Morbidelli behind Crutchlow on the Honda.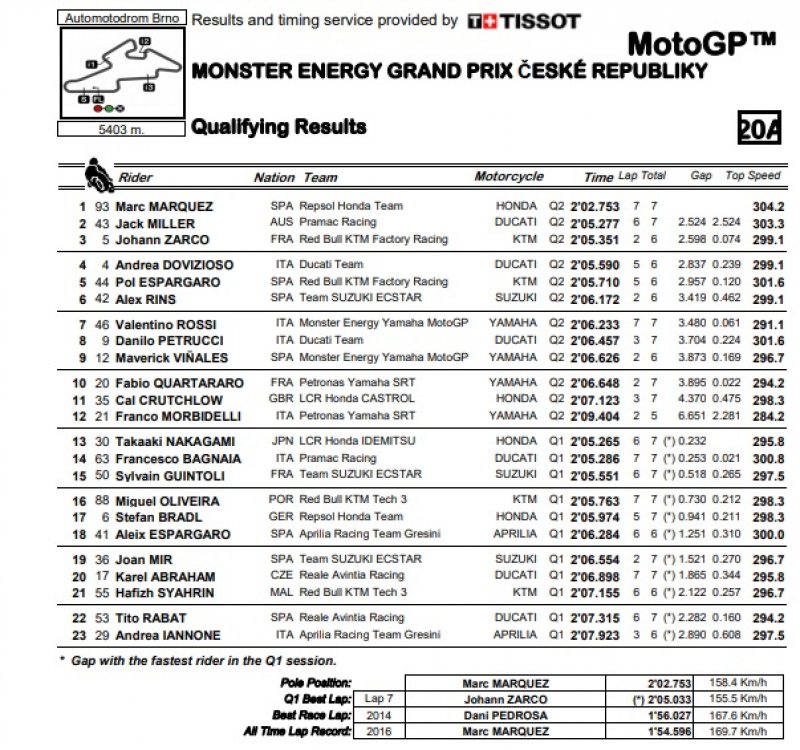 Share