There's no better circuit to get rid of the rustiness built up during vacation time than in Brno. The 5,403-meter-long Czech track, with changes in elevation, where braking is demanding, accelerations are strong, and turns are fast, doesn't only put the riders to the test, but all the tires too.
However, Michelin is sure that its tires will withstand the stress caused by the track. As per regulations, the options for the slicks have 3 compounds (soft, medium, and hard) with symmetrical front tires and asymmetrical rear ones (harder on the right side, considering that, out of the 14 turns of the circuit, 8 are right).
The chance of rain cannot be excluded. The compounds chosen for the rain tires are soft and medium (with asymmetrical rear ones).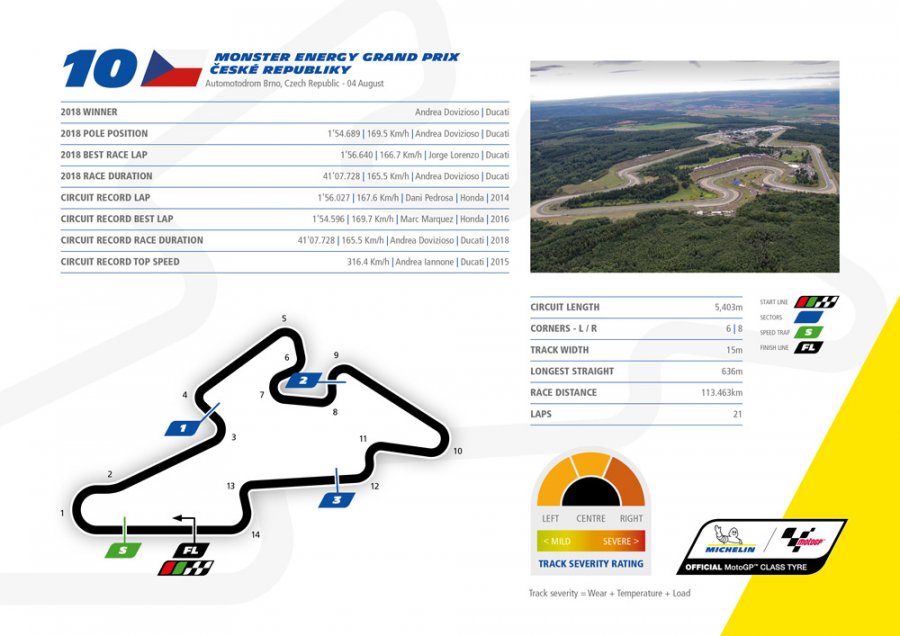 "It' s always good to take a break, but it's even better when you get back to racing," said Piero Taramasso, head of Michelin. "The Brno circuit is a great test for tires. It's rather complex, and there's a big difference in elevation between the lower part of the track and the higher part. It has many challenging sections that require the tires to work in many different ways, with braking that's demanding, along with strong accelerations, and a series of different turns that cause different levels of stress and load on the side of the tires."
"We have a range of slick tires that we know will work well, and the compounds that we have introduced this year will be ideal for this track," he assured. "We hope for the best weather conditions but, if it rains, we know that rain tires here work very well, so we expect a good race, whatever might occur."