The phone rings. "Hello?" I'm checking out a frame. I'll call you right back." On the other end of what was once called "the line" was Romano Albesiano, the technical director for Aprilia Racing. In the MotoGP, summer break is not a holiday but a time to make the most of, in order to give it their all behind the scenes and get back on track with some new ideas. So, in Noale, they're working for the near future and also for a more distant one.
To reveal this was Albesiano who, with the precision of an engineer, calls us back after a few minutes.
Romano, was the frame an excuse?
"Not at all, we're working hard. We've developed tools in the past few months that will help us clearly understand what our weaknesses were, and we've identified them in the balancing of the weights entering curves and in the electronic management when exiting. We're focusing mainly on the first of the two aspects, which is the one that brings more disadvantages."
What's the cure?
"We're developing a significant number of innovations that we'll bring to the tests in Brno. Our riders will have at least two frames available, a swing arm, and other things. Then there'll be developments for the electronic part because we have so many ideas on how to better manage torque and traction control. Iannone's contribution in this area has been important.
Are all these innovations that Smith tried out recently at Misano?
Some. Bradley, for example, promoted a link for the rear suspension that we'll bring to Brno, but other parts will be absolutely unprecedented."
"In 2020 we'll be revolutionary, but the V4 engine will remain the same."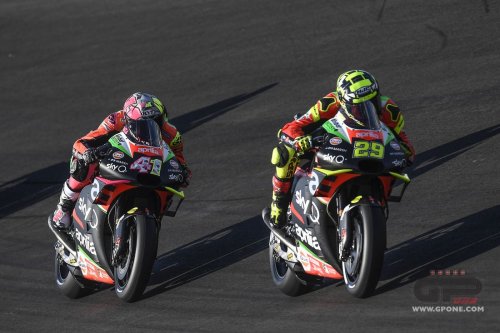 Honda has already brought the prototype of the 2020 bike to the track. Yamaha will do it in the Czech Republic. When we'll see the new RS-GP 2020?
"We've decided to veer towards a revolution more than an evolution. This involves longer times for creating the new bike. We're talking about very important change, so I can't say with certainty when the new prototype will debut."
Are you talking about a revolution, even with regards to the engine?
"All I can say is that we'll continue with the V4. Sometimes it's about fads, sometimes they say that the inline-4 cylinder has come to an end then, after a while, the same is said about the V4. Concept optimization is more important than the concept itself, and it's the course we want to follow."
Why such a drastic choice for the next bike?
"We clearly thought about what we need to be more competitive: more power, better weight distribution, and so on. The evolution of ideas leads to a point where you understand that you need an important change."
Iannone has ridden two diametrically opposed bikes in the past, such as the Ducati and the Suzuki. How much did your experience help to make this choice?
"We're at a stage where riders who change bikes have a hard time but, on the other hand, they provide very important information. Andrea gave us some indications about several features that our bike doesn't have and that are fundamental in the current MotoGP."
You take advantage of a concession. Have you thought of making the 2020 bike debut in the last races of 2019?
"Theoretically, it would be possible but, we're not expecting to do so, for now. We'll continue the development of the current model, first of all, because we want to achieve the best we can in the next races and also because you always learn. Perhaps some solutions will become obsolete, so to say, for next year's bike, but they guarantee a wealth of important experience. Finally, I'm convinced that the current RS-GP still has room for improvement."
"Iannone? We're the ones who have to adapt to him more than he does to the bike."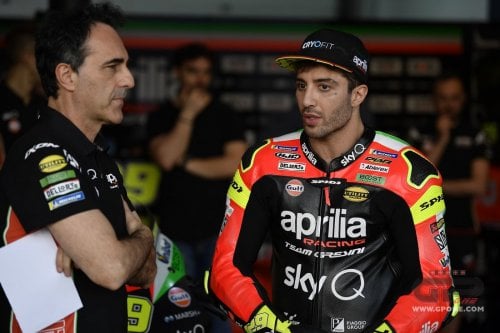 Let's take a step back. What's the result of the first half of the season?
"From a strictly technical viewpoint, it's not bad. We reduced the gap with the opponents and improved our performance, after a 2018 where our performances declined. Now we're approaching the best and without any particular problems. That said, I know how difficult it is to get where we want to."
Did you expect something more?
"We've always been close to or in the top ten, and we've also had some bad luck, like in Barcelona. Aleix demonstrated the performances we were familiar with while, for Andrea, I think we still have to adapt to him, rather than him to the bike. Perhaps this process with Iannone is going on longer than I thought it would."
How has your work changed with Massimo Rivola?
"I'm focused only on the technical aspect and no longer on the sports and contractual ones and, I must admit, I'm enjoying myself much more," he said smiling. With Massimo, we have a great collaboration. We push everyone in the same direction."
"We're developing the Racing Department. We want to revolutionize the RS-GP."
Are you satisfied with the resources at your disposal?
"It's a seemingly simple question that requires a complex answer. It's not enough to talk about resources, but the way you take advantage of them and what their worth. Of course, the more you have, the greater the potential is, but you must know how to use them. That being said, there are some areas where objectively there aren't many, but there have also recently been some high-level insertions."
Is there an air of revolution even in the Racing Department?
"I would say that we're in the midst of a process of growth and renewal that will reach its full maturity next year. Thanks to the latest additions and a significant investment, our potential has grown rapidly. We've already reaped the benefits, but the important changes have yet to come."
About aerodynamics. The Grand Prix Commission promised clearer rules.
"It's not up to me to go into detail, but I can say that a step forward has been made. The current rules were suitable for motorcycling a few years ago. Now, aerodynamics has taken on an important role in performance. The attempt is to leave less discretion to those who have to decide on the various solutions."
Is there still that much room for development in this area?
"Absolutely, and I'd love to find something that changes the will revolutionize our bike. The technician enjoys doing something that changes the status quo. We're working towards succeeding in this."