The distance between Silicon Valley and Motor Valley is less than you think. While California had Steve Jobs to think outside of the box, Emilia Romagna has Ducati. Team manager Davide Tardozzi responds to criticism of its philosophy. "we're the odd ones, the ones who invent wings and other solutions that the others then copy. We like being like this, being different" smiles Davide.
Ducati is not having the best time of it though, the results of the last two races falling below expectations. Even Dovizioso has pointed the finger, blaming the Desmosedici's lack of speed mid-turn.
Were you unpleasantly surprised by the Assen and Sachsenring races?
"The gap from the front was significant, but at Assen we had been happy up until Saturday, convinced we could fight for the podium. The temperatures created problems".
What have you learned from these experiences?
"We need to analyse what happened with a view of the next three races (Brno, Red Bull Ring and Silverstone), at tracks that will demonstrate our true value".
Last year saw Petrucci finish a little over 3 seconds from Marquez at the Sachsenring, this year it was 16 seconds.
"It's clear to see that our rivals have improved significantly in areas that were our strengths. So they've moved a lot closer, while we haven't made great strides in the areas we consider our weak points. We clearly have to work on this and Gigi Dall'Igna is on it, he knows the problems and is committed to solving them. It's not easy of course, or we'd have already done it".
Should we be worried?
"We don't worry (he laughs). The word is effort and we will make even more of an effort. During July the race department will continue to work and we'll see if we can bring new things to satisfy our riders come August".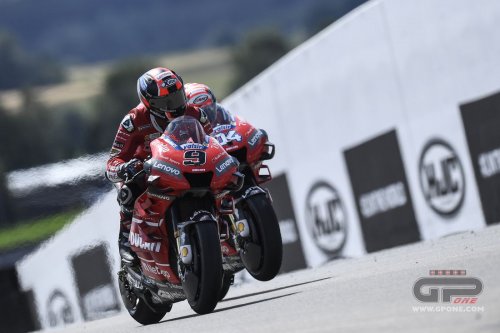 Marquez has said his biggest rivals are no longer the Ducatis but the Yamahas.
"He's not wrong and I wouldn't underestimate Rins on the Suzuki either. All he's done is turn around and see who's behind him".
In recent years you've always been able to improve during the season, what's happening this year?
"Our rivals have made a big step, we've improved our bike a little and our riders were pleased with the GP19, but others more so. Our rivals have done well and we need to close this gap".
Dovizioso contains to complain that the Ducati won't 'turn'.
"The problem is always the same, Andrea is right, we know this and Gigi knows this. We're working on it and brought a new frame to Assen, which was appreciated though it didn't solve all the problems, because it's impossible that one thing suddenly solves everything. Evolution takes time, and is the result of various steps. Personally I don't think one part can solve this problem, it will be a combination of all the material we bring and I hope and believe we can do it".
Marquez is 58 points ahead, is the championship lost?
"It's is very difficult to fight Marc. He's proving so consistent in his results that it's almost embarrassing and it's no coincidence that he's been MotoGP champion 5 times in the last 6 years. Congratulations to him, and Honda for having taken a step forward."
We saw three Ducatis in a row once again in Germany, all close together. It is a rider or bike limitation?
"There is clearly something limiting performance, something that prevents riders from going beyond a certain point. We need to look into this".
What's the atmosphere like?
"That's the last thing to worry about. The atmosphere in all the teams is good, I won't say great because I don't want to exaggerate. The level of collaboration between the riders and the technicians is very good, some say that's not the case, but the constructive environmenn is one of the few things I can trust in".
Could the friendship between Dovizioso and Petrucci perhaps prove counterproductive?
"The two riders get on, they're smart and understand that helping each other is of benefit to both, then on track it's each man for himself".