Maverick Vinales is flying high with the Yamaha once more, not even Marquez unable to stop him at Assen. Among the windmills and tulips, the Yamaha are back on form thanks to the Spaniard and Fabio Quartararo, who may be lacking in experience but he's not short on talent. Franco Morbidelli also defended himself well, while Rossi was KO, with no external influences this time.
The Ducatis melted like ice-cream with Petrucci, who appeared to be racing on hot coals, ending up tarnished.
Andrea Iannone put together a solid race on the other hand, despite the limitations of the Aprilia. Meanwhile, Arbolino exceeded his limits, keeping us entertained in Moto3 along with Dalla Porta.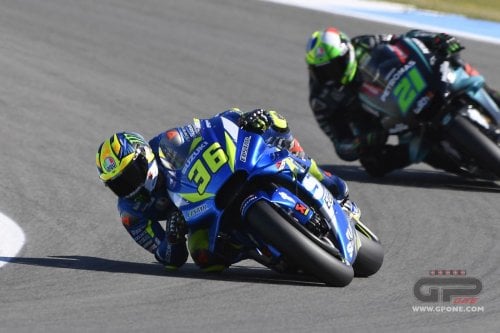 THE GOOD – It's still too early to know whether there'll be a storm but a new wind is blowing in MotoGP. It comes from different directions, from France, Spain and Italy in fact. Fabio Quartararo, Joan Mir and Franco Morbidelli are shaking things up in MotoGP. Marc Marquez has it all under control but deep down he too is surprised - he never thought he'd be considered old by 26.
THE UGLY – Holland isn't immune to the hot summer and Ducati suffered in the heat. The Desmosedicis melted on the asphalt, recalling their predecessors performances from several years ago.  They'd do best to turn the air conditioning on in Borgo Panigale. In extinguishing the dream of a Lorenzo return, Petrucci is living a nightmare. Danilo has reached the podium twice, has won a race and yet before he twists the throttle he check where Dovizioso is. Perhaps he should also mop the garage floor after every session, perhaps that way Ducati would put a little trust in him.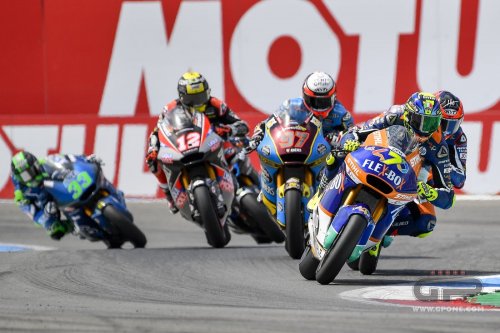 THE BAD – Motorcycle racing may not be a Mozart concert, but it shouldn't turn into a bar room brawl either. The 24 laps of the Moto2 race were something like a demolition derby, riders doing their best to stay upright and cross the line. The FIM stewards are more careful to penalise riders for the slightest infraction in practice and qualifying, at 12.20 on Sunday they must have been away at lunch.
THE DISAPPOINTMENT – The Yamaha is no bike for old men, a book in which Valentino Rossi unfortunately stars. The M1 hasn't become perfect in the space of two weeks, but it was definitely better around the Assen track. With that bike and on that track, the Doctor should have created sparks. But the only sparks we actually saw were those the #46 M1 left as it crashed out. Rossi said he was feeling hopeful after the few laps of the race, he has chance to confirm this in a few days' time.
THE CONFIRMATION  – Marc Marquez woke up on Sunday and told himself he wouldn't be able to stop the Yamahas. So he fought with them and then settled for 2nd place, eating the cake but without the cherry on top. Be content with what you have they say, but most riders would be happy to have to be content with second place.
THE MISTAKE – Seeing two Suzukis out front must have been almost too much for Davide Brivio to believe, but Alex Rins soon ruled himself out with a dive into the gravel. Not particularly technical, but well executed and perfectly timed.
THE SURPRISE – The bottles of champagne remain on ice but Andrea Iannone and his Aprilia deserve a toast at least. On Saturday, The Maniac lived up to his name, metaphorically destroying bikes, teams and race departments. On Sunday, his talent did the talking. Top ten is only icing, but Andrea ran a solid race. We like it when he does this.
THE PASS –we're sorry for Dalla Porta who had to put up with it, but the prize for the best pass goes to Tony Arbolino. Well planned out, precise, impeccable, proof that Lorenzo doesn't get it wrong when he sets his sighs on a rider. Tony has made that jump in quality that he needed.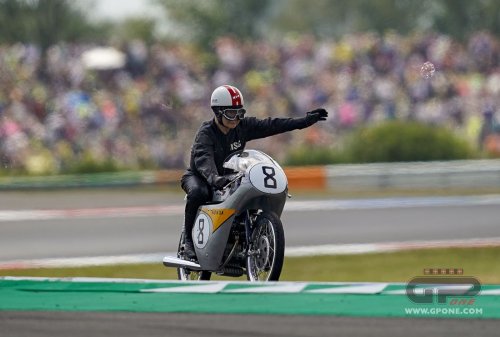 THE INTERESTING FACT –  For those who think Valentino is old, Sunday at Assen saw a certain Kunimtsu Takahashi take to the track, a man almost double the Doctor's age. The Japanese made a lap of honour on his RC 142, the first Honda to win in the world championship, alongside Mick Doohan on the NSR 500. Takahashi did not just contribute to motorcycle history, but also car racing, in that he's considered the father of drifting.
I TOLD YOU SO – Valentino before leaving for Assen: "i can run with the best". It didn't exactly go to plan.