7th in Le Mans, 6th in Mugello, and 5th in Barcelona. If the progression were respected, Bastianini should climb onto the Moto2 podium in Sachsenring for the first time. Enea burst out laughing. "It's the same thing my mechanics told me, but I know it won't be that simple because the level is high and, every Sunday, there are lots of riders fighting for the positions that count."
The rider from Rimini doesn't want to rush during his debut season. In the past, he had succumbed to impatience too many times but, in the Italtrans team, he seems to have found his place. In fact, he's one of three riders (along with Marini and Schrotter) who managed to get points in all 7 of the first races.
"I worked a lot to this regard," he explained. "And I must admit that everything is coming to me quite easily this year. The team understands me on the fly. We work well, and we can come out of any type of trouble on every track."
You seem to have found your category in Moto2...
"I felt pretty good right away, excluding the first 10 laps where I had to get used to the power, " he said smiling. It's a bike that fits well with my riding style, where you have to handle the throttle. I like it, but it's also a complicated class. Sometimes there are 20 riders in a second. It takes an instant to start last."
Do you like the new MotoGP-like qualifying format?
"It adds an extra difficulty, but not entering the Q2 directly is not always a disadvantage. You find yourself with an extra round that allows you to understand if conditions have changed and how to work. Sometimes it can be an opportunity to be taken advantage of, as long as you qualify for the next session."
Did you instead show a good pace in the flying lap during the race?
"There's still a lot of work for me to be able to do my best. In fact, sometimes other rookies are faster. Instead, I'm satisfied with how I'm managing the races. I can often be faster in the final, even if it didn't happen in Barcelona."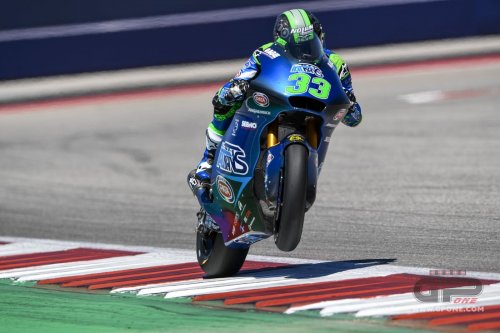 What did you learn?
"We need to change riding style during the race. How? That's a secret that I'm keeping to myself ," he said laughing.
How do you feel with the electronics?
"I had to learn how to use them because it's not like in Moto3, where it made no difference. But I had a foundation to work with. Perhaps those who have never used them before have more problems."
The Moto2 was the protagonist of a revolution this year. Are the new vehicles already exploited to their max?  
"I think there's still room for improvement, but it won't be huge. Now the rider who manages to make the most of the Moto2 is Alex Marquez, and I'm not saying this just because he's leading the World Championship. He played the Moto2 the right way."
How should it be ridden?
"You have to be both nice and aggressive at the same time. It's not a bike that wants to be abused. I'm speaking of the Kalex that I  ride."
There are two GPs before the summer break, Assen and Sachsering. What are your objectives?
"First of all, I like Assen better. It's a great track with lots of left-handed corners, which I prefer. I would especially like to reduce the distance from those ahead of me, to go forward in this sense. The podium is still a bit too far for the moment."
The MotoE will debut in Germany. Do you like electric bikes?
I have to be honest. I personally don't, but if that's the future, then I'll race with those. I'd like to finish my career with the smell of gasoline. In fact, I'd be glad if the mix came back. I've only ridden a 125 in the Honda Trophy in the past. I would love to try a 250.