Although the Assen track is not what it once was, it still holds particular appeal for motorcyclists. The Dutch track has always featured on the MotoGP calendar and often makes for spectacular, hard-fought racing.
Michelin hopes for that again this year and so brings tyres that best suit the circuit, a little over 4.5 km in length, with six left-hand turns and double the number of right-handers. The unknown is always the weather, as rain and sun are both equally possible at Assen.
As per the regulation, riders have three compounds available (soft, medium and hard) with asymmetric rear tyres (with a harder right side) and symmetric front solutions. In case of rain, there are soft and medium front tyres and extra-soft and soft rears.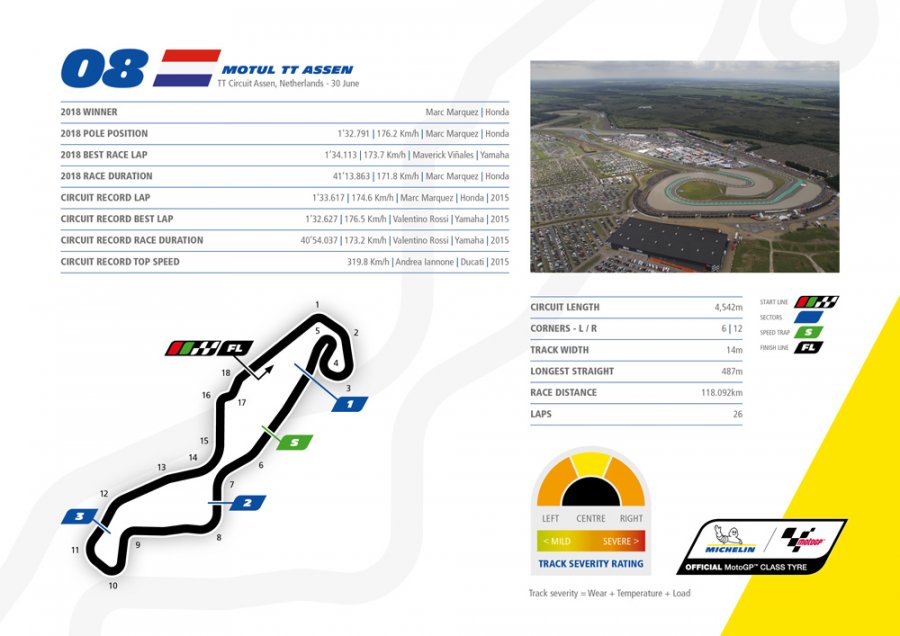 "Assen is an extremely technical track and one that we prepare for in a slightly different way. The rear tyre does the majority of the work due to the demands placed upon it through the fast, flowing corners, so all the riders need a good, consistent grip, as what they do in one turn can easily influence the rest of the lap - explains Michelin manager Piero Taramasso - It is also a circuit where riders like to push for the whole race and with the extra consistency and grip that the tyres are providing this year with the technology we have introduced into the compounds, we expect them to be able to use the extra drive and durability to produce a close and fast race.
"Assen is also a track where weather can change quickly and play an important part, so we need to be prepared for that, we have had one wet race there since our return to MotoGP and the tyres worked really well, since then the compounds have improved, so if it is wet we expect an equally close and thrilling race as we are hoping for in the dry."