Following the Barcelona GP, some presumed that this year's MotoGP was already a done deal. The incident provoked by Lorenzo undoubtedly came as a gift to Marquez who, having arrived at his home race with only a 12-point lead, left the track having more than tripled his advantage (he is now 37 points ahead of Dovi).
Certain considerations might seem premature considering that there are still 12 races to go (meaning 300 points still to assign) if it wasn't for the fact that the Ducati rider is facing a cannibal like Marc. One impressive feat stands out right now, in that Marc's worst result so far this season (with the exception of the Austin crash) has been 2nd place.
Already an impressive stat, but the situation worsens (for his rivals naturally) if we go further back in time. Excluding those races in which he's made mistakes, Marc hasn't been off the podium since the 2017 Malaysian GP, where he finished fourth.
If we continue to play devil's advocate, we see that, over the last four seasons, the Spaniard has never had such a lead over his closest rival. Last year, after Barcelona, he lay 49 points ahead of Dovi, but it was Rossi who was in second in the standings, 27 points behind Marc; in 2017 Marc had a 16 point lead over Andrea and in 2016 10 points more than second-placed Lorenzo.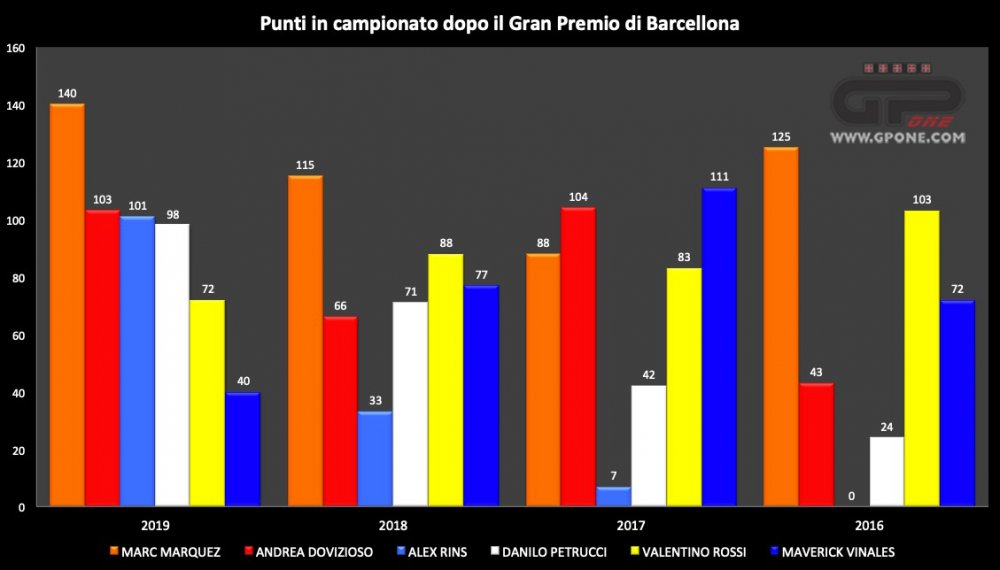 So the first bad news for his rivals is that this is Marc's best season start of the last five years (2014 saw him win all 10 of the first ten races). In this regard, the Spaniard can only be the favourite, but this doesn't mean other riders don't have a chance.
Dovizioso has also run a very positive first seven races (if we overlook the Montmelò zero). Only in 2017 did he do better, with 104 points after the first seven races, and he had one zero in that case too, resulting from the incident with Iannone. Three years ago he had one more win, but also one less podium and some worse results. Andrea's worst finish this year is 4th, while 2017 saw him finish 6th at Austin and 5th at Jerez.
This is also due to the fact that the Desmosedici has further improved and ironed out some of its weaknesses. Consistency, though fundamental, is not enough when up against Marquez.
To make up some important points, Dovi can't just finish ahead, but needs to put as many riders as possible between him and Marc. In this sense, he has two allies on whom to count, in the shape of Miller and Petrucci. The Australian could serve as an important pawn, as might Danilo who has already said he's ready to lend a hand. On the other hand, Petrucci is still in the mix (lying only 5 points from 2nd) and so cannot sacrifice his own season of course.
lastly, as sometimes happens in motorcycling, rivals might become allies. Rins, Rossi and Vinales could help to hinder Marc, without forgetting Lorenzo, who might bounce back on the Honda before the end of the season and join the fray.
But before we get lost in calculations and alliances, perhaps we should wait for Assen, where Dovizioso has never won with the Ducati and reached the podium only once, in 2014. This would be a good time to up his stats.
Share