Yamaha leaves Barcelona pleased with the fastest time set by Maverick Vinales and cautiously optimistic about Valentino (who finished in 14th position). There were no big innovations for the M1, the 2020 prototype of which is expected for the Brno test, but a few new parts that can help the team clarify ideas for the future and make improvements for the next races.
"I tried something new in terms of the electronics, like traction control and the engine brake, but I also had some mechanical parts to test  - explains Rossi - Some of it for 2020, other things for the immediate future. We've found something better".
The Doctor doesn't want to give too much away, preferring to wait for more important components.
"It's too early to say whether we're on the right track. I've only tested some small engine parts, and other things to improve delivery. but I consider it a good test".
Two things he is pleased with though is the work of electronic engineer Gadda and the new tyres brought by Michelin.
"Michele is really helping us, we need five guys like him. I have to say well done to Michelin too, because the new tyres are fantastic, they've really done a good job, they allow you to open the throttle earlier in acceleration".
Rossi also worked on his riding style, testing the rear brake on the handlebar, both with a thumb lever and the lever in the traditional position below the clutch.
"It was interesting, it was useful to use the rear brake through the turns. The thumb lever is easier, but I'll do more tests in future".
His final words are for Pedrosa, who returned to the track as KTM test rider today.
"We didn't come across each other at the track but I saw him yesterday and we exchanged helmets. I was very happy to see him again, he says he's well".
Vinales: "a good improvement in terms of race set-up"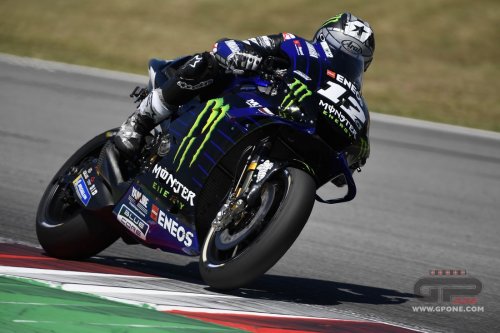 Maverick is very pleased after a test in which he set the fastest time. He didn't have anything significant to test either, but was still able to improve his M1.
"I made a good lap at the end of the session, but mainly I'm pleased about my pace. I worked mainly on race set-up and feel we've made a step forward. But track conditions were great today so it's hard to understand exactly what progress we've made".
The Spaniard appreciated the tyres brought by Michelin, so much so that he set his fastest time on one of them.
"They help us - he confirms - That aside, we still need to improve to make delivery smoother and increase traction. But I'm pleased I've been able to find more confidence with the front tyre. i feel in shape and really like Assen, our next track".
Share