A fourth-place finish by Pol Espargarò in FP2 that comes as a confidence boost for KTM. The Spaniard, born just a few miles from the Catalan track, set a 1.40.393 that, together with Zarco's thirteenth place finish, comes as a breath of fresh air to the Mattighofen manufacturer.
"I had very strange sensations this morning. The asphalt is only two years old but it was like riding in Argentina, it was so slippery. They have a lot of car and bike racing here, so I don't understand why it's like this – comments Espargarò.
Things went better come the afternoon though, so what changed?
"In FP2, the team and I worked to improve rear grip and things went better with the soft tyres. Then we used the package that Pedrosa tested at Brno, and that was really helpful".
What does this new solution bring? Has Pedrosa helped development move in the right direction?
"I can't say much but it's as if it's a new bike. We have better engine delivery, especially at high rpm. We're stronger in the changes of direction but it's not just that. Pedrosa's work has been good but the bike is physical to ride and he's not fit yet. We need to try and make it easier and smoother".
He'll be testing with you at Montmelò on Monday. Are you curious?
"Definitely. Dani already did a great job last weekend, completing 120 laps in two days. It will be interesting to see our level on Monday and compare it to his. He's been away for a while but I'm sure he'll be fast. I'll spy on his work, the electronics management, telemetry, different power mappings, traction control, strategy. I want to study him and see his strengths. Zarco is curious too".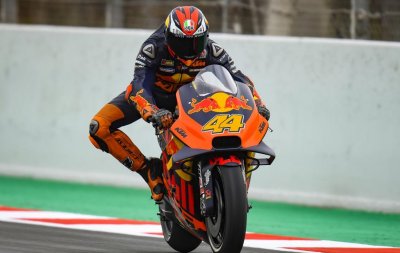 Zarco seems to have started to emerge from the tunnel. What do you think?
"He was fast this morning, this afternoon too, then he crashed. I don't know what bike configuration he had, but I'm pleased for him". 
Tell us about today's practice, what work have you done in KTM?
"We started with the old bike this morning and then tested the new (with the updates tested by Pedrosa at Brno). We compared the data and decided to stick with the new package. As I've said, I worked a lot to improve rear grip this afternoon. I made the difference with the soft tyre but it wasn't an easy day anyway".
And tomorrow? Where do you need to improve?
"Our priority remains the rear, it's not yet at the level I'd like. Also corner entry. But I need to improve in T4, where I'm slow through the fast turns".
There are those who say the only man who can ride a Honda aside from Marquez is Pol Espargaro, what do you say?
"The Honda is the best bike on the grid. Anyone would kill to ride it. I think any race you run with that bike is a race to be won". 
Audio recorded by Paolo Scalera
Share