It is said that there is always an atom of truth in a rumour, even those relating to the motorcycling world. The eagle-eyed among you will have noticed a tweet on the official SBK championship profile that contained a link back to its own website. The subject? Zarco ready to move to the production-derived series with Honda. A bombshell, and a tweet that quickly disappeared in fact, as did the related article.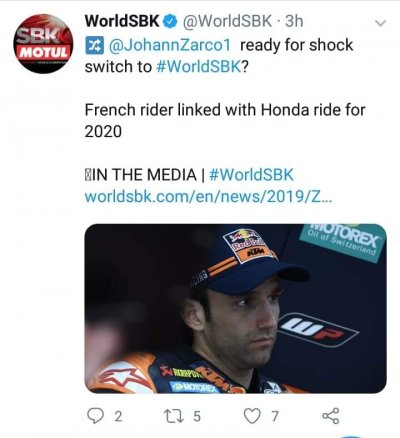 It is difficult to believe that Johann, after just a handful of less than inspiring races on the KTM, is thinking about leaving MotoGP for SBK, but it is true that Honda is aiming high for 2020.
HRC has returned to the production-derives series this year, with the direct involvement of its staff. During recent testing, it was easy to identify certain MotoGP technicians in the garage. For the Japanese, this season serves as a starting point, a year in which to collate data and see how the land lies, before going on the attack.
Honda has never settled for simply taking part, and won't do so in SBK either. The new CBR (or whatever it will be called) is already ready and taking to the track in Japan, far from prying eyes. The current bike is not at the level of its strongest competition, the Japanese know this and have already put its successor on track.
A new bike is not enough of course, and so they are looking for a top rider for 2020. If managers in Tokyo want to fish from the SBK pond, then there are two contenders, namely Jonathan Rea and Alvaro Bautista. But the first has a signed contract with Kawasaki until 2020, so that only leaves the Spaniard.
Alvaro only has an annual contract with Ducati, which does leave a door open to him. Bautista wants to race in MotoGP, but there are no free seats. Considering how this year is shaping up, a renewal with Ducati appears to be the most likely option, but the Spaniard would be looking for a pay packet to match his results, and rightly so. A little like Dovizioso did last year.
Honda may therefore have room to manoeuvre with Alvaro and while the new bike is an unknown, adequate yen might convince him to embark on a new adventure.
But if things don't work out with Bautista, Honda would need to look to MotoGP. The situation is not simple there either, as the majority of riders are already committed until the end of 2020, but things can always happen. A split between KTM and Zarco for example, not news but just a (remote) possibility.
Share